Astronomy 141:
Life in the Universe
Prof. Richard Pogge, MTWThF 12:30
Professor & TA Office Hours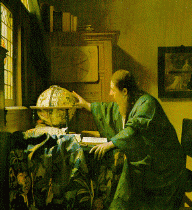 The Astronomer (1668, oil on canvas)
Johannes Vermeer (1632-1675)
Musée du Louvre, Paris
Professor: Richard Pogge

Office: 4059 McPherson Laboratory
Phone: 292-0274
Office Hours: Tue & Wed 3:00-4:00, Thur 2:00-3:00, or by appointment
E-Mail: pogge.1@osu.edu

TA: Carl Coker

Office: 4006 McPherson Laboratory
Phone: 292-6442
Office Hours: Mon 3:30-4:30, Wed 2:00-3:00 or by appointment
E-Mail: coker.25@osu.edu
The office hour times given above are when we will definitely be in (or very nearby) our offices and when we have no other scheduled activities, so feel free to drop by. However, we are relatively flexible and can make other times available by appointment. Please make appointments for office visits outside of the regular times either in-person before or after lectures, by phone, or by E-mail sent to the above addresses. We will do our best to accommodate you.
---
Return to the Astronomy 141 Main Page
---
Updated: 2012 Jan 8
Copyright © Richard W. Pogge, All Rights Reserved.