More approximate and semi-empirical methods are capable of generating extensive sets of data efficiently and rapidly, and enable large atomic models to be constructed for applications. The main problem from the point of view of theory is therefore a compromise or a choice between accuracy and completeness. It is essential to compare the results from the two types of theoretical methods, for many processes and applications, in order to ascertain the reliability and validity of different datasets currently in use in astrophysical models.
III. Laboratory Measurements
A number of major experimental programs are under way in X-ray laboratory astrophysics: electron-beam-ion-traps, synchrotron ion storage rings, tokamaks, and magnetic Z-pinch devices. These are capable of very high-resolution measurements of cross sections to calibrate theoretical calculations, and diagnostic line ratios for comparison with models. Furthermore, spectral observations over extended wavelength ranges of several ionization states of different elements may be observed under controlled laboratory conditions. The JD would highlight the state-of-the-art in experimental atomic physics of X-ray spectroscopy.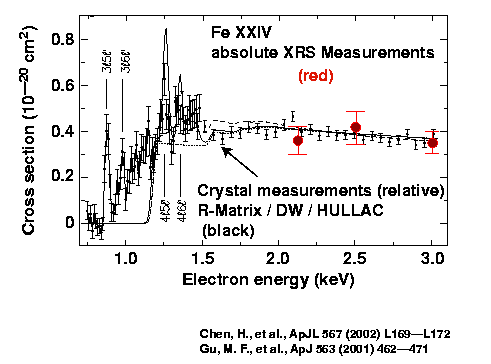 LLNL EBIT measured cross sections and comparison with theory (courtesy, P. Beiersdorfer)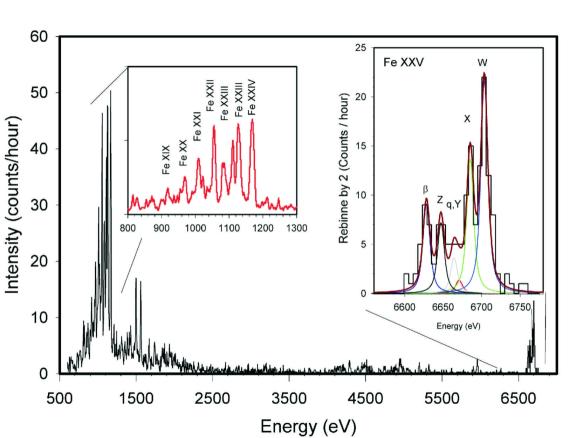 SAO-NIST EBIT measured x-ray spectrum (courtesy, E. Silver)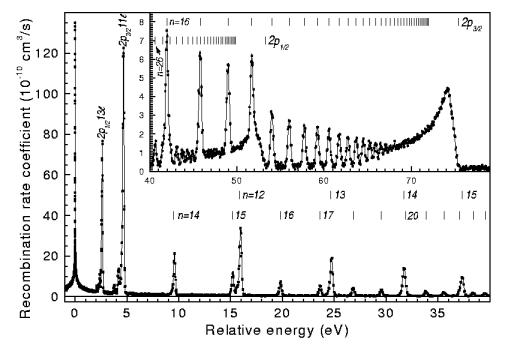 (Merged-beams recombination rate coeffcient of Li-like Ni25+ measured at the heavy-ion storage ring TSR of the Max-Planck-Institute for Nuclear Physics in Heidelberg, Schippers et al., Phys. Rev. A 62, 022708 (2002).)
IV. Numerical Simulations and Databases
There are several atomic databases. Although most are general, there are deficiencies that users need to be aware of. The JD will attempt to review the accuracy of data sources and databases.
FORMAT
The JD will comprise of 2 half-day sessions, divided into 4 parts covering (I) New X-Ray Observations, (II) Atomic Theory, (III) Laboratory Measurements, and (IV) Plasma Modeling and Atomic Databases. Each part will consist of three 30-minute revies talks and a few other oral presentations. Interposed between the two sessions will be a poster session for contributed papers. The JD will include presentations from various databases and a Panel Discussion on July 23 or 24.
This JD is the only meeting at the IAU General Assembly dedicated to X-ray Astronomy, and the SOC welcomes poster contributions on all aspects thereof.
There will be a book of Proceedings for participants, in the IAU Highlights of Astronomy series to submit articles based on their presentations and related material.
Scientific Organising Committee
N. Brickhouse (USA), H. Hasan (USA), J. Houck (USA), A. Fabian (UK), J. Kaastra (Netherlands), F. Keenan (UK), S. Kahn (USA), T. Kallman (USA), H. Netzer (Israel), A.K. Pradhan (USA, Chair), P.L. Smith (USA), K.Yamashita (Japan).
PROGRAM
Invited Speakers and Data Panelists:
Ehud Behar (Israel), Peter Beiersdorfer (USA), Nancy Brickhouse (USA), Andy Fabian (UK), Rajmal Jain (India), Jelle Kaastra (Netherlands), Steve Kahn (USA), Tim Kallman (USA), Enrico Landi (Italy), Julia Lee (USA), Duane Liedahl (USA), Brendan McLaughlin (UK), Patrick Palmeri (France), Izumi Murakami (Japan), Anil Pradhan (USA), Stefan Schippers (Germany), Eric Silver (USA), Bill Martin (USA)
Session Chairs:
Bob Williams, Hagai Netzer, Peter Smith, Ken Pounds, Mike Dopita
------------------------------------------------------------------------
ABSTRACTS FOR CONTRIBUTED PRESENTATIONS TO JD17 MAY BE SUBMITTED AT: ABSTRACT SUBMISSION
Please consult the IAU website at: www.iau.org, or XXVth IAU GENERAL ASSEMBLY for more information on the site.
Site and Travel:
The JD will take place all day Tuesday July 22, with a Panel Discussion on July 23 or 24, during the General Assembly to be held in the Convention and Exhibition Centre at Darling Harbour, Sydney. A number of other Joint Discussions and Symposia are being organised all throughout the two-week duration of the GA.
Limited funds from the IAU are available to assist with travel costs for participants without much other support. However, these grants are generally small and cover only a small fraction of the total cost. The application forms are available from the IAU website.
Deadlines:
Abstract Submission Deadline 1 March 2003 (Post-deadline abstracts can be accepted)
Applications for IAU Travel Grants: 15th February 2003
Abstract deadline: 15th February 2003
Successful Travel Grant applicants notified: 15th March 2003
Early Registration deadline: 30th April 2003
_________________________________________________________________________
return to Anil Pradhan's home page
Revised: 2002 November 26