Astronomy 162:
Introduction to Stars, Galaxies, & the Universe
Prof. Richard Pogge, MTWThF 9:30
Professor & TA Office Hours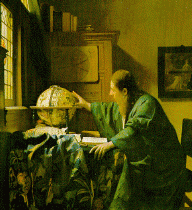 The Astronomer (1668, oil on canvas)
Johannes Vermeer (1632-1675)
Musée du Louvre, Paris
Office: 4037 McPherson Laboratory
Office Hours: TWTh 11:00-12:30, or by appointment
Phone: 292-0274
E-Mail: pogge.1@osu.edu
TA: Shawn Poindexter
Office: 4033 McPherson Lab
Office Hours: M 11:15-12:15, T 1:00-1:30, W 1:30-2:30 or by appointment
Phone: 292-7881
E-Mail: sdp@astronomy.ohio-state.edu
The times posted above are when we will definitely be in our offices and available for drop-in visits or phone calls. Since not everyone's schedules will mesh with these times, you can always make an appointment to see us at other times. These appointments may be arranged in-person before or after lectures, by phone, or by E-mail as required.
---
Return to the Astronomy 162 Main Page
---
Updated: 2006 January 3
Copyright © Richard W. Pogge, All Rights Reserved.