Founder, Sponsor & President: Sultana N. Nahar

---
Educational Institution:
"MANIZA RAHMAN GIRLS HIGH SCHOOL and COLLEGE"
Dhaka, Bangladesh
Awards Established: 2003

Founder: Dr. Sultana N. Nahar
---
Press the following category buttons for information:
---
AWARDS: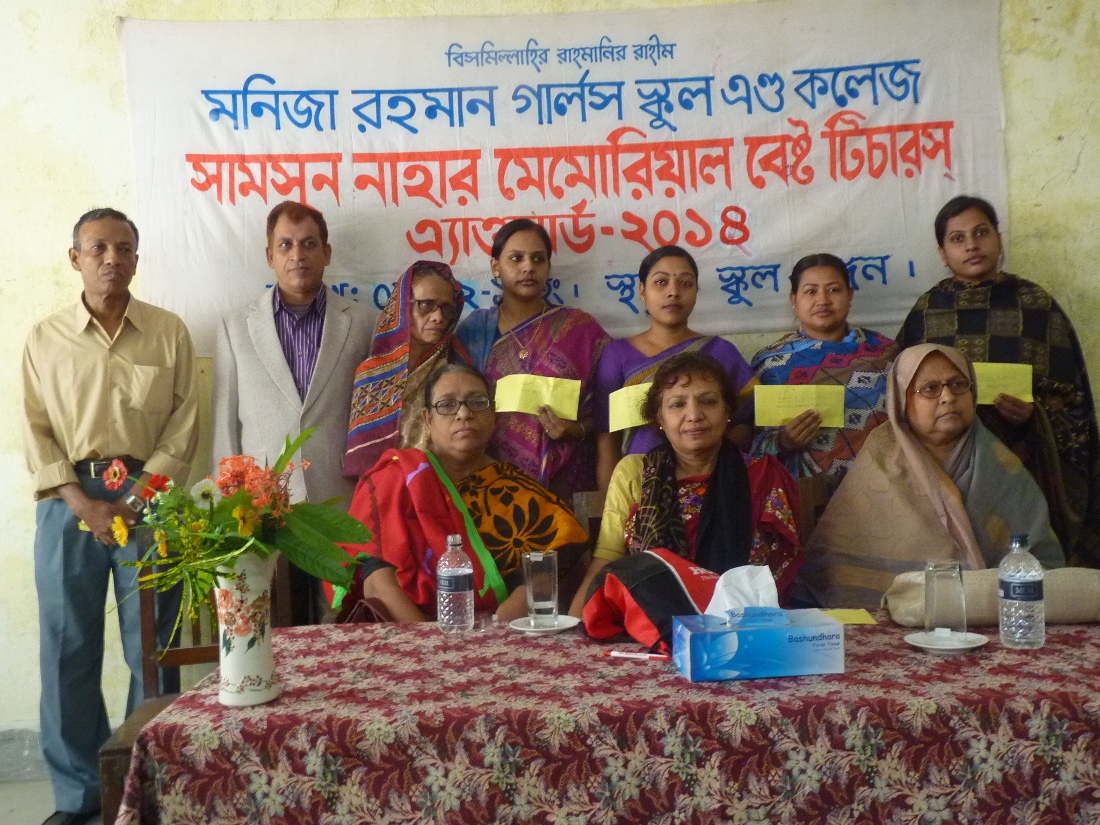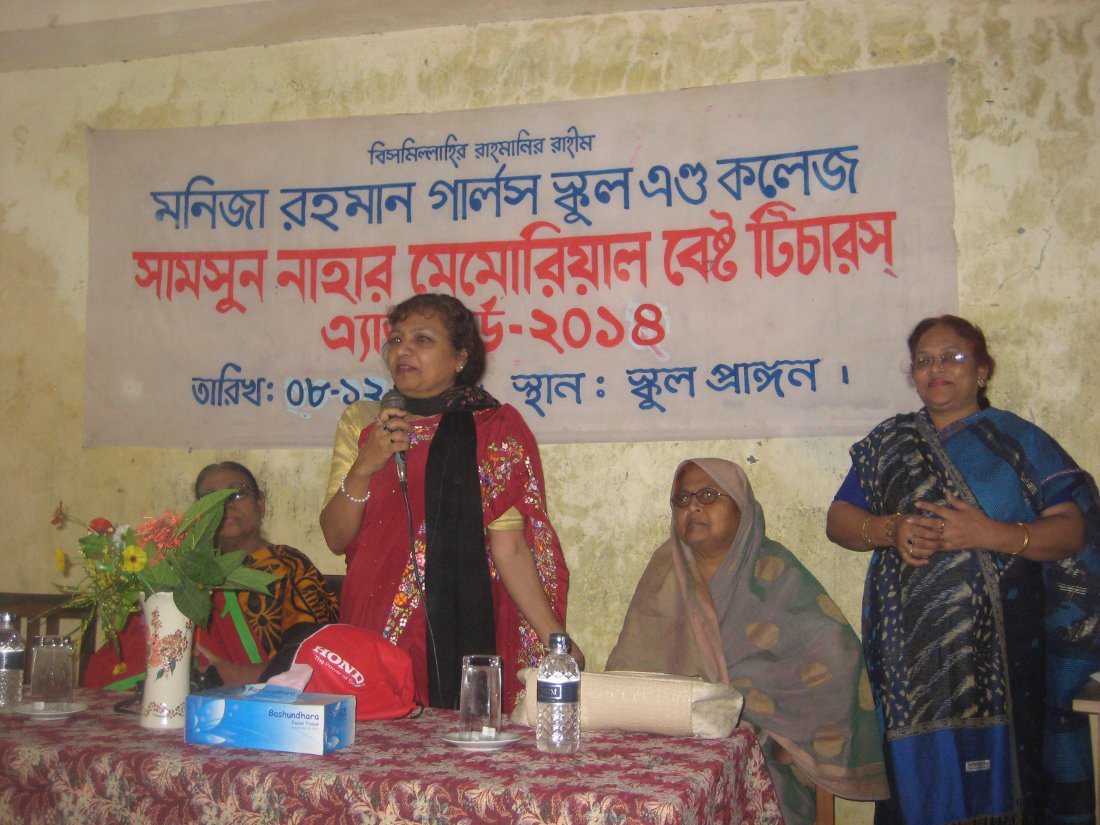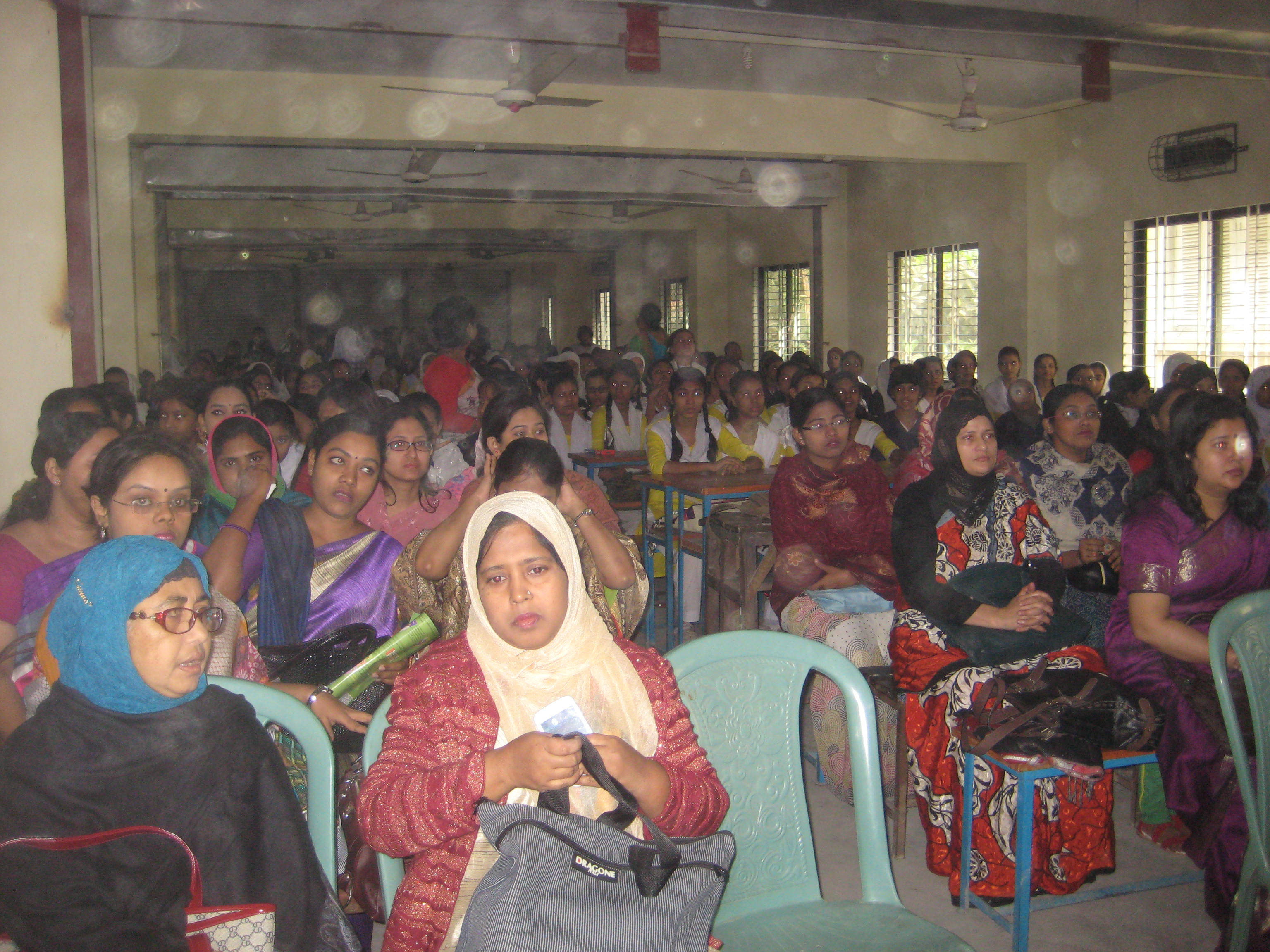 Award event 2014: 1) winning teachers (standing back), 2) Sultana's speech, 3) Announcement, 4) Audience
Annual Awards:
"Shamsun Nahar Memorial Awards for the Best Teachers"
for Excellence in Teaching

"Shamsun Nahar Memorial Awards for the Best Teachers" under the "Abdur Razzaq & Shamsun Nahar Trust for Education" was established in 2003 by Dr. Sultana N. Nahar with more emphasis on STEM education.
There are seven annual teachers the awards and lifetime teaching award for any retiring teachers:
Math and Science (from Classes IX and X, Day Shift and Morning Shift)

Humanities and Commerce (from Classes IX and X, Day Shift and Morning Shift)

All subjects (from Classes VI, VII, VIII)

All subject (from Classes III through V)

Lifetime teaching recognition
---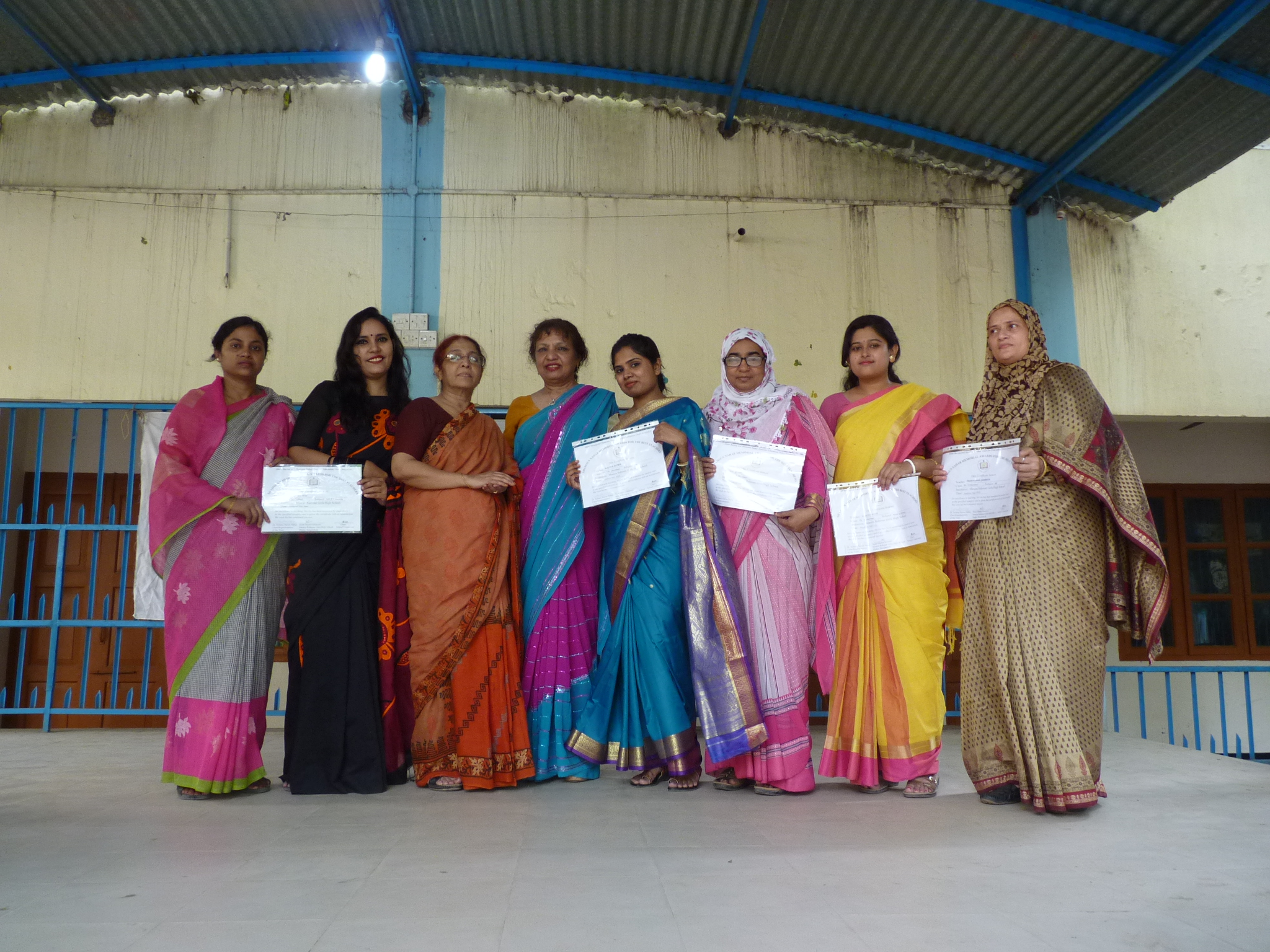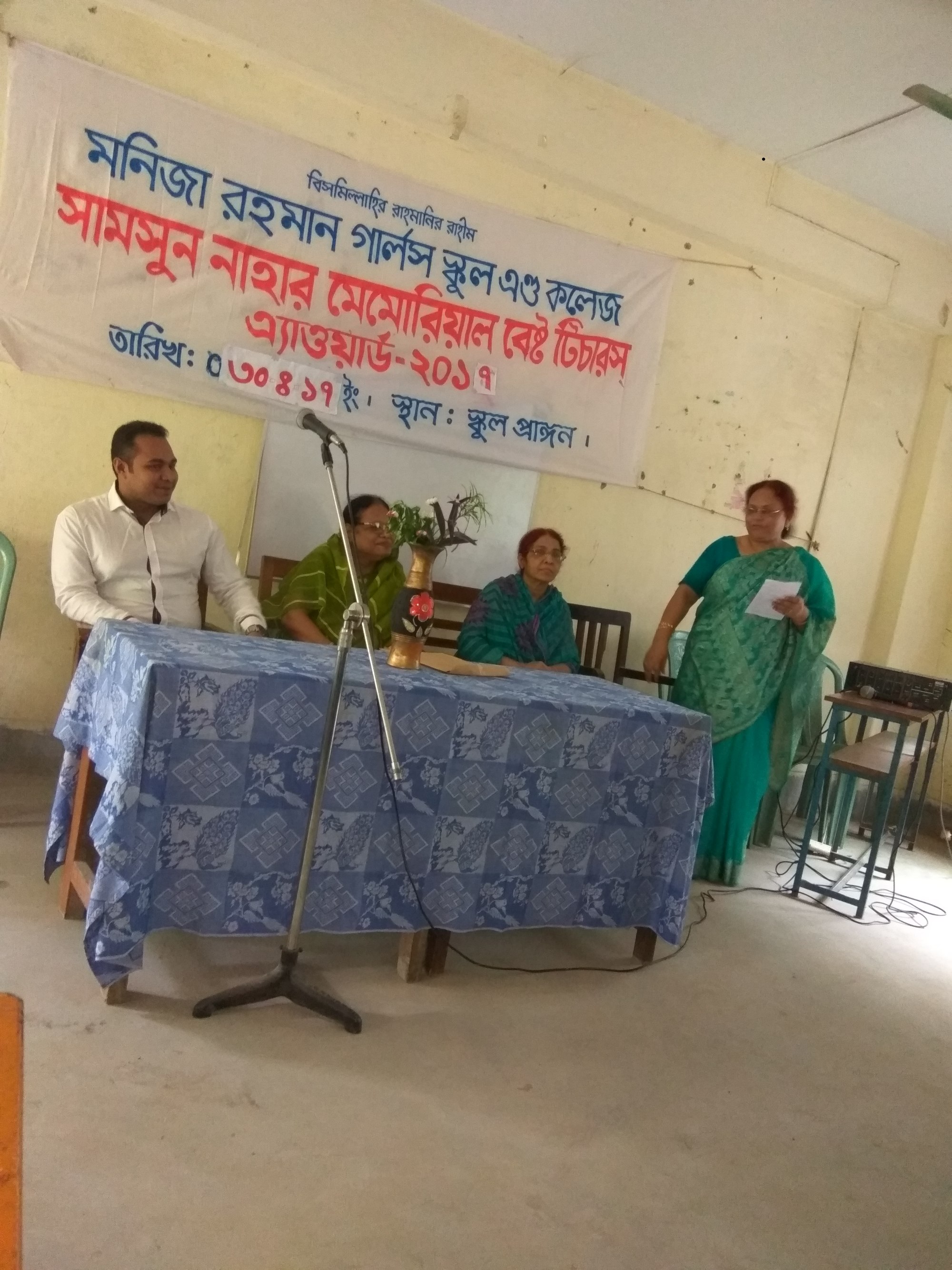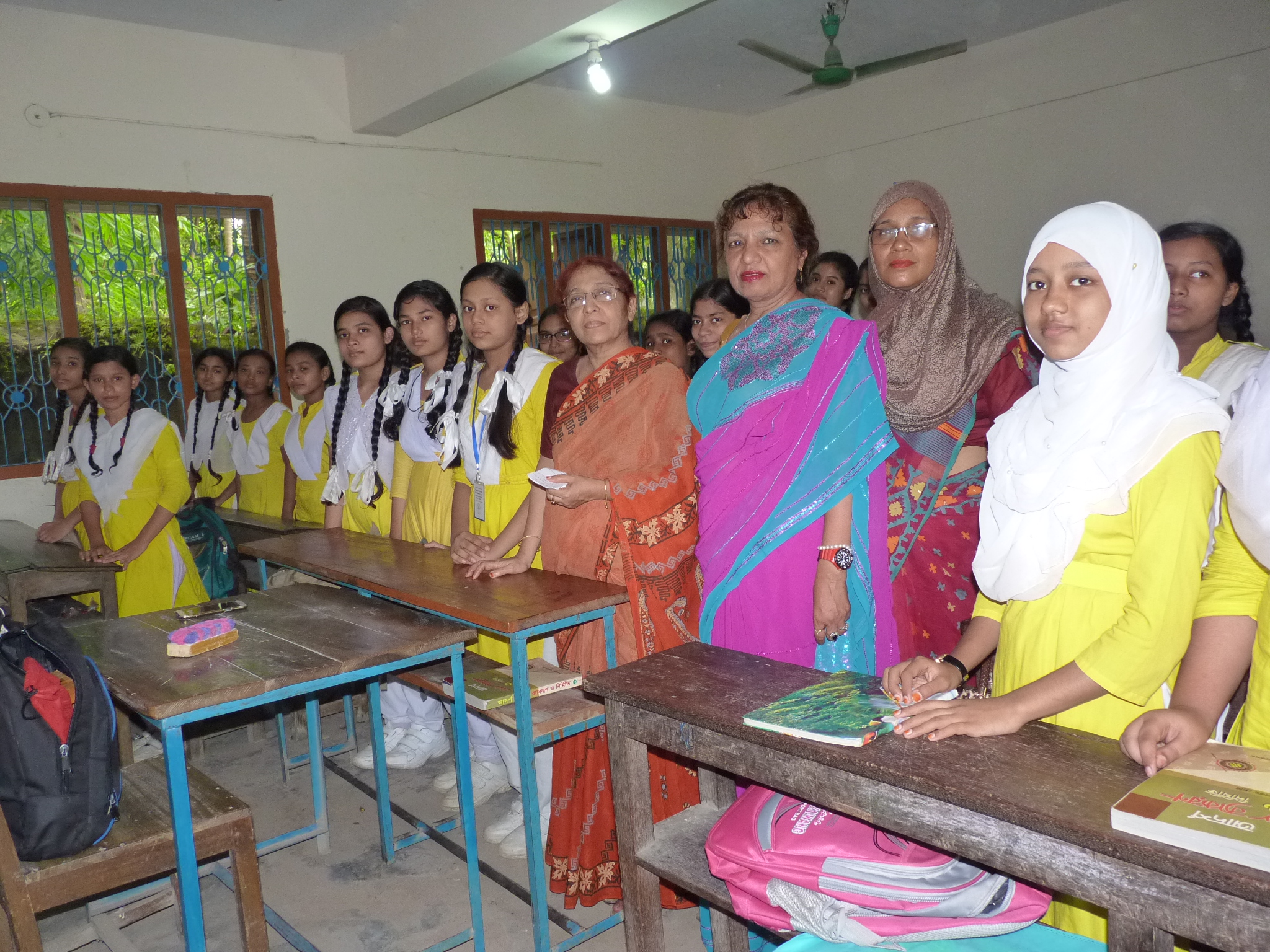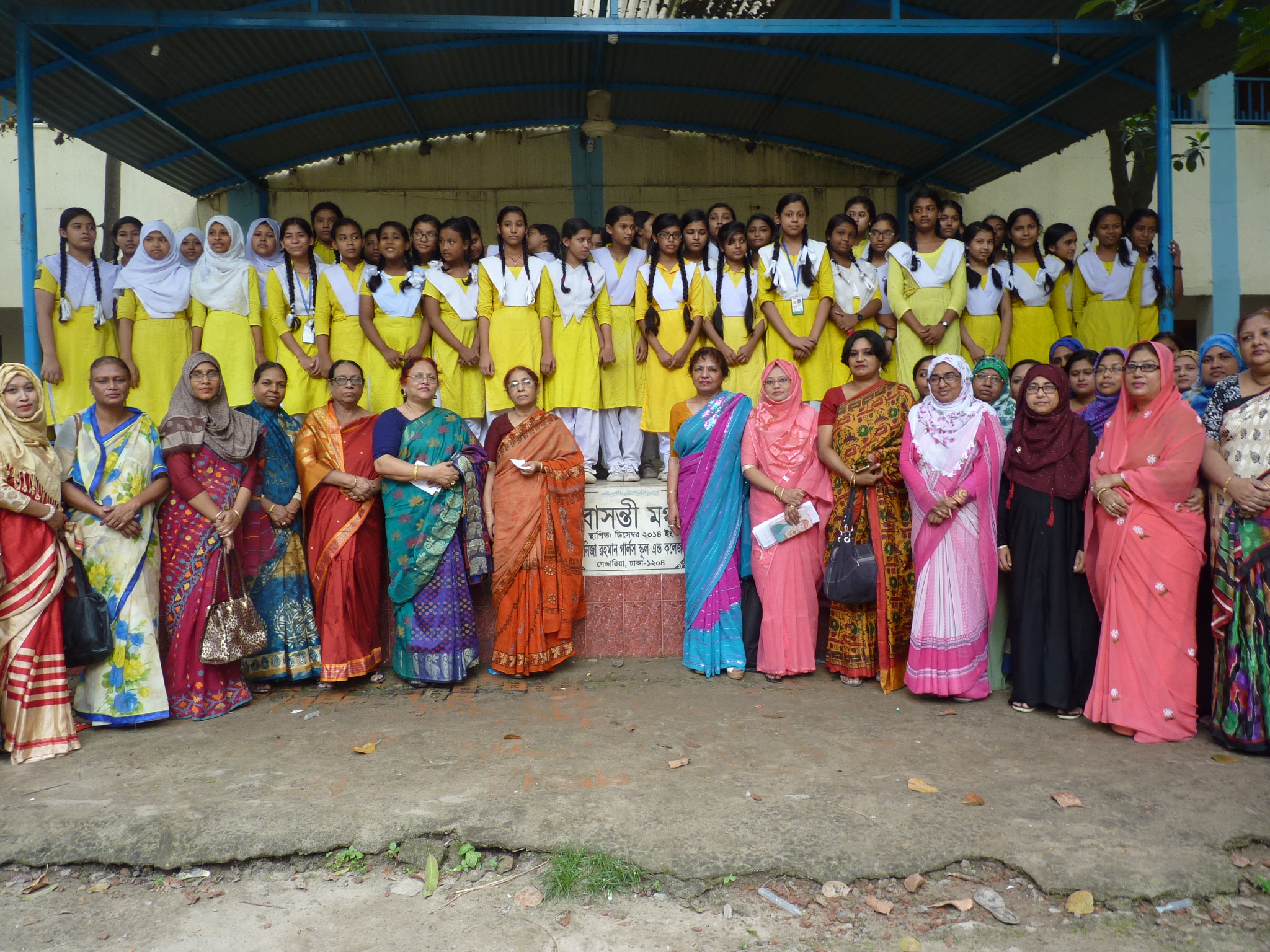 1) Winners 2016, 2) Event 2016, 3) Sultana's visit 2017 in classrom and stage

Under a STEM program, that encourages excellence in in-class teaching. the teachers are nominated by student votes. The students vote for the best teachers from whom they learnt most. Recipients of the maximum votes are nominated. The final decisions are based on the votes with recommendations from the Head Mistress/Head Master, school committee, and Chair or Vice Chair of the Board of Trustees. Each teacher is awarded with a certificate and an honorarium in a ceremony Tk.4000.

Retiring teachers receive Lifetime teaching awards. Each award i consists of a certificate and an honorarium of Tk.5000.

Awards are named after Shamsun Nahar, a past student of the school and sent her four daughters to it. She moved to USA in 1991 and became an affectionate "Khalamma", "Ma", "Dadu", "Shamsun". She passed away there in 2002. An eulogy of her published by Bangladesh Association of Centeral Ohio (BACO): Shamsun Nahar: BACO Dedication, December 2002


Progress;

Year 2003: It is an old school with a high reputation in the past of producing many successful women professionals. However, over the years the school lost its strength in education, financial stability, and management. In 2002-2003 it was at verge of shrinking to a school up to 8th grade
2003: Sultana Nahar joined the school with headmaster and other members of the school to improve its academic status. She introduced ix to eight teachers awards which started to be given starting 2004.
2012: Soon after establishment of the awards in 2003, the school has started to turn back with joined effort by the teachers. The academic atmosphere vastly improved. It got excellent and dedicated teachers, student performance has gone high (larget number of students are passing Board exams and receiving higher numbers), school has grown bigger, from high school classes to college classes, and with much more students from about 500 in 2003 to about 1000 in 2012, and prosperity is visible.

2014: About 2000 students of which 50 are enrolled to college offering humanities and commerce, - to accommodate the student capacity, one higher level is being built in the buildings, - one stage for performances. The passing rate is 98% and 34 students A+ lastyear..
In 2017, students number was over 2000.
---
BOARD OF TRUSTEES:
MEMBERS OF THE BOARD OF TRUSTEES:
1. Dr. Sultana N. Nahar (Founder and Chair)
2. Sultana Lutfun Nahar (Vice Chair)
3. Sultana Khairun Nahar
4. Ahsan Uddin Ahmed
5. Shaista Hasmat Ghani (Secretary)
6. Moynuddin Ahmed
7. School Head Mistress/Master
8. Nargis Anwar (for Maniza Rahman Girls High School)

Revision in the awards, 2008
New appointments in the Award Committee, 2013:

1. Masuda Begum (retired teacher)
2. Momena Khatun (retired teacher)
Trust document: Maniza Rahman School reference p.10-14, Notarization in 2005 (initiated in 2003)
---
NEWS:
School magazine 2017: Article on "Shamsun Nahar Memorial Best Teachers Awards, p.53-57
Visit 2017: Classroom,
Article of the teaching awards, 80th Anniversary Book of the school (2009)
---
Recipients of "Shamsun Nahar Memorial Best Teachers Awards" at Maniza Rahman Girls High School (Class I - Class X):
---
2019:
Lifetime Teaching Awards in 2019:
Hafez Shibbir Ahmed: Day Session, Arts and Commerce
Fouzia Nasim: Morning Session

Best teachers:

i) Nasima Akhter, Math & Science, Classes IX-X, Day Session
ii) Abdullah Afif, Math & Science, Classes IX-X, Morning Session,
iii) Moniz Fatema, Arts & Commerce Classes IX-X, Day Session
iv) Shahana Akter, Arts & Commerce Classes IX-X, Morning Session
v) Noor-E-Tabashum, Classes VI-VIII, Day Session
vi) Suranita Saha, Classes VI-VIII, Morning Session
vii) Rubina Haque, Classes III-V, Morning Session
---
2018:
Best teachers:
i) Nasima Akhter (Math & Science, Classes IX-X, Day Session)
ii) Kanta Afaz, Arts & Commerce Classes IX-X, Day Session)
iii) Asma After (Classes VI-VIII, Day Session)
iv) Md. Sultan Mahmud (Math & Science, Classes IX-X, Morning Session),
v) Quamrun Nessa Amatullah, Arts & Commerce Classes IX-X, Morning Session)
vi) Lovely Rani Saha, (Classes VI-VIII, Morning Session)
vii) Lutfun Nahar, (Classes III-V, Morning Session)
---
2017: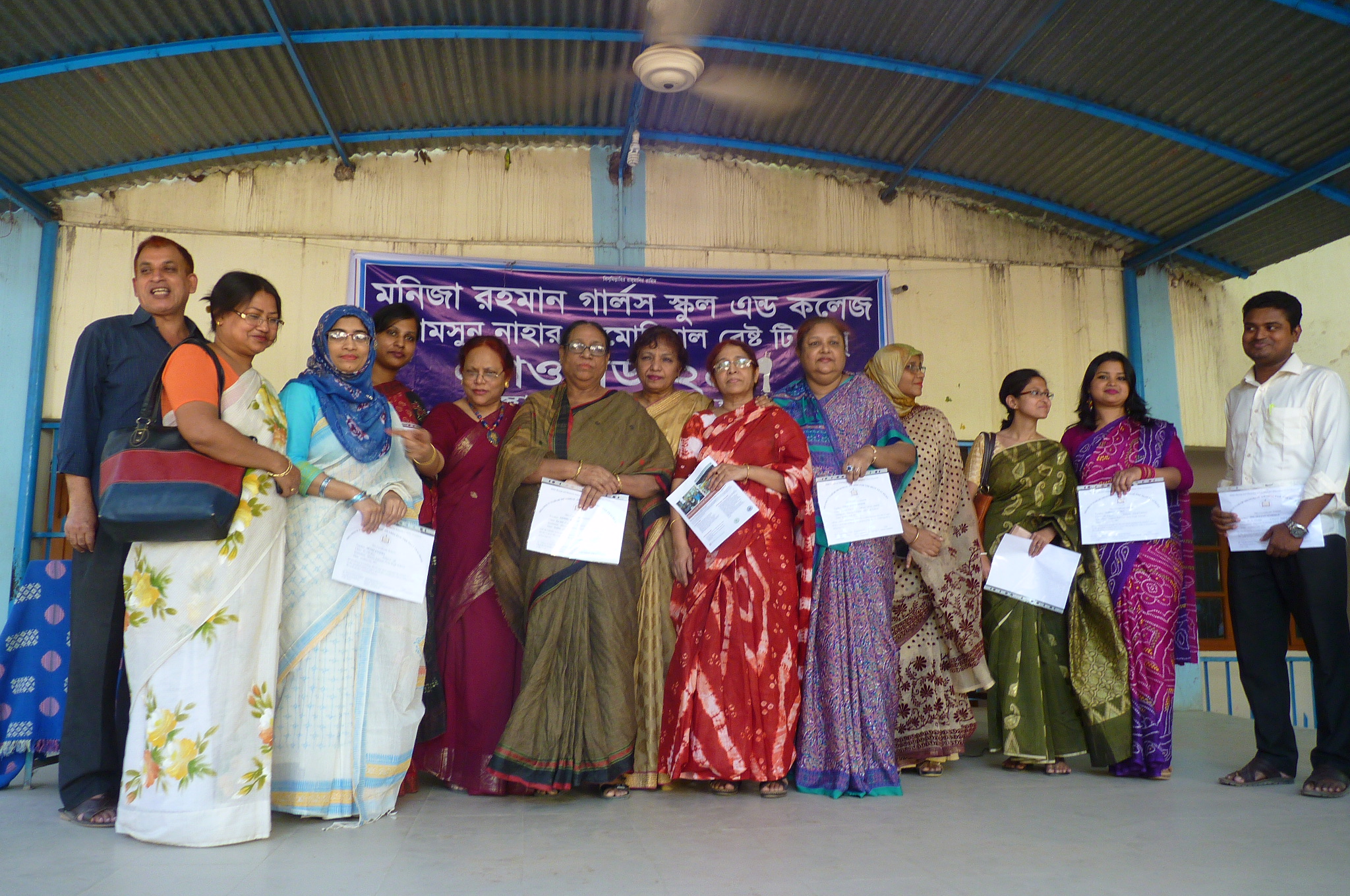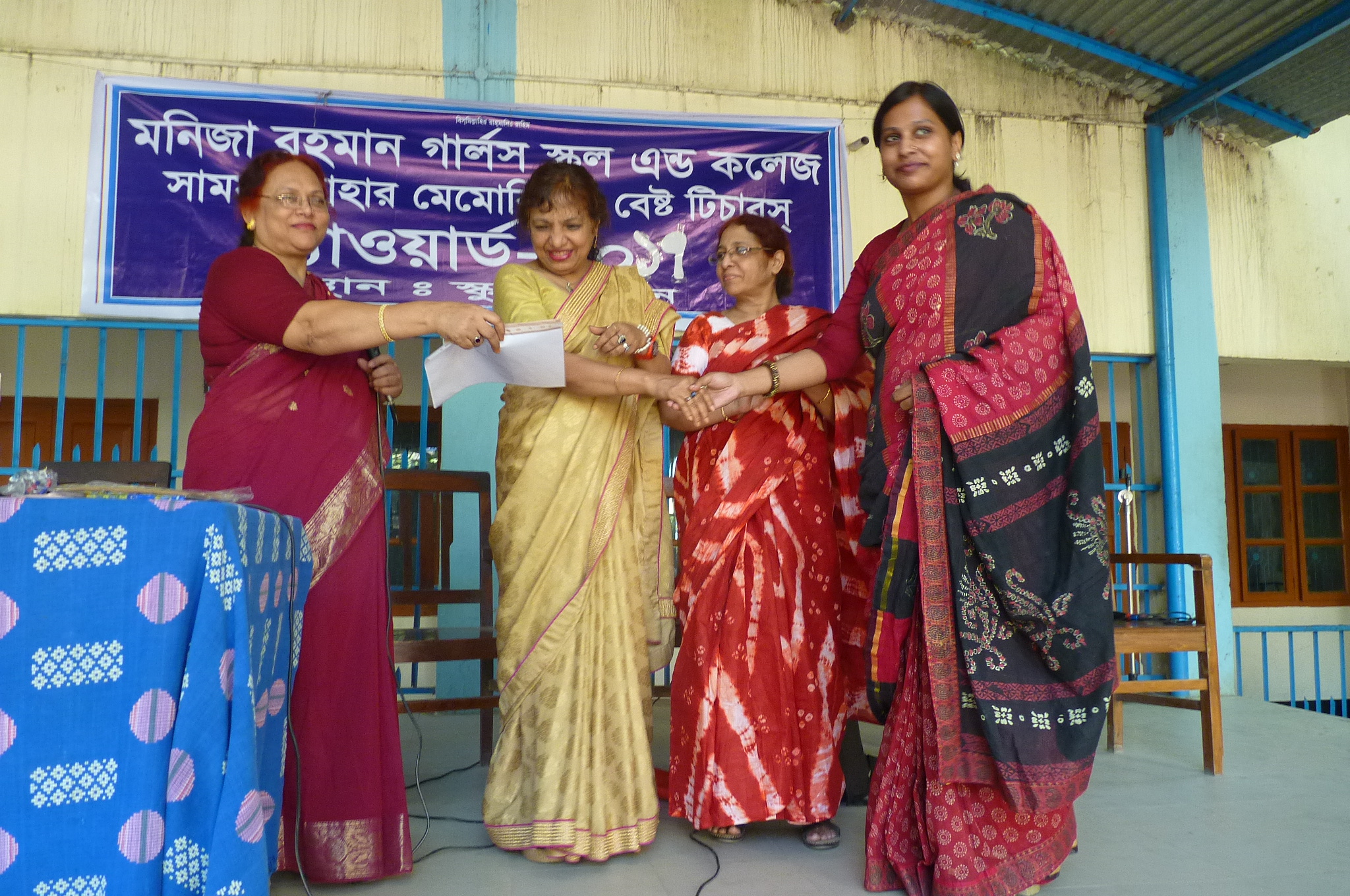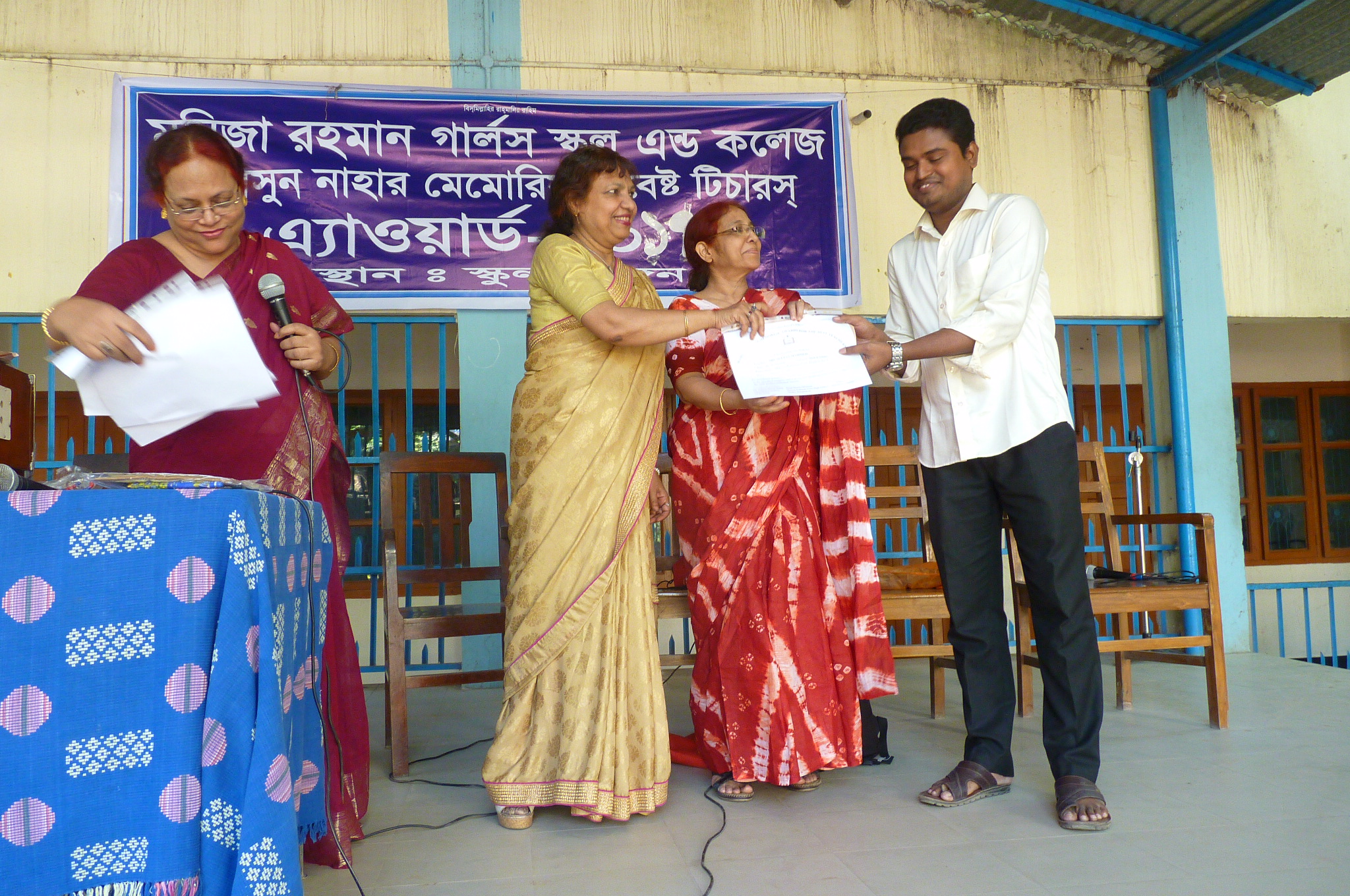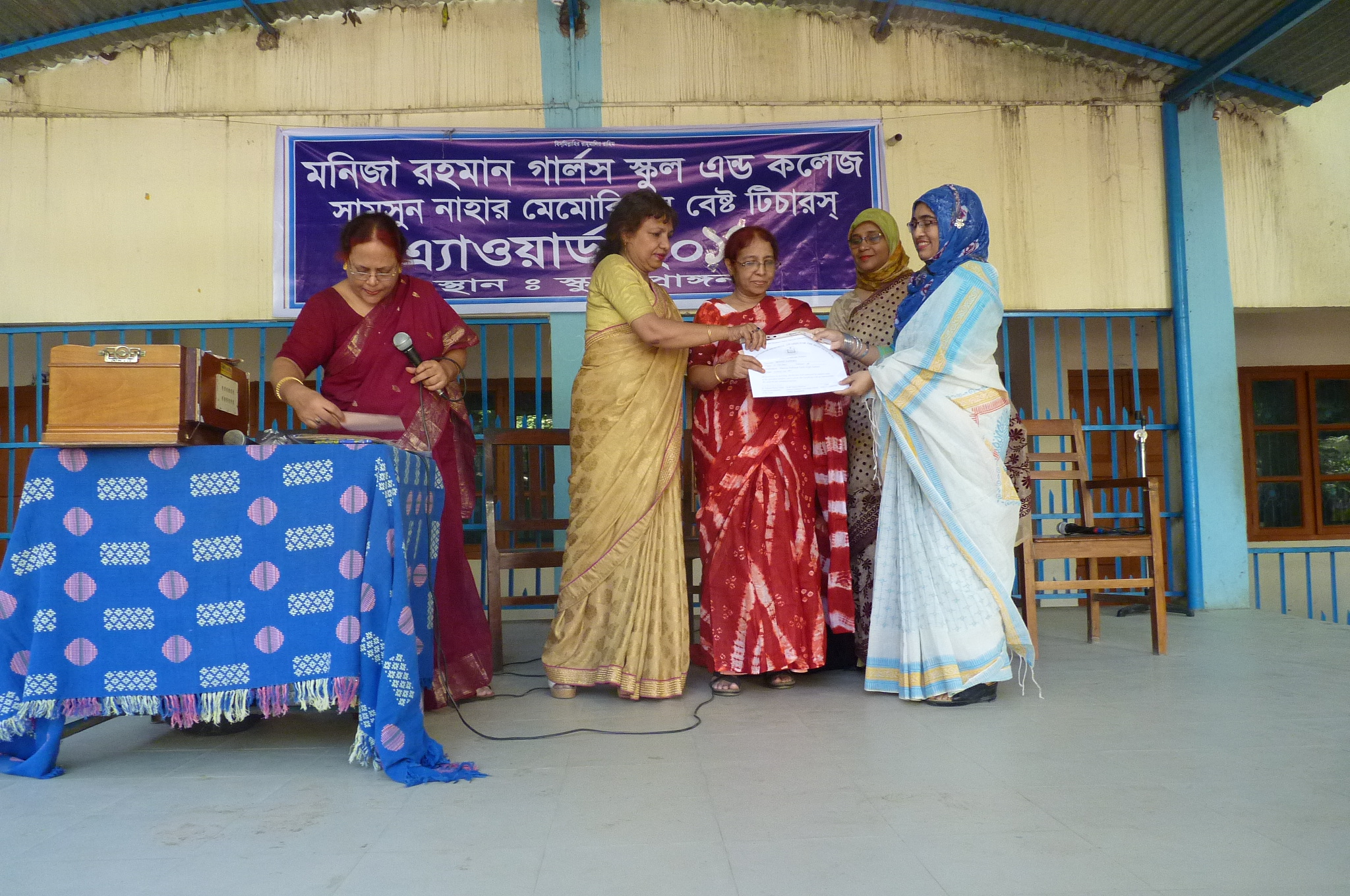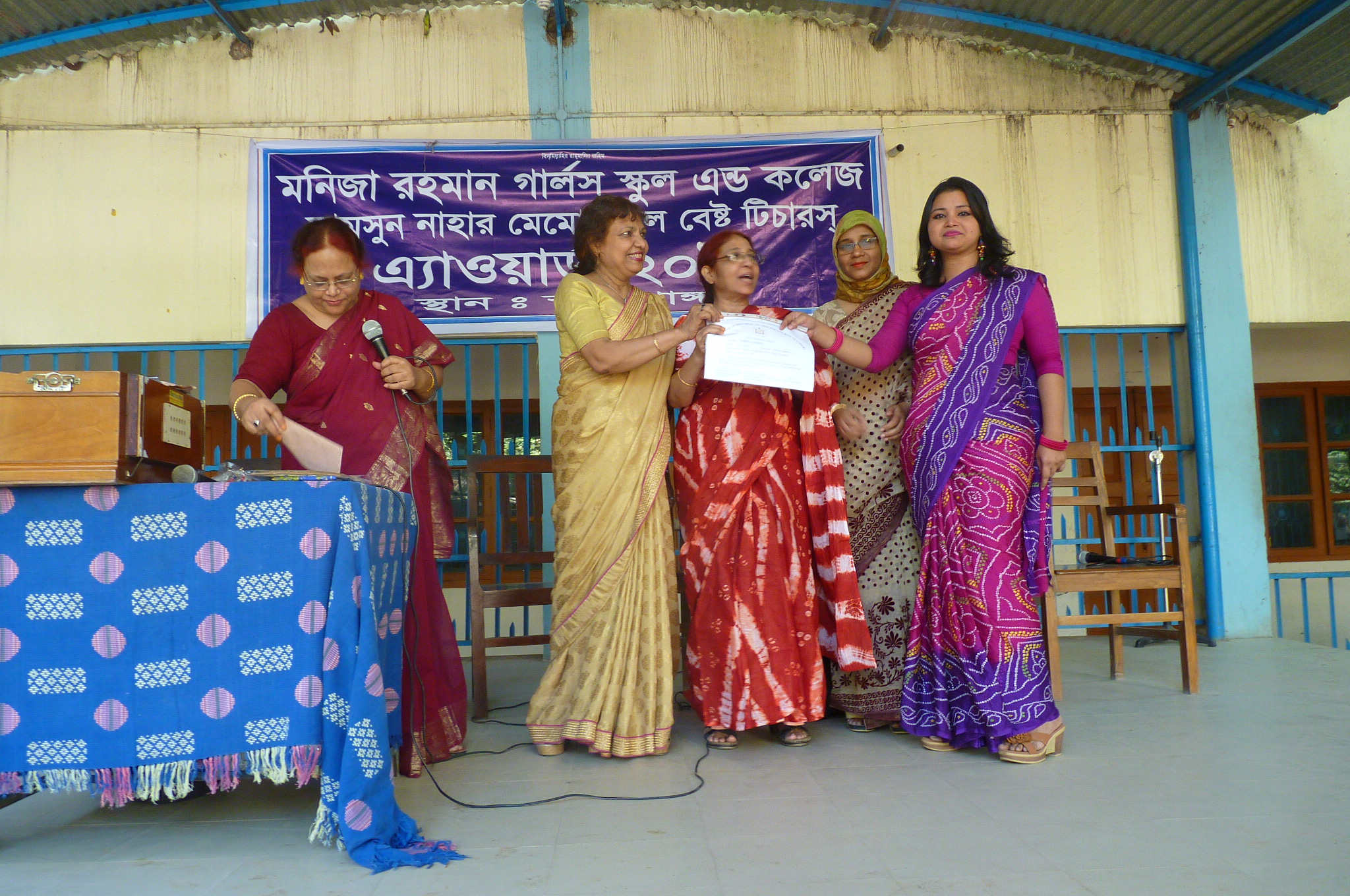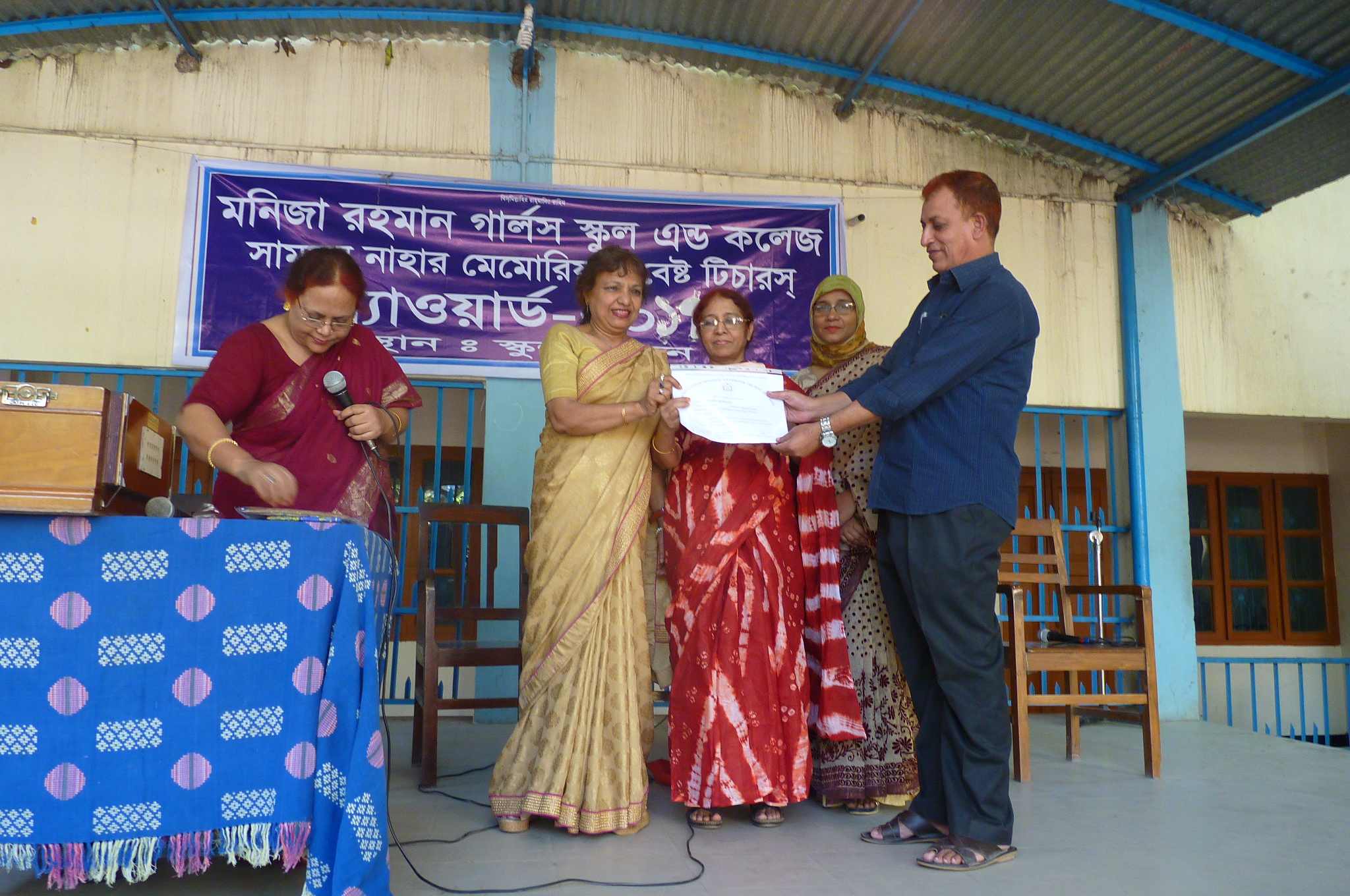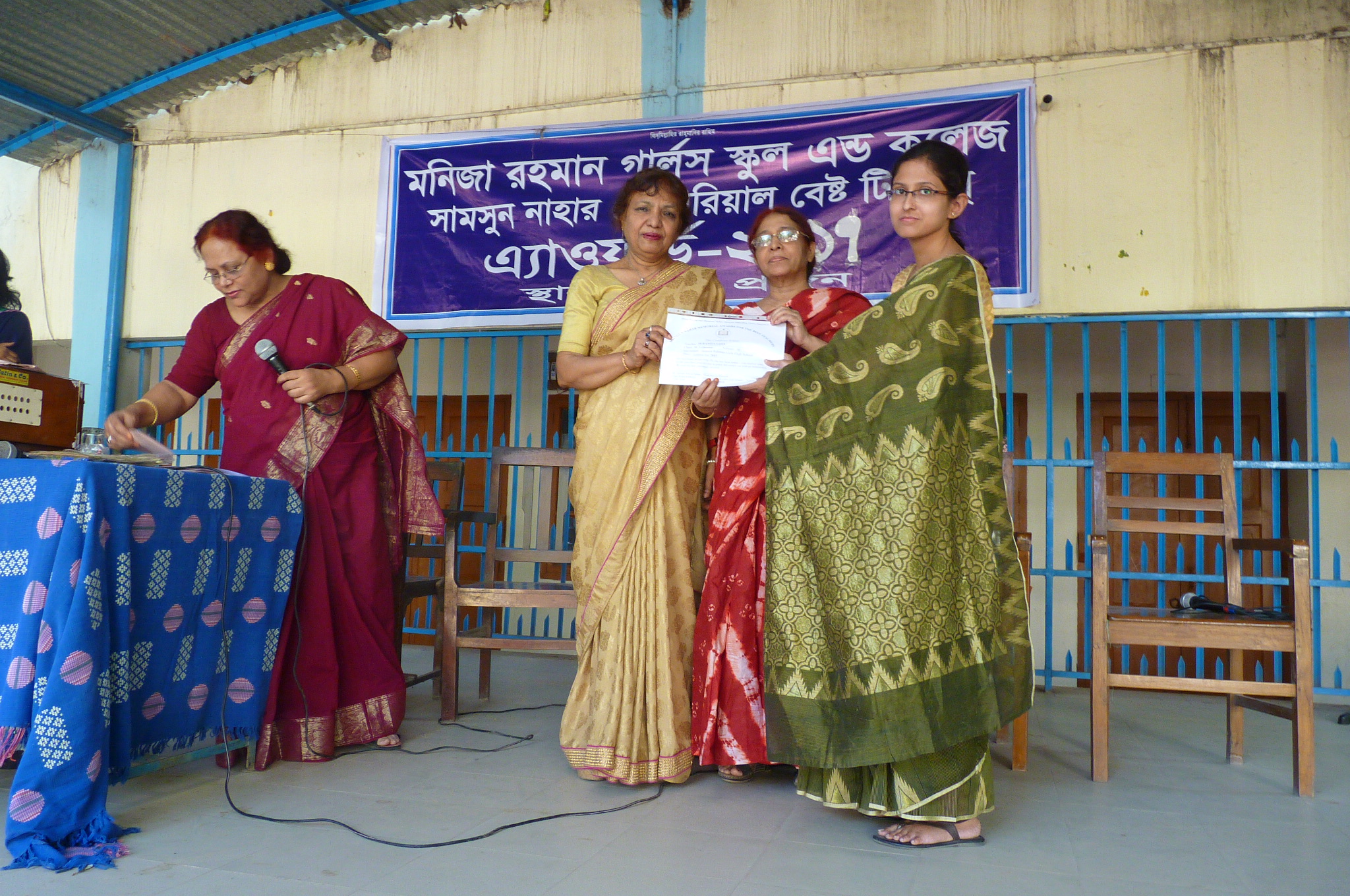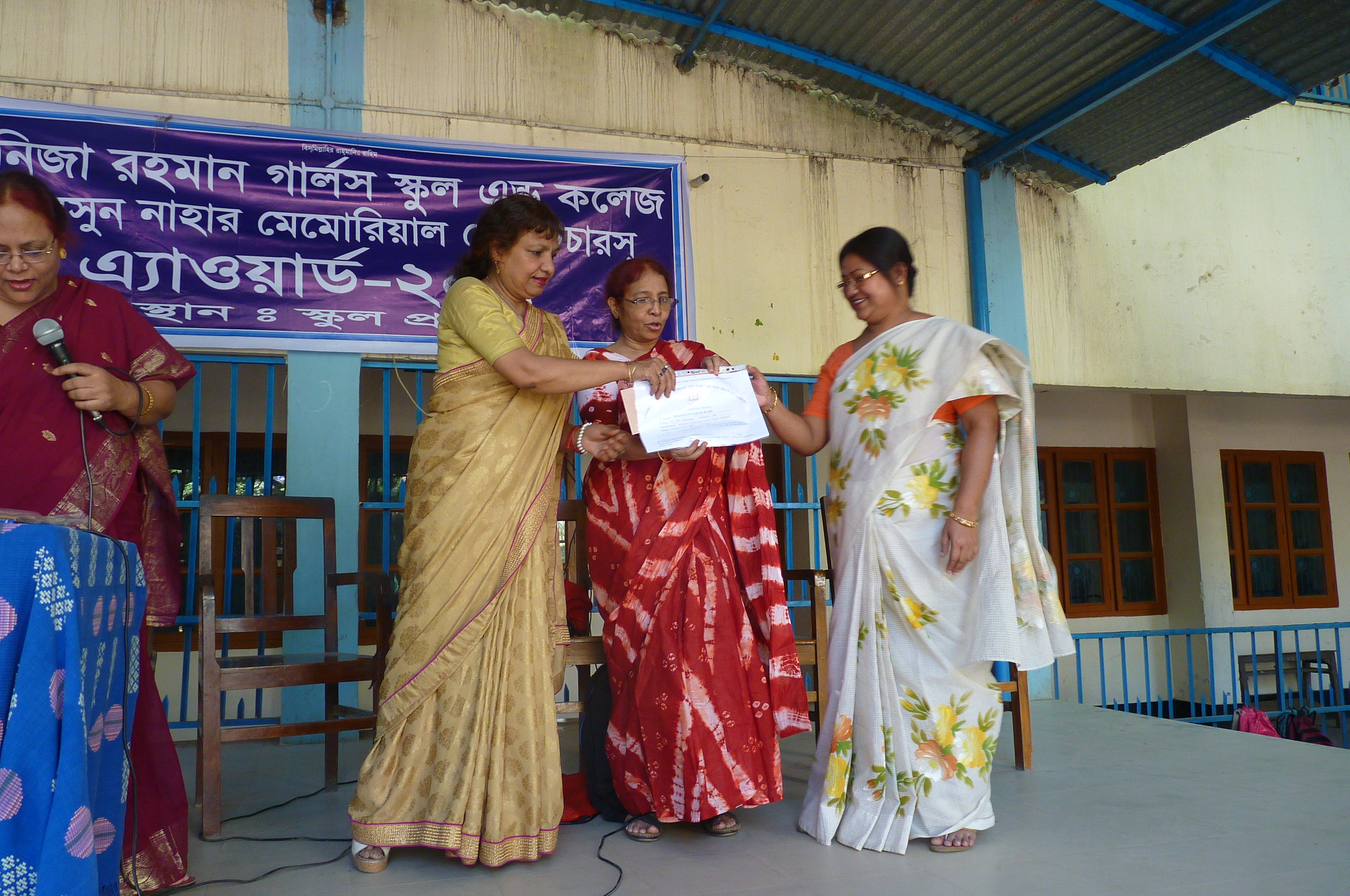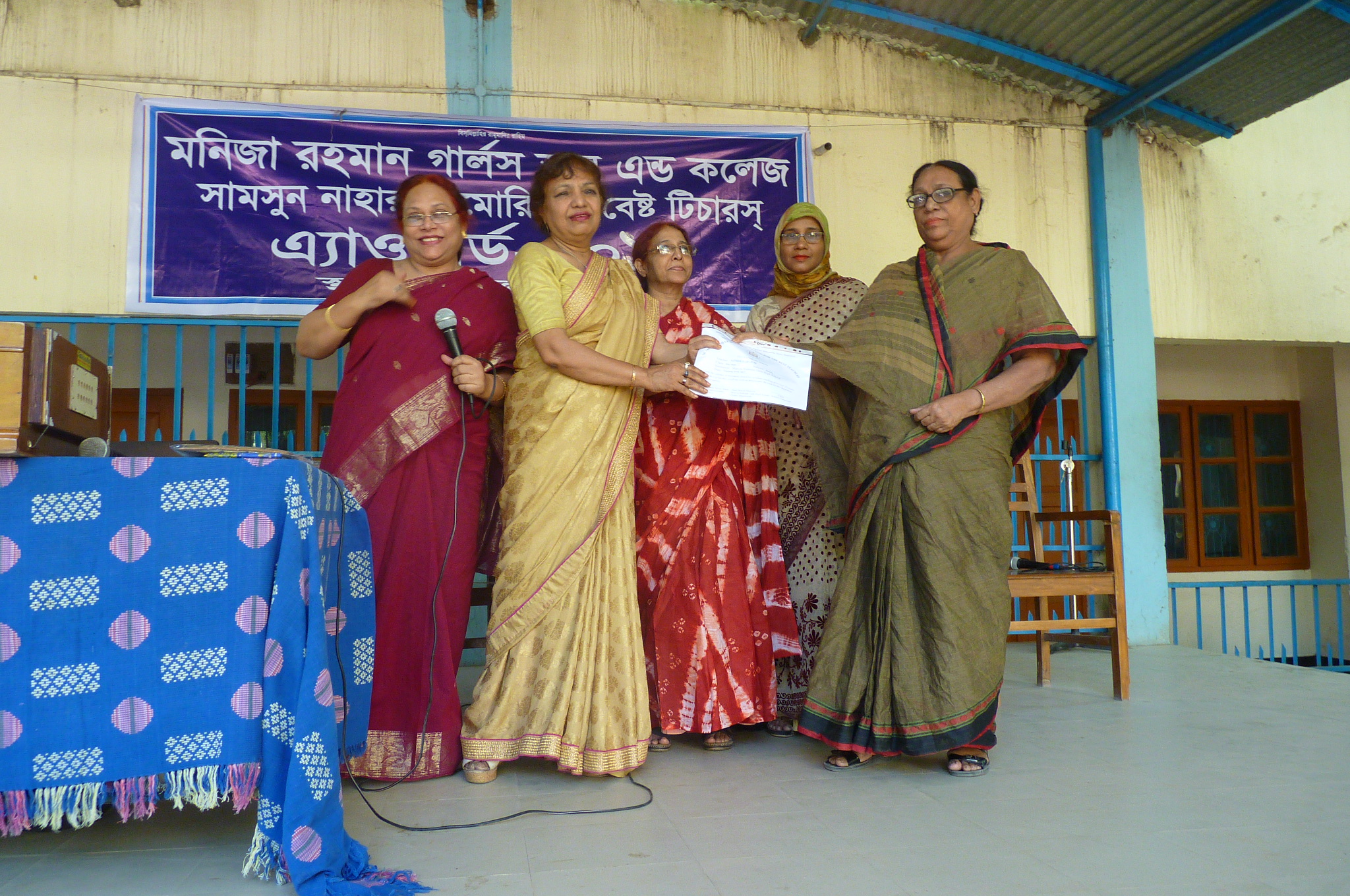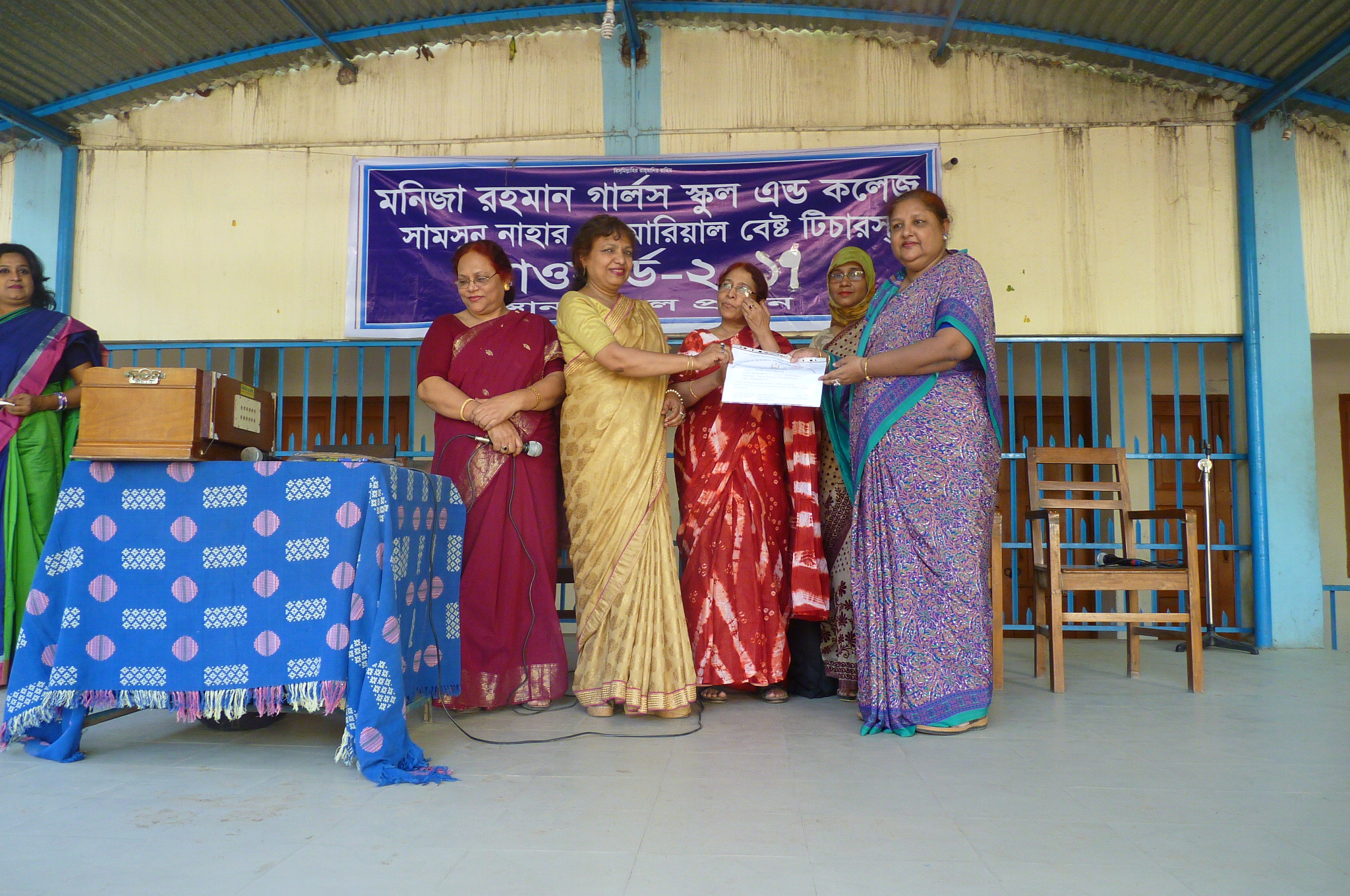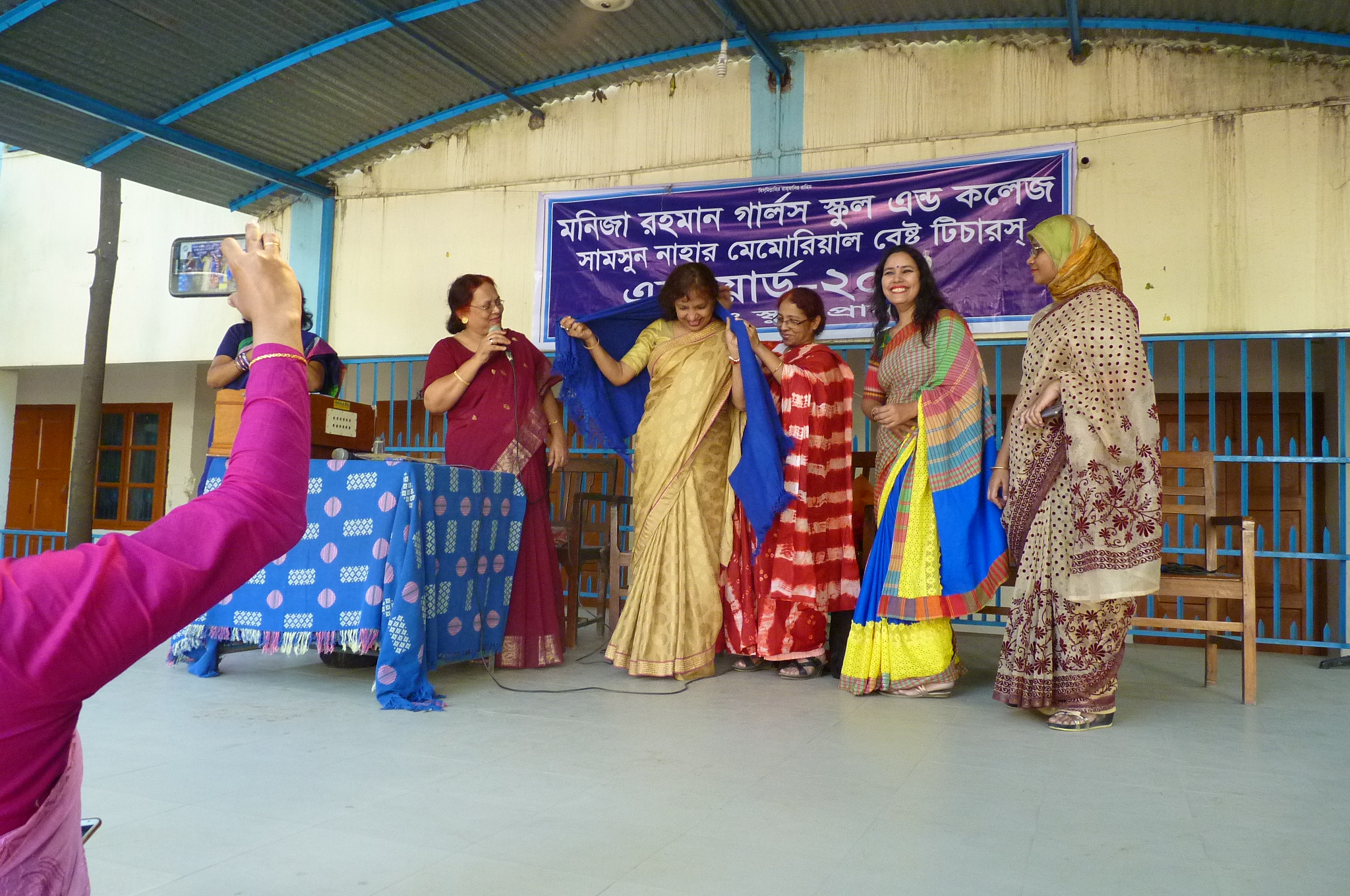 2017 prize ceremony: Annual Teaching and Lifetime Achievement award winners, Teacher's handmade shawl for Sultana
- Principle address, - Song, - Dance,

Lifetime Teaching Awards in 2017:
Azmira Begum: Day Session, Science, IX-X
Noor Jahan Begum: Morning Session, Arts and Commerce, IX-X

Best teachers:

i) Zakir Hossain (Math & Science, Classes IX-X, Day Session)
ii) Sabina Yasmin, Arts & Commerce Classes IX-X, Day Session)
iii) Moniz Fatema (Classes VI-VIII, Day Session)

iv) Md. Sultan Mahmud (Math & Science, Classes IX-X, Morning Session),
v) Afsana Begum, Arts & Commerce Classes IX-X, Morning Session)
vi) Shamsun Nahar Ruby, (Classes VI-VIII, Morning Session)
vii) Suranita Saha, (Classes III-V, Morning Session)
---
2016: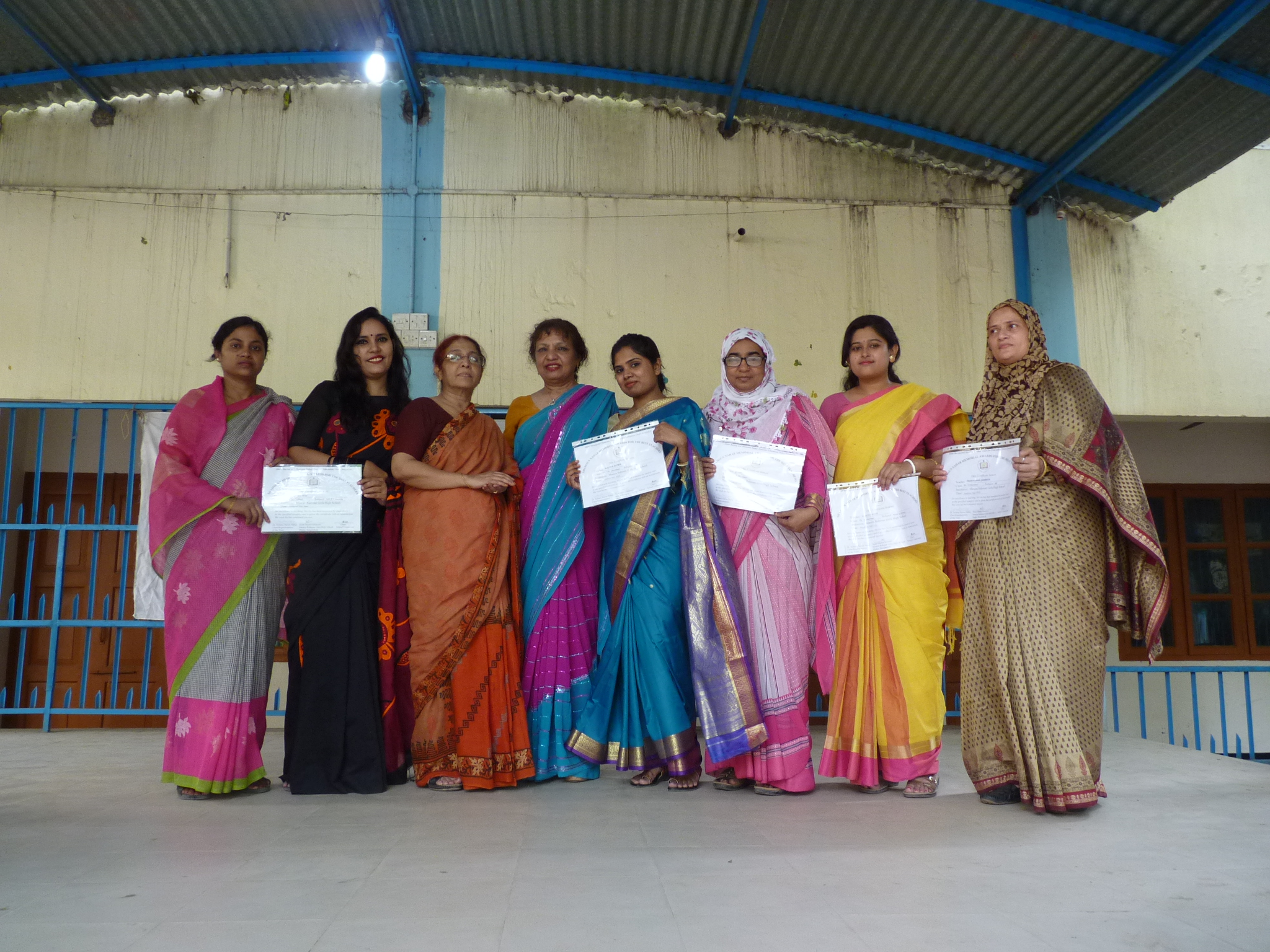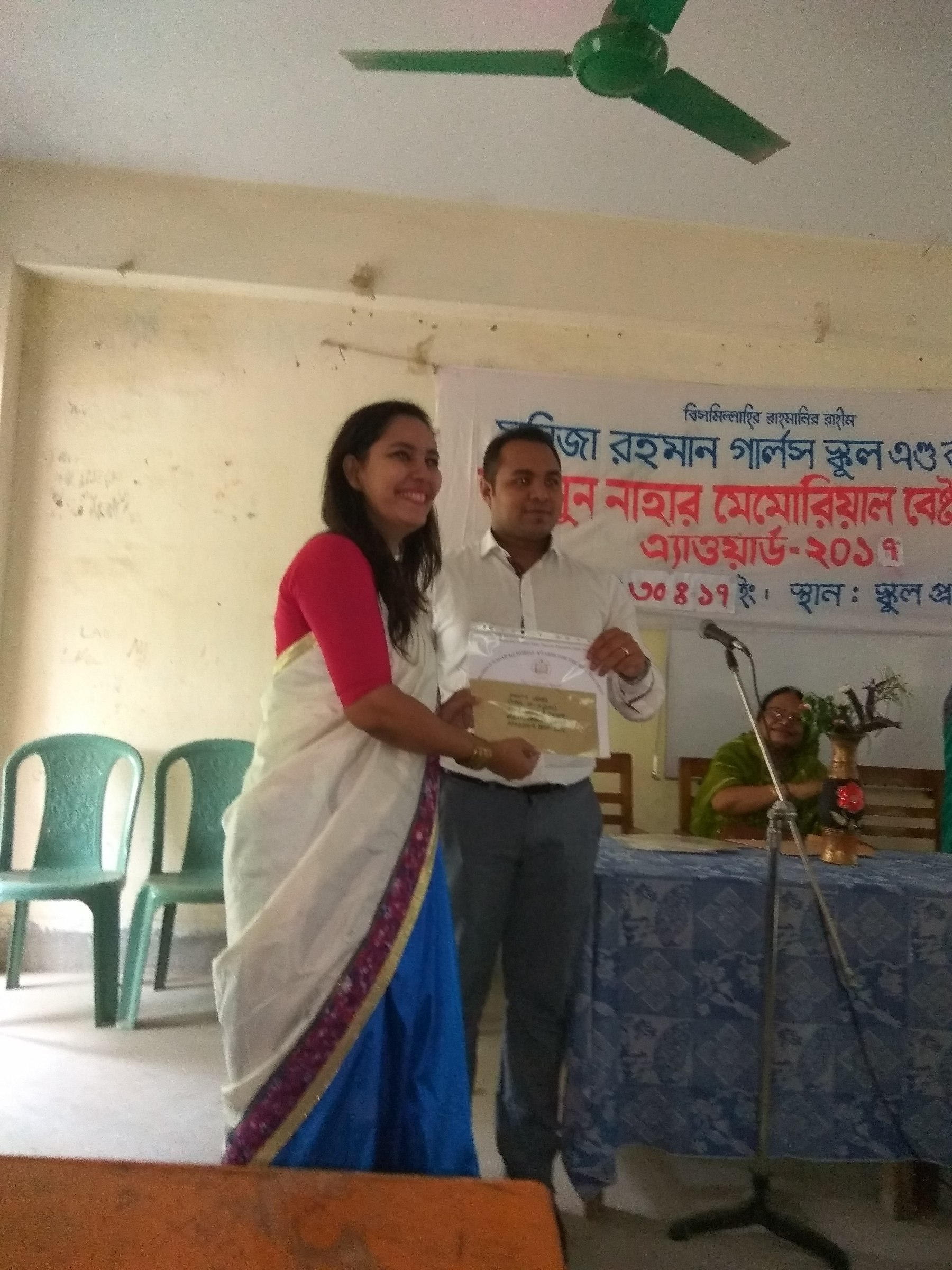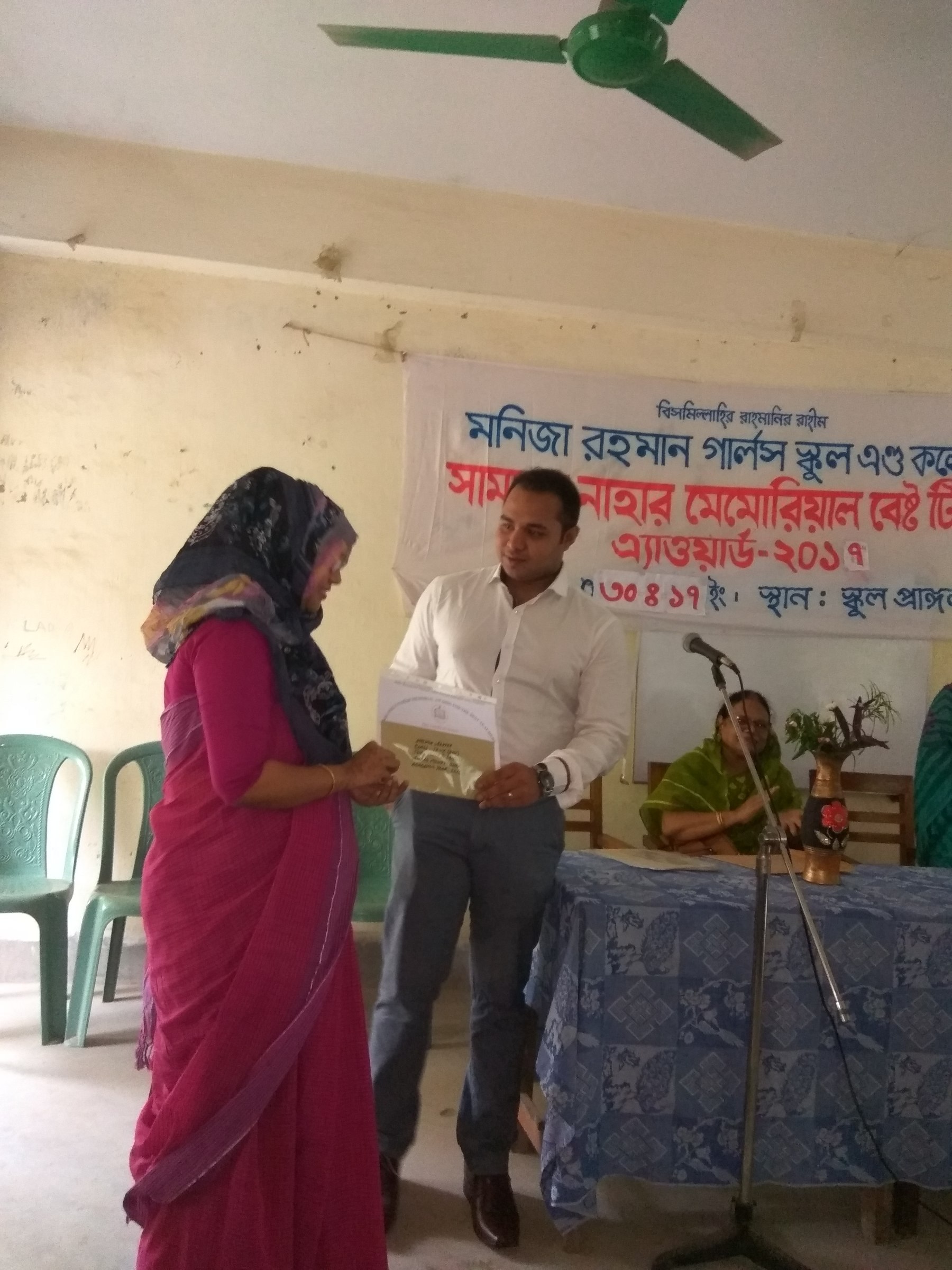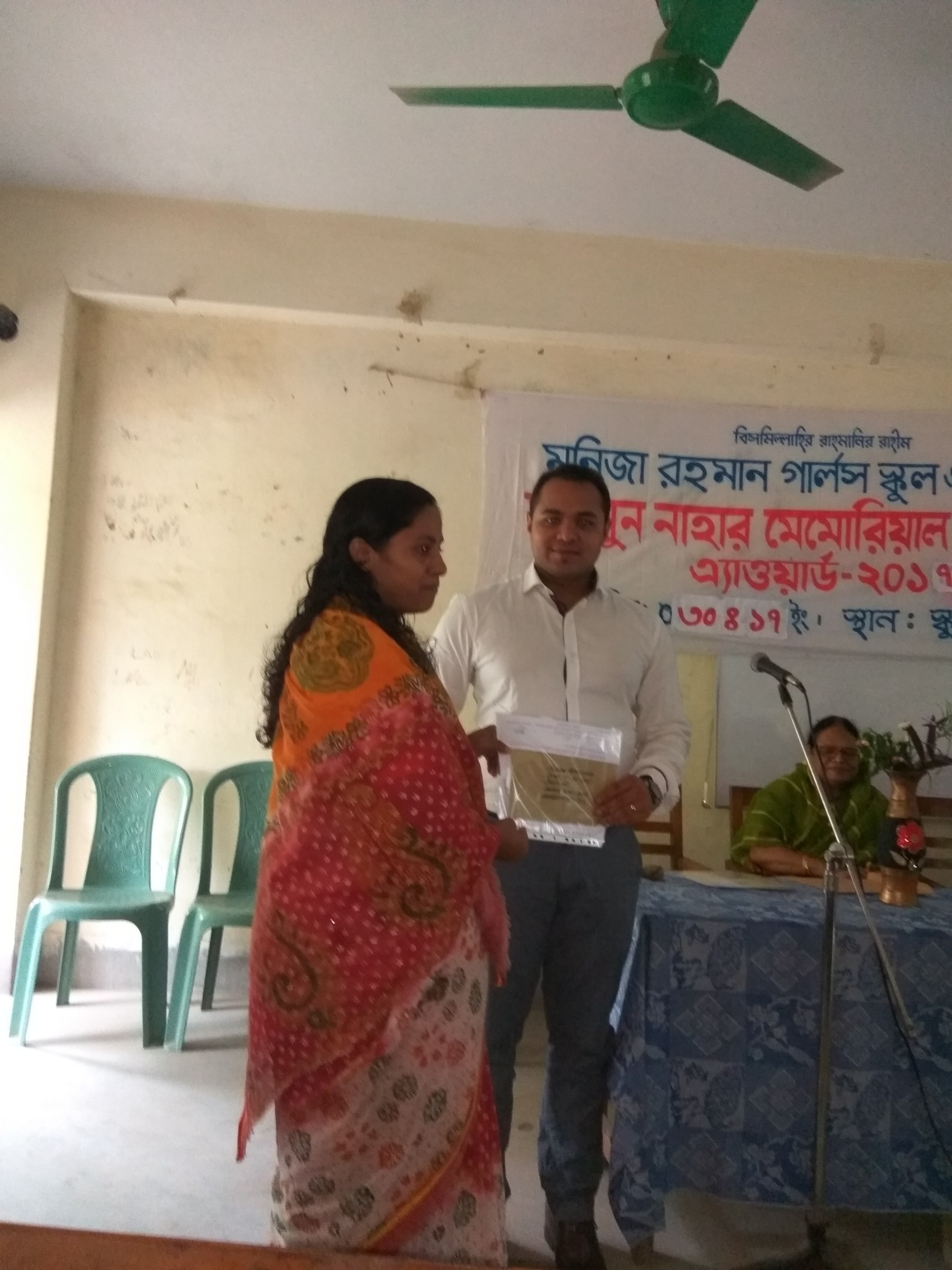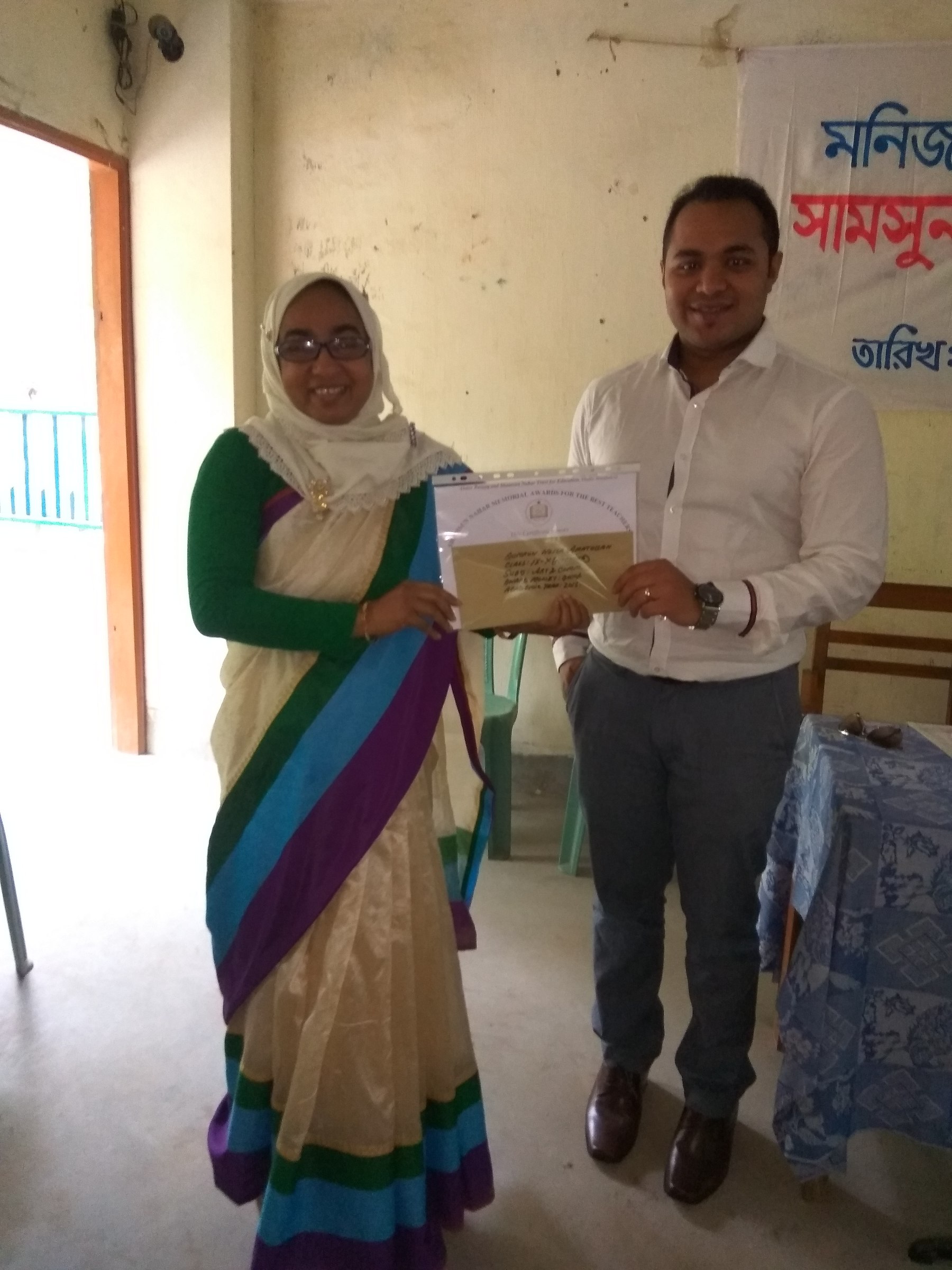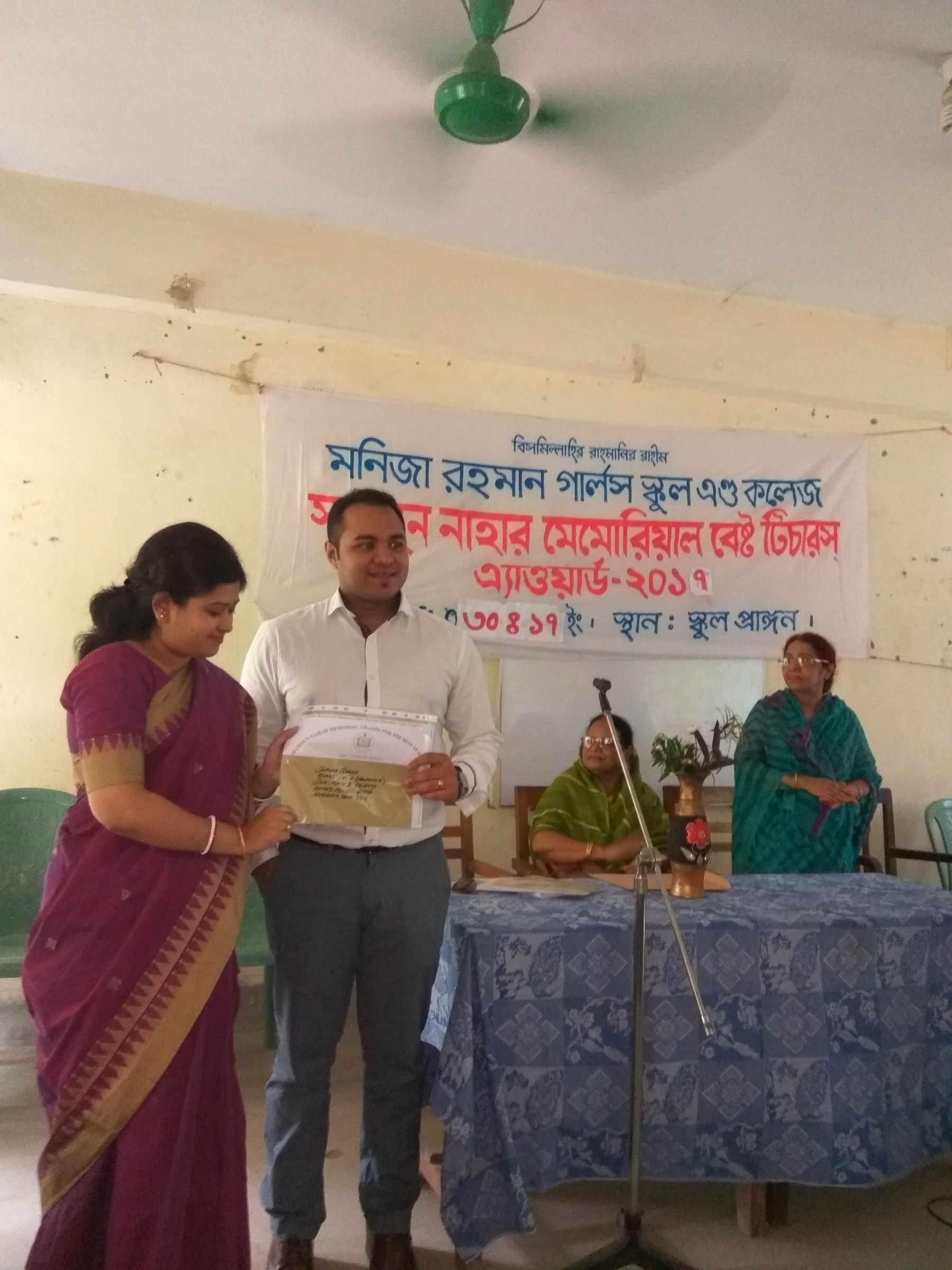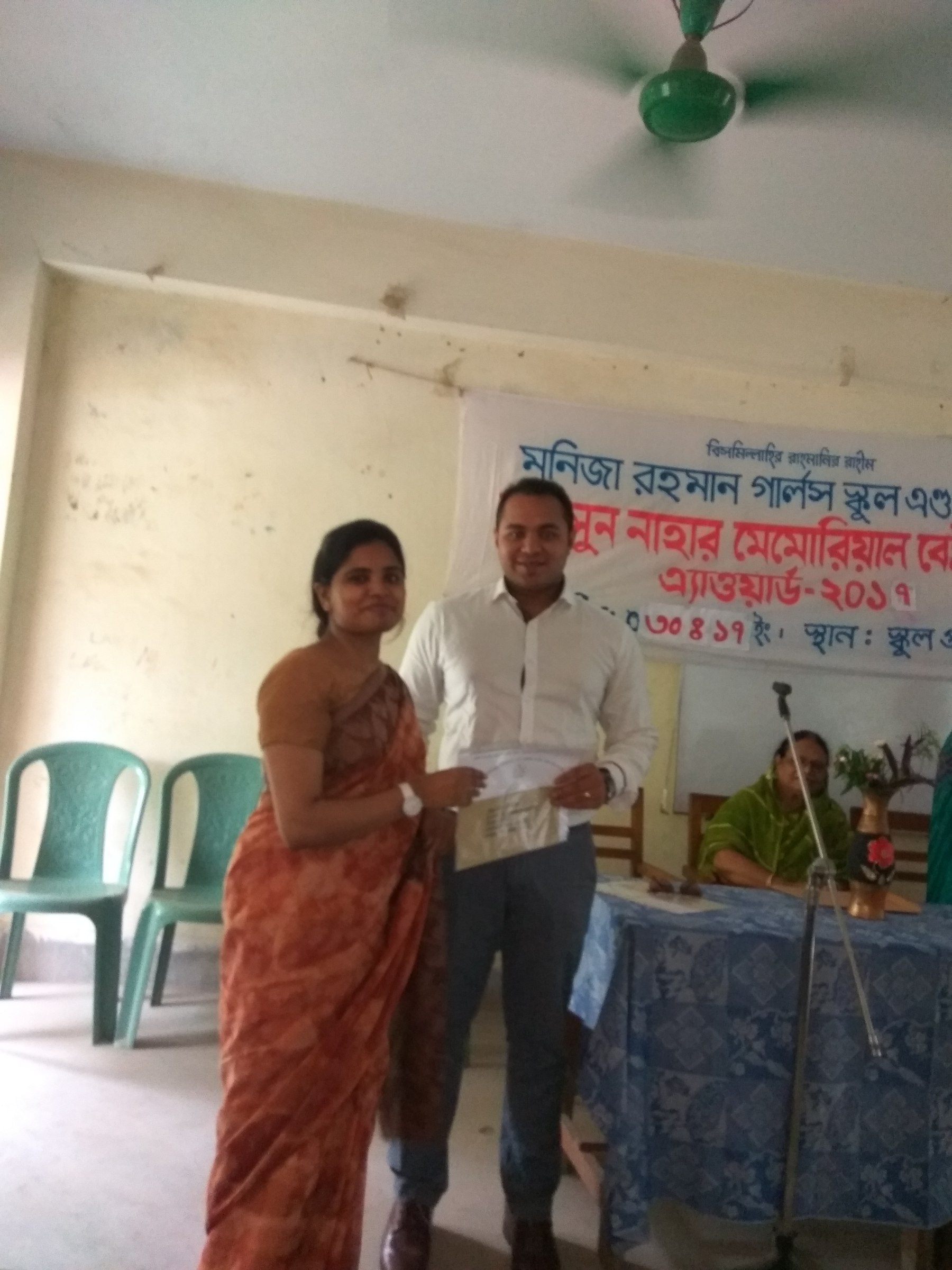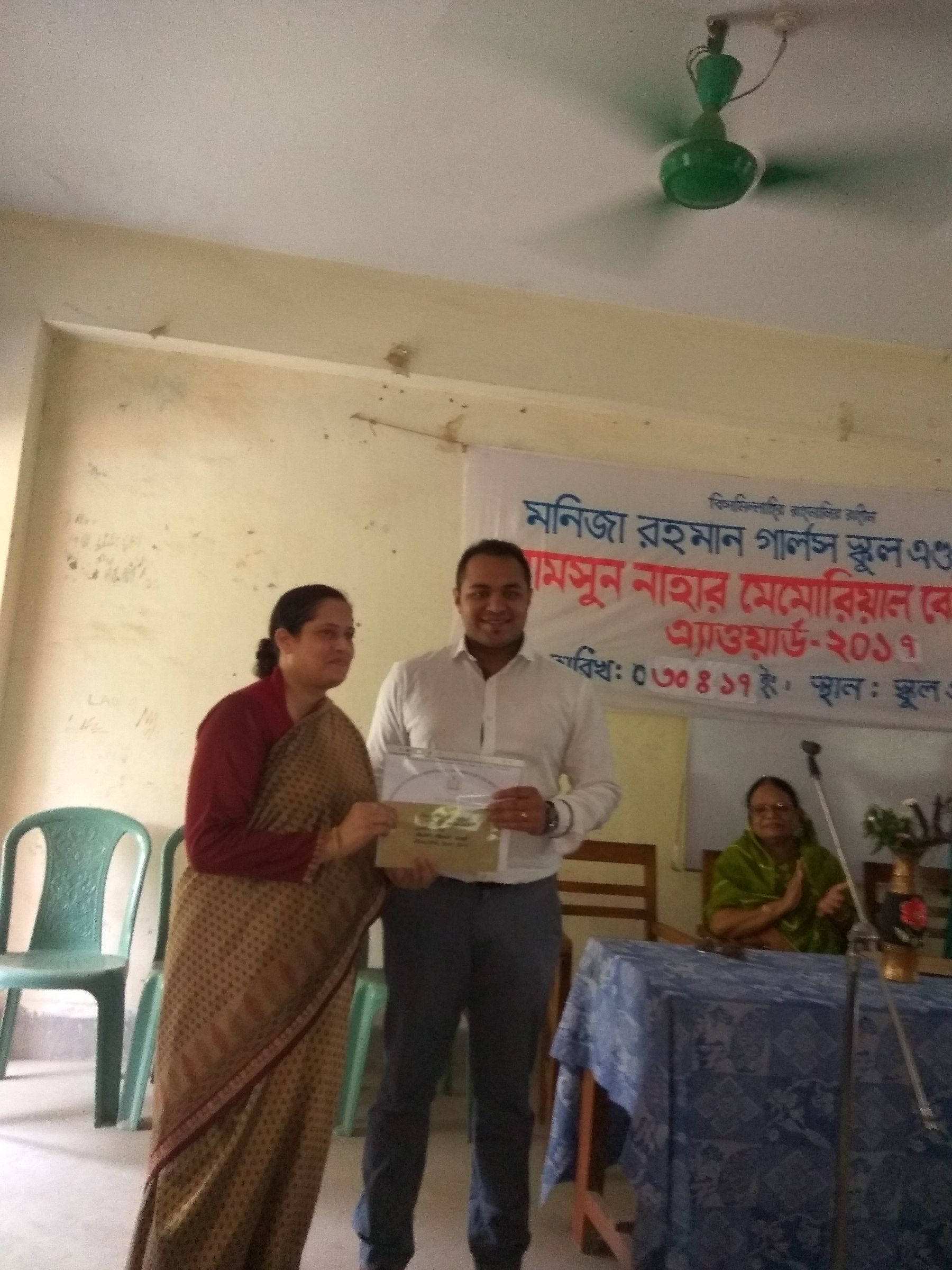 Ceremony 2016: Event pictures: i) Winning teachers of 2016 with the school Principal and Sultana Nahar, ii - viii) Teachers accepting certificates and honorarium from Imran Jahan Samrat (grandson of Shamson Nahar and Co-owner of Stratosphere Aviation, USA)

Best teachers:

i) Nasima Akhter (Math & Science, Classes IX-X, Day Session)
ii) Kanta Afaz: Arts & Commerce (Classes IX-X, Day Session)
iii) Rubina Aktar Lovely (Classes VI-VIII, Day Session)

iv) Surupa Ghosh (Math & Science, Classes IX-X, Morning Session),
v) Qumrun Nessa Amatullah, Commerce Classes IX-X, Morning Session)
vi) Aklima Akter, (Classes VI-VIII, Morning Session)
vii) Farkhanda Jabbeen, (Classes III-V, Morning Session)
---
2015
Event pictures: - Doa and lecture, - Teachers and students, - song presentation, - lecture by the principal, - lecture by Nina
Pictures of winners: teacher 1, - teacher 2, - teacher 3, - teacher 4, - teacher 5

Best teachers:

i) Rahnuma-E-Jannat (Math & Science, Classes IX-X, Day Session)
ii) Afroza Ahmed: Arts & Commerce (Classes IX-X, Day Session)
iii) Nasima Akter (Classes VI-VIII, Day Session)

iv) Sultan Mahmud (Math & Science, Classes IX-X, Morning Session), Acceptance,
v) Sanjida Akhter, Commerce Classes IX-X, Morning Session)
vi) Jannat-ul-Ferdous, (Classes VI-VIII, Morning Session)
vii) Mosammat Shahreen, (Classes III-V, Morning Session)
---
2014 (Event held, 10:30 am. December 8, 2014)
Award event: Introduction by Morning Head, - Teachers and students, - Speech by Sultana N. Nahar

Lifetime Teaching Awards in 2014:
Shamsun Nahar Selima: Morning Session, I-X

Shamvunath Acherjo: Day Session, V-X


Best teachers:

i) Zakir Hossain (Math & Science, Classes IX-X, Day Session)
ii) Shahnaj Nargis Jamal: Arts & Commerce (Classes IX-X, Day Session)
iii) Kakoli Bhowmick (Classes VI-VIII, Day Session)

iv) Shamsun Nahar Ruby (Math & Science, Classes IX-X, Morning Session)
v) Afsana Begun, Commerce Classes IX-X, Morning Session)
vi) Lovely Rani Saha, (Classes VI-VIII, Morning Session)
vii) Asma Begum, (Classes III-V, Morning Session)
---
2013 (Event Speech by Zakir Hossain, - Md. Sarwar Jahan, - Audience)

Lifetime Teaching Awards (upto 2014): Teachers
Anwara Khatum: Math & Science (Morning Session, I-X)

Lutfun Nahar: Arts & Commerce (Day Session, V-X)

Md Abdul Bari: Arts & Commerce (Day Session, V-X)

Nargis Khanom: Arts & Commerce (Day Session, V-X)

Polin Akter: Arts & Commerce (Day Session, V-X)

Shahnaj Nargis Jamal: Arts & Commerce (Day Session, V-X)


Best teachers: Teachers

i) Ainun Nahar Chowdhury (Math & Science, Classes IX-X, Day Session)
ii) Shahnaj Nargis Jamal: Arts & Commerce (Classes IX-X, Day Session)
iii) Afroza Ahmed (Classes VI-VIII, Day Session)

iv) Nurul Islam (Math & Science, Classes IX-X, Morning Session)
v) Nurjahan Begum Ranu, Arts (Classes IX-X, Morning Session)
vi) Jannat-ul Ferdous (Classes VI-VIII, Morning Session)
vii) Suronita Saha (Classes II-V, Morning Session)

---
2012

Lifetime Teaching Award:
Kamrun Nahar (Day Session)

Best teachers:

i) Zakir Hossain (Math & Science, Classes IX-X, Day Session)
ii) Shamvunath Acherjo (Arts & Commerce, Classes IX-X, Day Session)
iii) Kakoli Bhowmick (Classes VI-VIII, Day Session)

iv) Masuda Begum (Math & Science, Classes IX-X, Morning Session)
v) Afsana Begum (Arts, Classes IX-X, Morning Session)
vi) Abul Kalam (Classes VI-VIII, Morning Session)
vii) Swurupa Ghosh (Classes II-V, Morning Session)

---
2011 (Event Pictures)

Lifetime Teaching Award:

Hanna Zakiri Morning Session)

Ila Rani Kundo (Morning Session)

Masuda Begum (Morning Session)

Momena Khatun (Day Session)

Nasreem Rahman (Day Session)

Noorjahan Begum (Morning Session)

Best teachers:

i) Zakir Hossain (Math & Science, Classes IX-X, Day Session)
ii) Shamvunath Acherjo (Arts & Commerce, Classes IX-X, Day Session)
iii) Kakoli Bhowmick (Classes VI-VIII, Day Session)

iv) Masuda Begum (Math & Science, Classes IX-X, Morning Session)
v) Noorjahan Begum Ranu (Arts, Classes IX-X, Morning Session)
vi) Sanjida Akter (Classes VI-VIII, Morning Session)
vii) Zannatul Ferdous Sonny (Classes II-V, Morning Session)

---
2010 (award on January, 2011)

Lifetime Teaching Award:

Swarasati Guho Biswas

Best teachers:

i) Nasreen Rahman (Math & Science, Classes IX-X, Day Session)
ii) Shahnaz Nargis Jamal (Arts & Commerce, Classes IX-X, Day Session)
iii) Azmeera Begum (Classes VI-VIII, Day Session)

iv) Afsana Begum (Commerce, Classes IX-X, Morning Session)
v) Masuda Begum (Arts, Classes IX-X, Morning Session)
vi) Israt Zarin Sampa (Classes V-VIII, Morning Session)
vii) Kamrun Nahar Amatullah (Classes II-V, Morning Session)

---
2009 (award on March 18, 2010)

Excellent Service Award as Head Mistress:

Saleha Khatun

Best teachers:

i) Md. Zakir Hossain (Math & Science, Classes IX-X, Day Session)
ii) Shahnaz Nargis Jamal (Arts & Commerce, Classes IX-X, Day Session)

iii) Kaniz Fatema Aktar (Classes VI-VIII, Day Session)
iv) Polin Aktar (Classes VI-VIII, Day Session)

v) Israt Zarin (Math & Science, Classes IX-X, Morning Session)
vi) Arifun Nessa Fatima Begum (Arts & Commerce, Classes IX-X, Morning Session)
vii) Nurjahan Begun (Classes VI-VIII, Morning Session)
viii) Nurun Nahar Begum (Classes III-V, Morning Session)
---
2008 (awarded on August 2, 2009)

Best teachers:

i) Shorowasshati Guho Biswash (Science, Classes IX-X, Day Session)
ii) Shanaj Nargis Jamal (Arts, Classes IX-X, Day Session)
iii) Md. Zakir Hossain (Classes VI-VIII, Day Session)
iv) Md Abdul Bari (Commerce, Classes IX-X, Day Session)

v) Masuda Begum (Math & Science Classes IX-X, Morning Session)
vi) Afsana Begum (Commerce, Classes IX-X, Morning Session)
vii) Md. Abul Kalam Azad (Classes VI-VIII, Morning Session)
viii) Quamrum Nessa Amatullah (Classes I-V, Morning Session)
---
2007 (awarded on March 20, 2008)

Best teachers:

i) Md. Zakir Hossain (Science & Math, Classes IX-X, Day Session)
ii) Azmira Begum (Science, Classes VI-VII, Day Session)
iii) Polin Akter (Classes VI-VIII, Day Session)

iv) Masuda Begum (Math & Science, Classes IX-X, Morning Session)
v) Hanna Zakir (Classes VI-VIII, Morning Session)
vi) Nurun Nahar Begum (Classes I-V, Morning Session)
---
2006 (awarded in December 2006)

Lifetime Excellent Teacher:


Mahbubur Rahman Tribute

Best teachers:

i) Md. Zakir Hossain (Science & Math, Classes IX-X, Day Session)
ii) Nasreen Rahman (Classes VI-VIII, Day Session)
iii) Shahnaz Nargis Zaman (English, Classes VI-VIII, Day Session)

iv) Masuda Begum (Math & Science, Classes IX-X, Morning Session)
v) Anwara Khatun (Math & Science, Classes VI-VII, Morning Session)
vi) Kamrun Nessa Amatullah (Classes I-V, Morning Session)

---
2005 (awarded in February 2005)

Best teachers:

i) Ainun Nahar Chowdhury (Science & Math, Classes IX-X, Day Session)
ii) Ajmeera Begum (Science, Classes VI-VIII, Day Session)
iii) Lutfun Nahar Begum (Bengali, Classes VI-VII, Day Session)

iv) Arifun Nessa Fatema Begum (Social Studies, Classes IX-X, Morning Session)
v) Hanna Zakir (Classes VI-VIII, Morning Session)
vi) Noorjahan Begum Ranu (Classes I-V, Morning Session)
---
2004 (Awarded in May 2004)

Best teachers:

i) Md. Zakir Hossain (Science & Math, Classes IX-X, Day Session)
ii) Shahnaz Nargis Zaman (Science, Classes VI-VII, Day Session)
iii) Polin Akhtar (Classes VI-VIII, Day Session)

iv) Masuda Begum (Math, Classes IX-X, Morning Session)
v) Nurun Nahar (Classes VI-VIII, Morning Session)
vi) Kamrun Nessa Amatullah (Classes I-V, Morning Session)
---