AWARDS: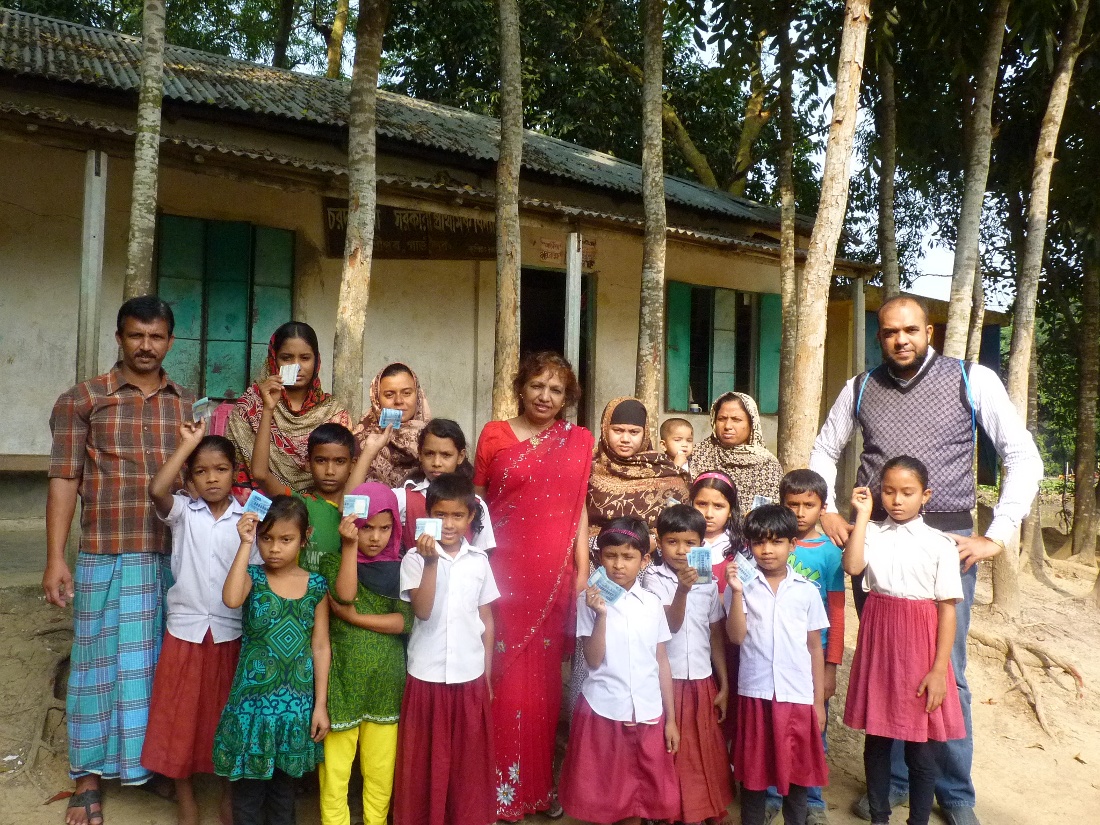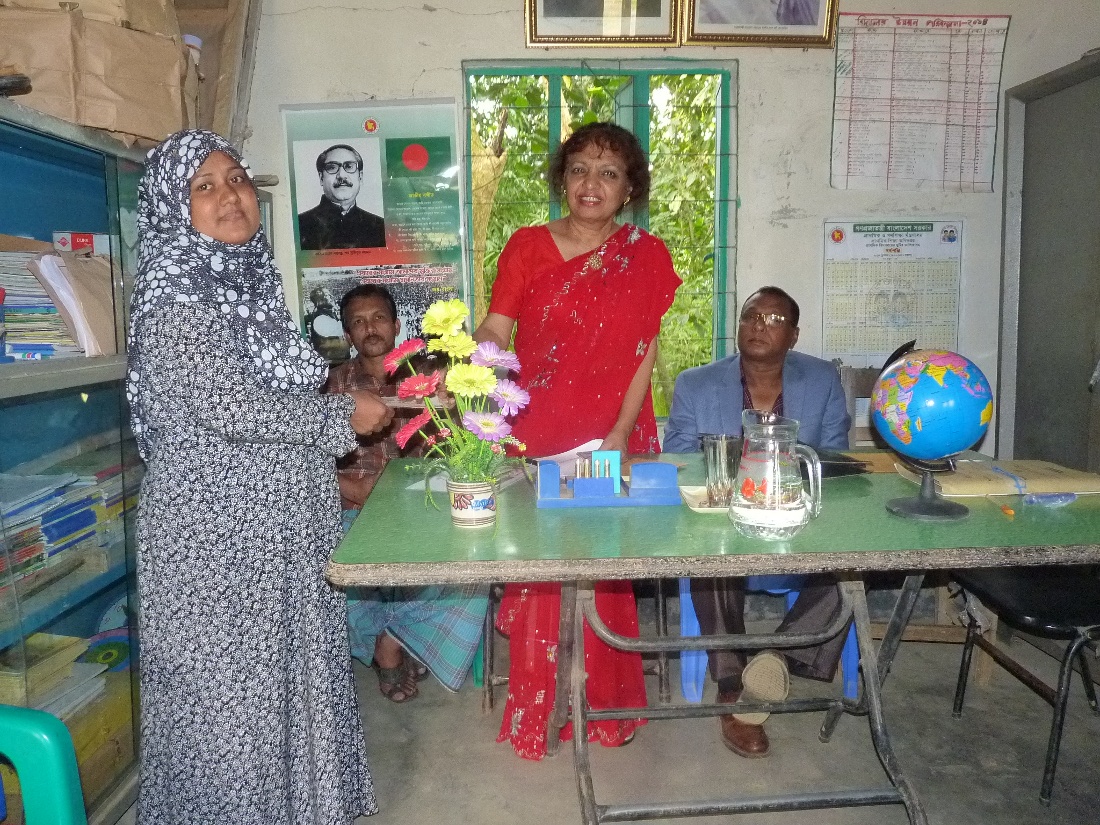 Honorarium gifts 2014: L: Topmost students, R: Teachers
Annual Awards:
RAZZAQ-SHAMSUN BEST TEACHERS (2, nominated by student votes) in
- Math and Science
- Humanities
ABDUL AWAL SARKAR BEST GRADUATING STUDENTS (3, based on Board exams for Class V):
- 1ST, 2ND, 3RD positions
The teacher receives the certificate, "Razzaq-Shamsun Best Teacher" with an honorarium
Students receive certificates "Abdul Awal Sarker Best Student Awards" and cash prizes.
Letter of Appreciation by the school teachers to Sultana N. Nahar, 2014
---
OBJECTIVES:
Year 2005: Char Domdoma Primary School was established in 2005 for the children for whom other schools are too far away to walk. A land was bought with donation and at a lower price charged intentionally by the owner. The first donor and one of the founders was Md. Liaqat Jahan, who currently severs as the Advisor.
Upto 2011: Although new, the five teachers are devoting efforts on children educaion with irregular and poorly paid salaries. The students do not receive any government aid. However, the effort is succeeding since the students are improving in thier results at the Education Board exmas administered at specified centers.
2011: For better teaching motivation and learning inspiration, Dr. Sultana N. Nahar established awards to recognize one best teacher, nominated by the student votes, and three topmost graduating students. The students vote for the best teacher. The recipients of the maximum votes are nominated. The final decisions are based on the votes with recommendations from the Head Master/Mistress, one member of the school committee, and the sponsor.
2013: The school has been registered as a government school opening up opportunities of various government aids when all processes will be completed.
2014: Teacher salary is still not paid every month (only 4 months in whole 2014, money collected as donations). Government STEP B for salary is under process.
Progress: The shcool is improving every year
- Number of students has increased to 172 from 120 in 2009
- Board exam of Class V: 2016: A+ 7 students, 2013: A+ 8 students, 100% passed,
2012: A+ 2 students, 95% passed, 2011: A+ 1 student, 100% passed, 2009: 78% passed.
---
MEMBERS OF THE BOARD OF TRUSTEES FOR THE AWARDS:
1. School Head Master/Mistress
2. Md. Liaqat Jahan
3. Abdul Awal Sarkar
4. Babul Sarkar, Vice President of the School Committee
5. Dr. Sultana N. Nahar (Founder and Chair)
Trust(signed draft), 2011
---
NEWS:
Sultana's Visit November 2014: Congratulating best students, - recognizing with some honorarium money and enxouraging all to study well, - speech to students and inspiring them to dream of scientists or someone great, - students raising hands to be scientists
2014: Meeting with teachers and committee members, - giving appreciative honorarium to Head Mistress, teacher 2, teacher 3, teacher 4, teacher 5 for their sincere effort with very irregular salary
GOOD NEWS in 2013! The school has been doing well. Bangladesh government education department has accepted it giving the opportunity for government benefits and other previleges for the students, teachers, and the school
Although there is no news media in Domdoma, words of recoginitions for the best teachers and students have been widely circulated and people come to the festive event with lot of joy and inspiration, 2012, 2013, 2014
---
AWARD WINNERS:
a. Razzaq-Shamsun Best Teacher (By student votes)

b. Abdul Awal Sarkar Best Graduating Students (Class V, through Education Board Exams at Centers)
---
AWARD RECEPIENTS - 2016

Award winning teachers
Best Teacher in Math and Science:: Rabeya
Best Teacher in Humanities: Mausumi
Award winning graduating students:
1st position: Mosammat Rajia Akhtar

2nd position : Mosammat Cynthia

3rd position : Mosammat Lamisha
---
AWARD RECEPIENTS - 2015

Award winning teachers
Best Teacher in Math and Science:: Rabeya
Best Teacher in Humanities: Aklima
Award winning graduating students:
1st position: Tamjid

2nd position : Shihob

3rd position : Ratna
---
AWARD RECEPIENTS - 2014

Award winning teachers
Best Teacher in Math and Science:: Afrosa Aktar
Best Teacher in Humanities: Mausumi
Award winning graduating students:
1st position: Jebin Sarkar

2nd position : Habiba Aktar

3rd position : Israt Jahan Ribiya
---
AWARD RECEPIENTS - 2013

Award winning teacher
Best Teacher: Mausumi
Award winning students:
1st position: Amena Aktar

2nd position : Halimatus Sajia

3rd position : Mitu
---
AWARD RECEPIENTS - 2012

Note: This year the top three students of each class received cash prize - through a donation of Professor of Hosam Gharib in Taibah University in Saudi Arabia. The names of the recipients are given below
(ceremony: May, 2013)

Award winning teacher:

Best Teacher (all subjects): Aklima Aktar

Award winning studentso

1st position: Amena Aktar

2nd position : Niham

3rd position : Tafsia Sarkar Mim

Top three prizes in classes:

Class I: Lamia (1st), Tannima (2nd), Taiyeba (3rd)

Class II: Abir Mohammad (1st), Lamisha (2nd), Symthia (3rd)

Class III: Forhad Ahmed Shihab (1st), Fatema (2nd), Raihan Sarkar (3rd)

Class IV: Jabina Aktar (1st), Habia (2nd), Naznin (3rd)