---
786
ABDUR RAZZAQ & SHAMSUN NAHAR TRUST FOR EDUCATION (Established in 2003)
Objectives: Recognition of best teachers and best Students with awards in Primary Schools, High schools, and Colleges in Bangladesh
Founder, Sponsor & Chair: Sultana N. Nahar
---
Teachers and Students Recognition Program at Educational institution:
"Panchdona Tah'fijul Quran Madrasa and Orphanage"
Panchdanda Bazzar, Narsindhi, Dhaka, Bangladesh
Program established: 2008
Founder and sponsor: Dr. Sultana N. Nahar
---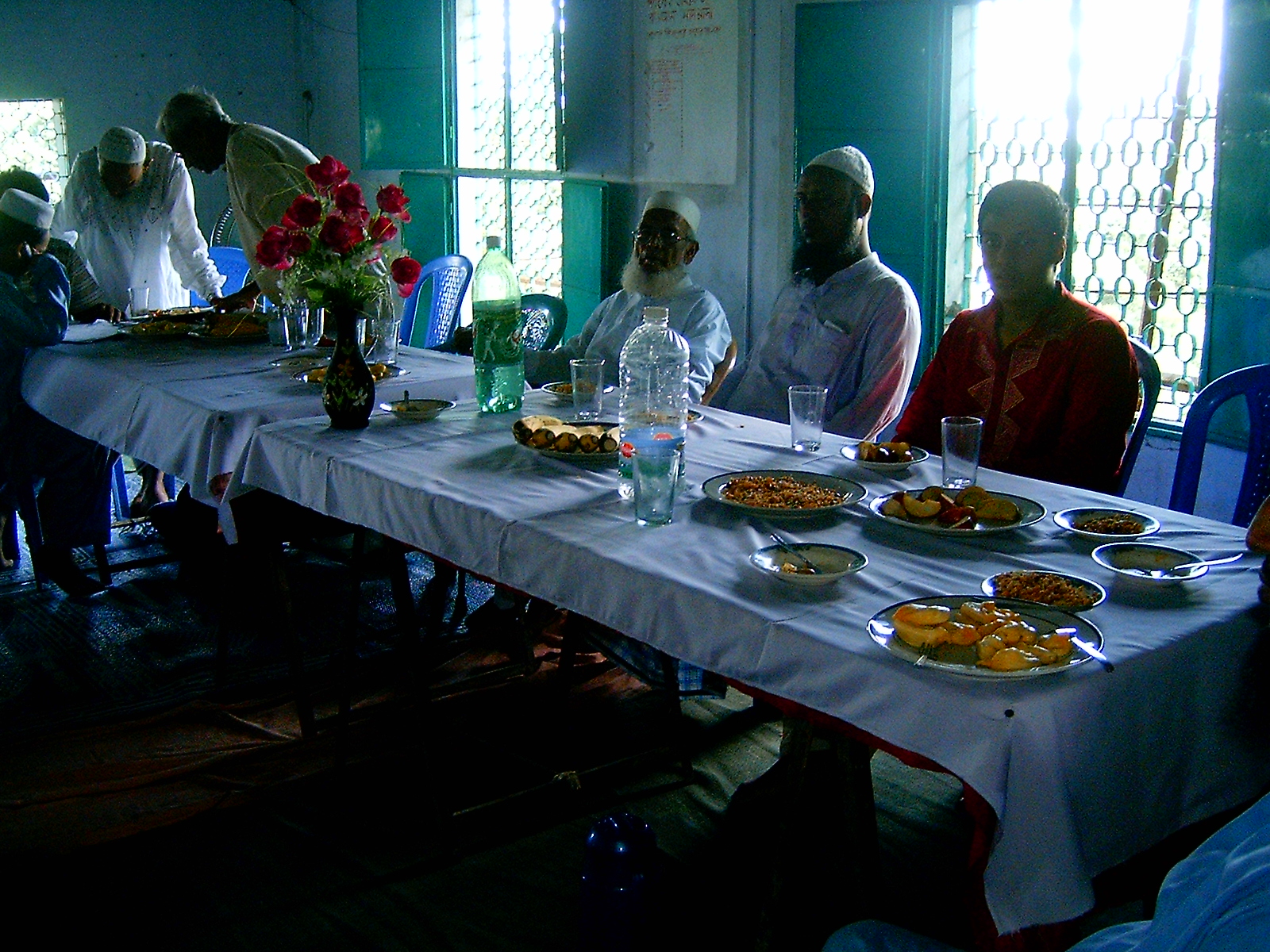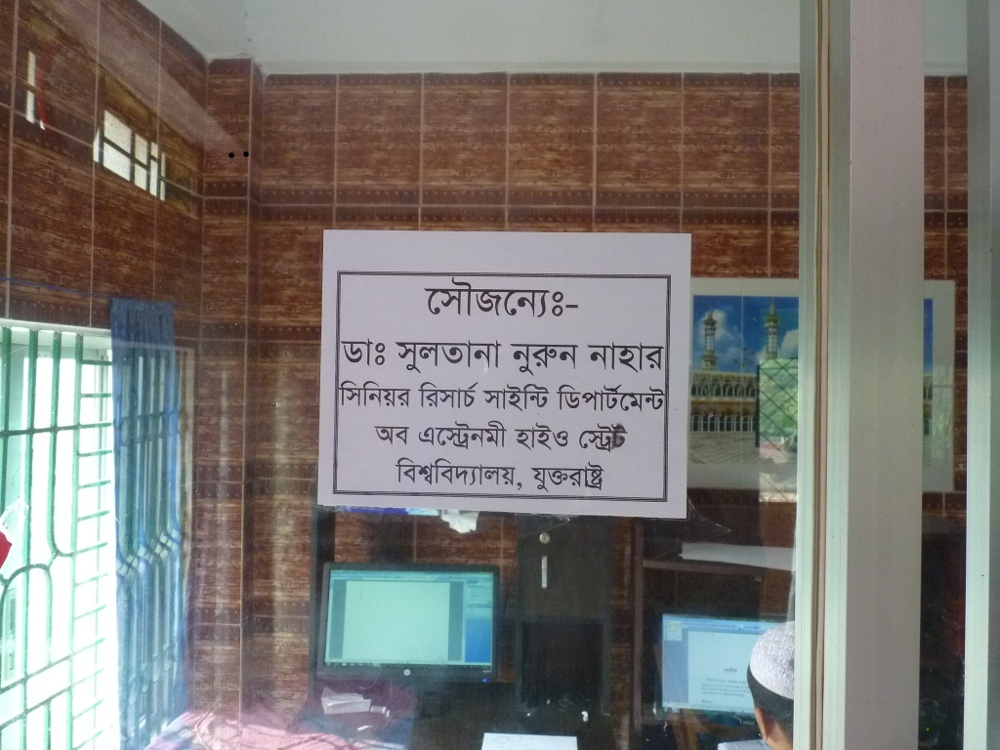 L-R: 1,2: Meeting 2008, 3: Telawat by a Hafez student 2014, 4: Computer lab, Sponsor: Sultana Nahar

---
---
AWARDS:

Speech, Sultana giving honorarium money for the topmost students, Gift from the teachers, 2014
TWO BEST TEACHERS OF THE YEAR: In
1) MATH AND SCIENCE,
2) OTHER SUBJECTS,

THREE BEST GRADUATING STUDENTS:
1ST, 2ND, 3RD positions
Awards Established: 2008 (1 Teacher, 2 students)

Revised in 2011: 2 teachers, 3 students
OBJECTIVES: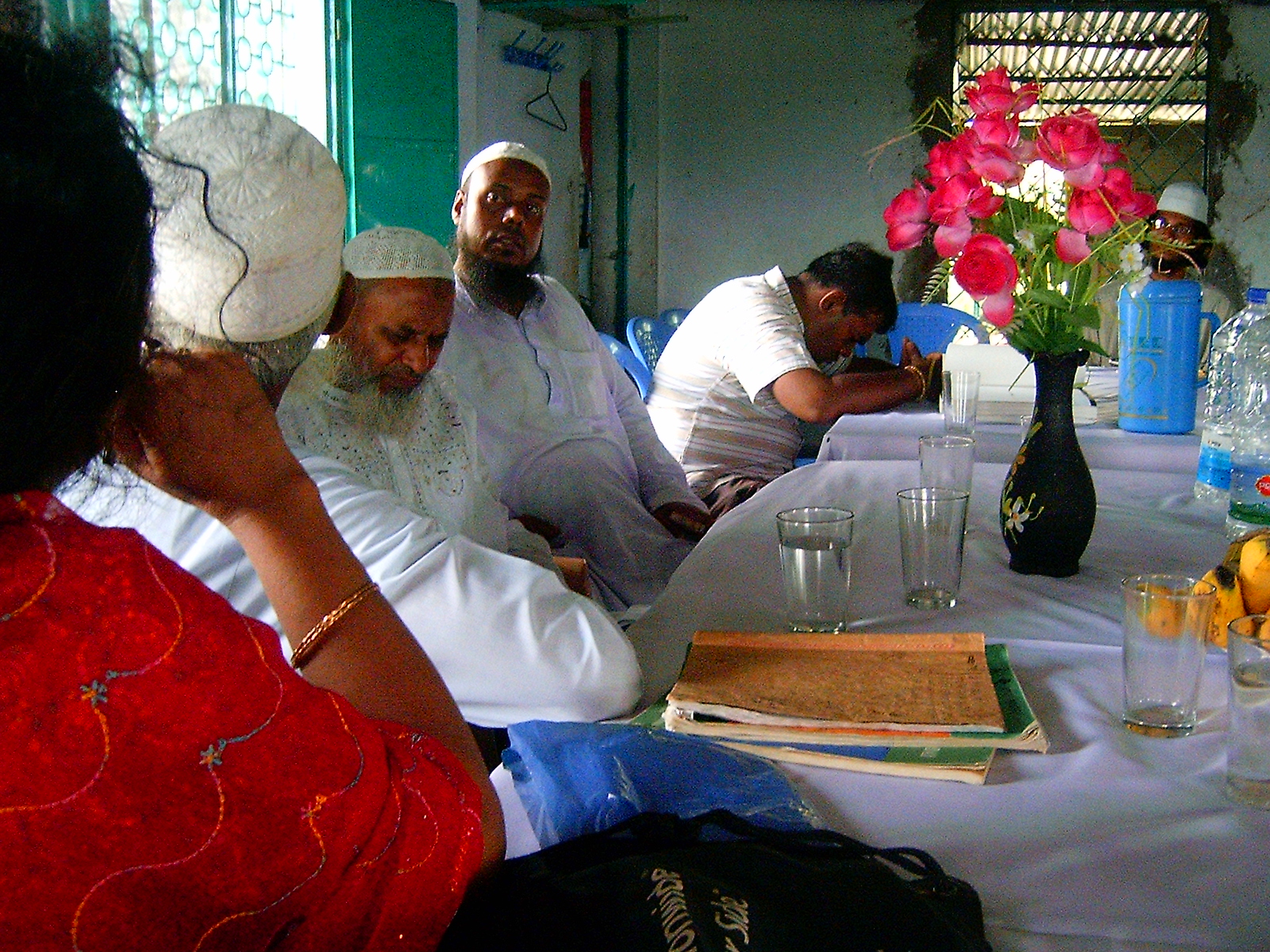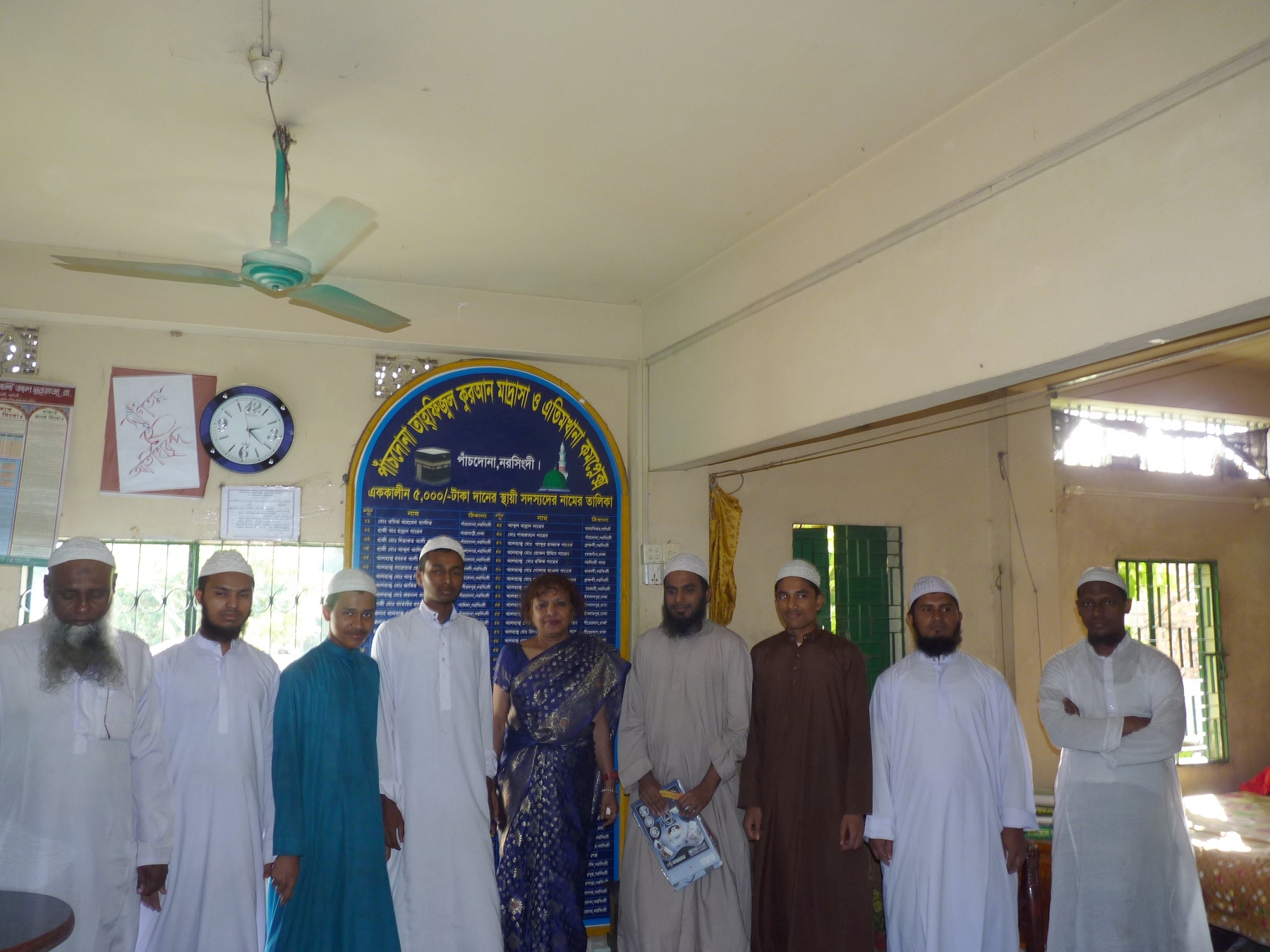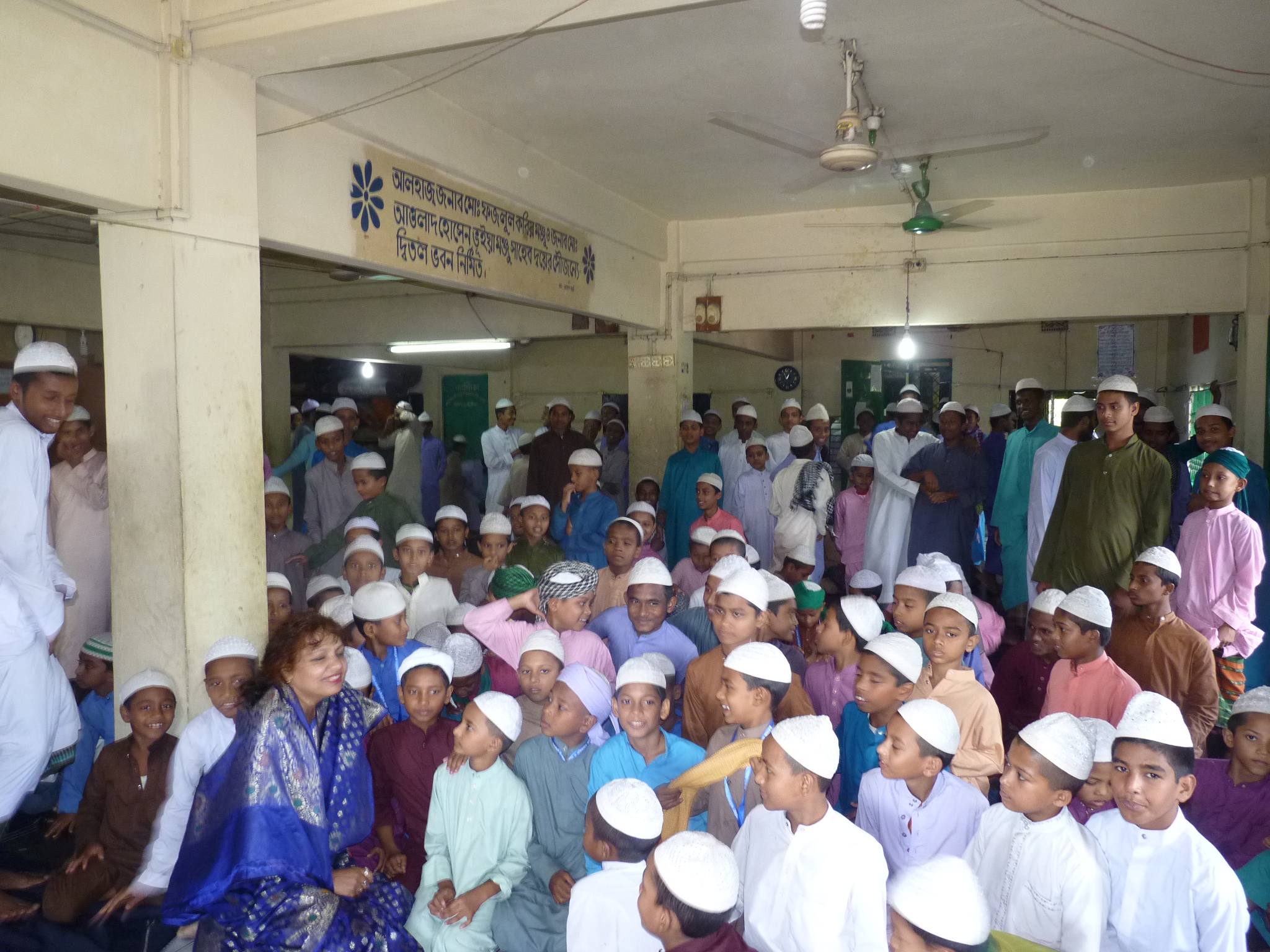 2017: i) Winning teachers and students, ii) Students,
Panchdona Tah'fijul Quran Madrasa and Orphanage is a residential educational-madrasa complex where the students are from poor families. They are largely either orphans or have single parents. The students learn i) islamic education on the Quran and Hadith, and ii) general education on math, science, and other subjects. The madrasa provides education up to Class VII after which students move to a different madrasa for higher classes.
2008: For better teaching motivation and learning inspiration, Dr. Sultana N. Nahar established awards for two best teachers, nominated by the student votes, and three topmost graduating students are recognized for their performance and achievements.
- The students vote for the best teacher. The recipient of the maximum votes is nominated. The final decisions are based on the votes with recommendations from the Head Principal/Head Imam, madrasa committee, and Chair or Vice Chair of the Board of Trustees.

The teachers receive the certificate, "S.N. Nahar Award for Best Teacher of the Year" with an honorarium, and the students receive certificates "Alburuj R. Rahman Awards for the Best Graduating Students" with an honorarium.

Progress:
2014: students ~ 200, 2008: Students ~ 120
Started to take Board exams for Class V a few years ago
- Few students have got scholarship based on the exam (improvement of English and some mathematics will increase the number)

Sultana Nahar provided the fund for a computer, printer, software packages which are now housed in a computer room and students in VI and VII classes are using it.
---
MEMBERS OF THE BOARD OF TRUSTEES FOR THE MADRASA:
1. Madrasa Head Principal/Imam
2. Habibul Haque Khan (Kamal - sponsor's uncle, Tel: 88-01715392231)
3. Ahsan Uddin Ahmed (Civil Engineer, Roads & Highways)
4. Chair of the Madrasa Committee
5. Dr. Sultana N. Nahar (Founder and Chair)
Trust
---
AWARD WINNERS:
Recognition: Teachers by votes, Graduating class VII by Academic excellence
---
Recipients of Awards - 2017 - 2018
Best Teachers:
Math and Science: Alhaz Maulana Farid Uddin
Arts & Humanities: Maulana Nazrul Islam
Best Graduating Students:
1st position: Mohammad Sakib Al Hasan

2nd position: Mohammad Rashedul Islam

3rd position: Mohammad Mahdi Hasan
---
Recipients of Awards - 2016 - 2017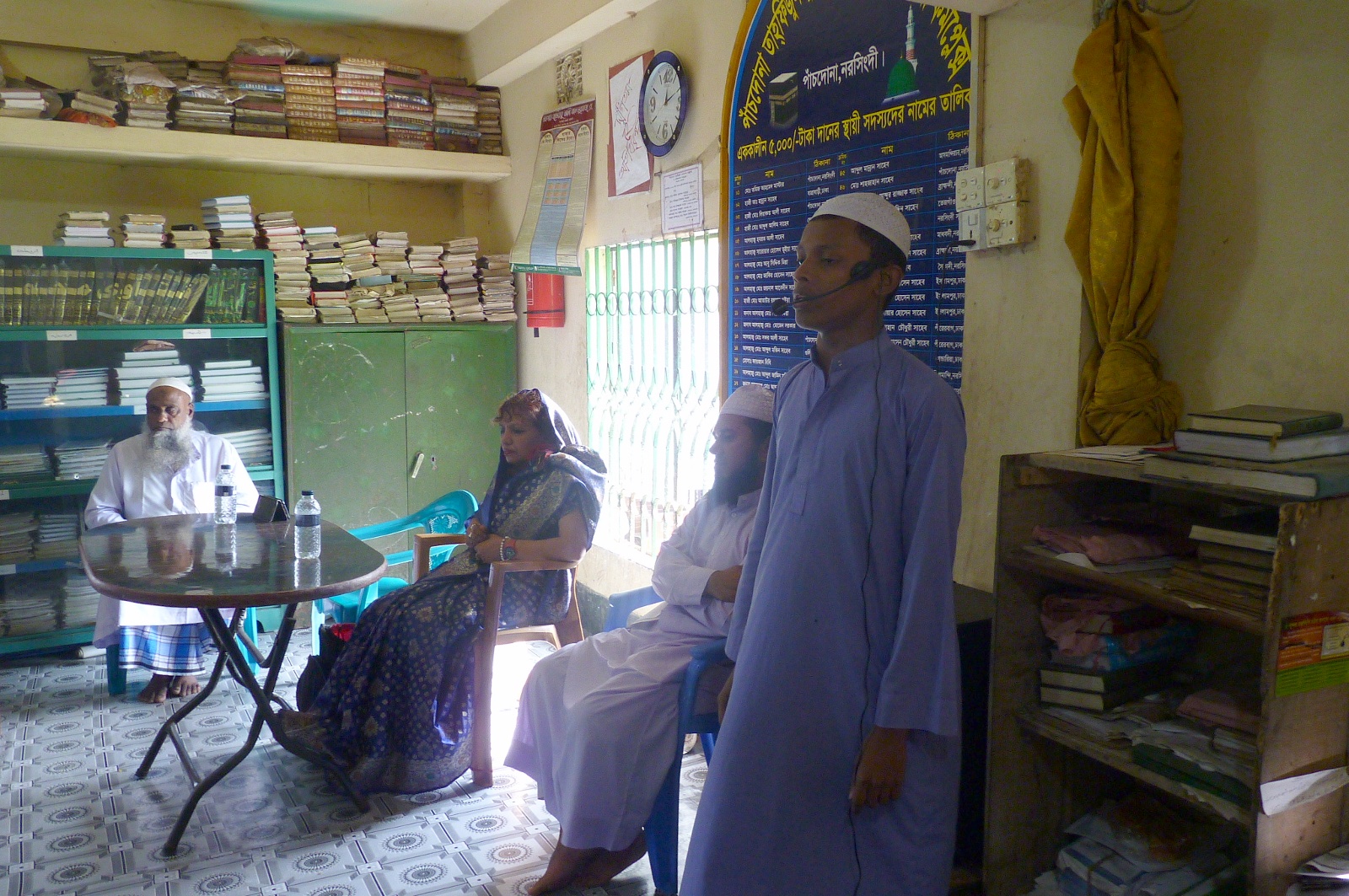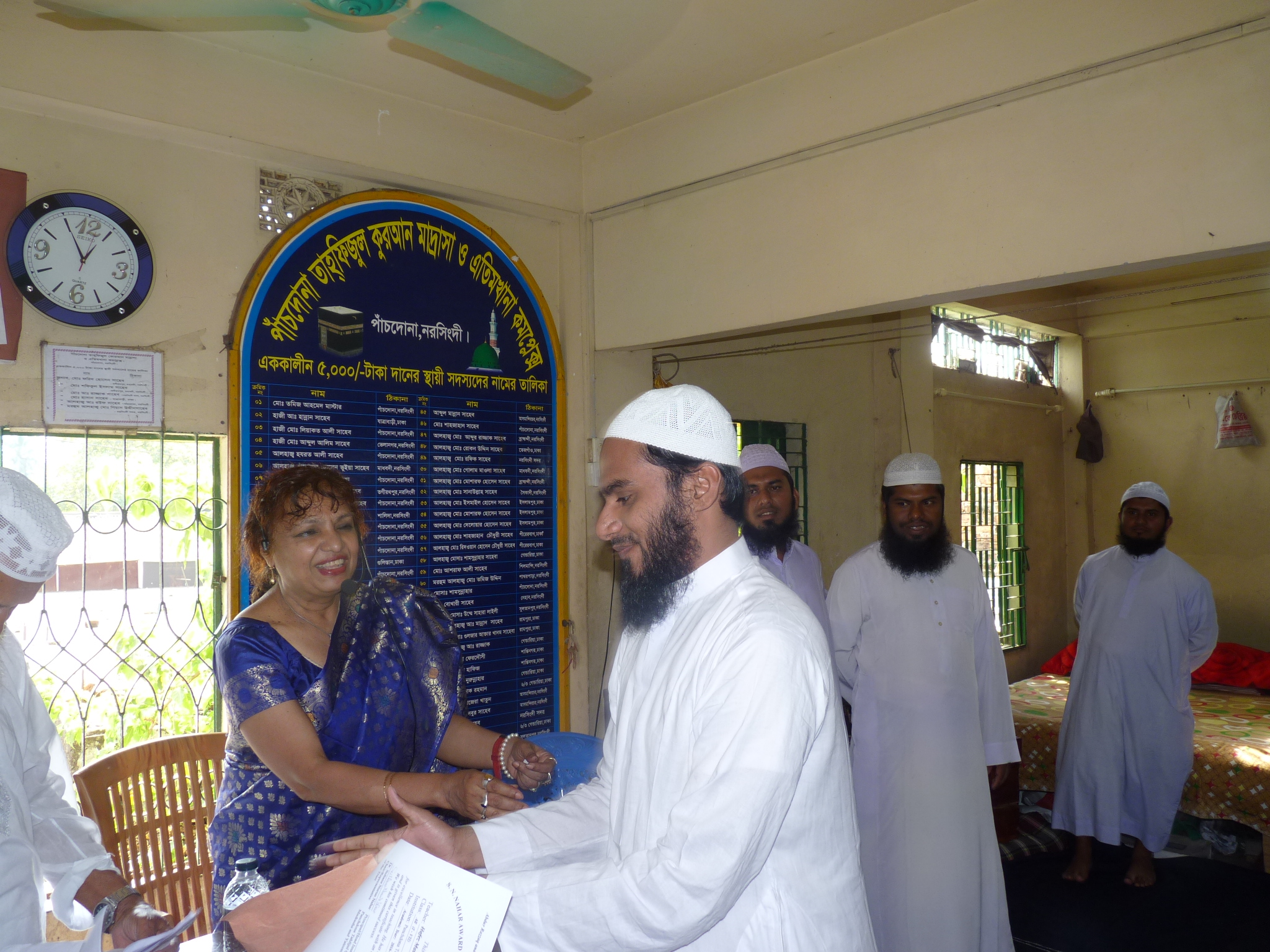 i) Telawat for the ceremony, ii) Best teacher 1, iii) Best teacher 2, iv) Winners
Best Teachers:
Math and Science: Hafez Maulana Nasir Uddin
Arts & Humanities: Master Salah Uddin
Best Graduating Students:
1st position: Abdul Qadir

2nd position: Mohammad Ariful Islam

3rd position: Mohammad Shahdat Hossain
---
Recipients of Awards - 2015-2016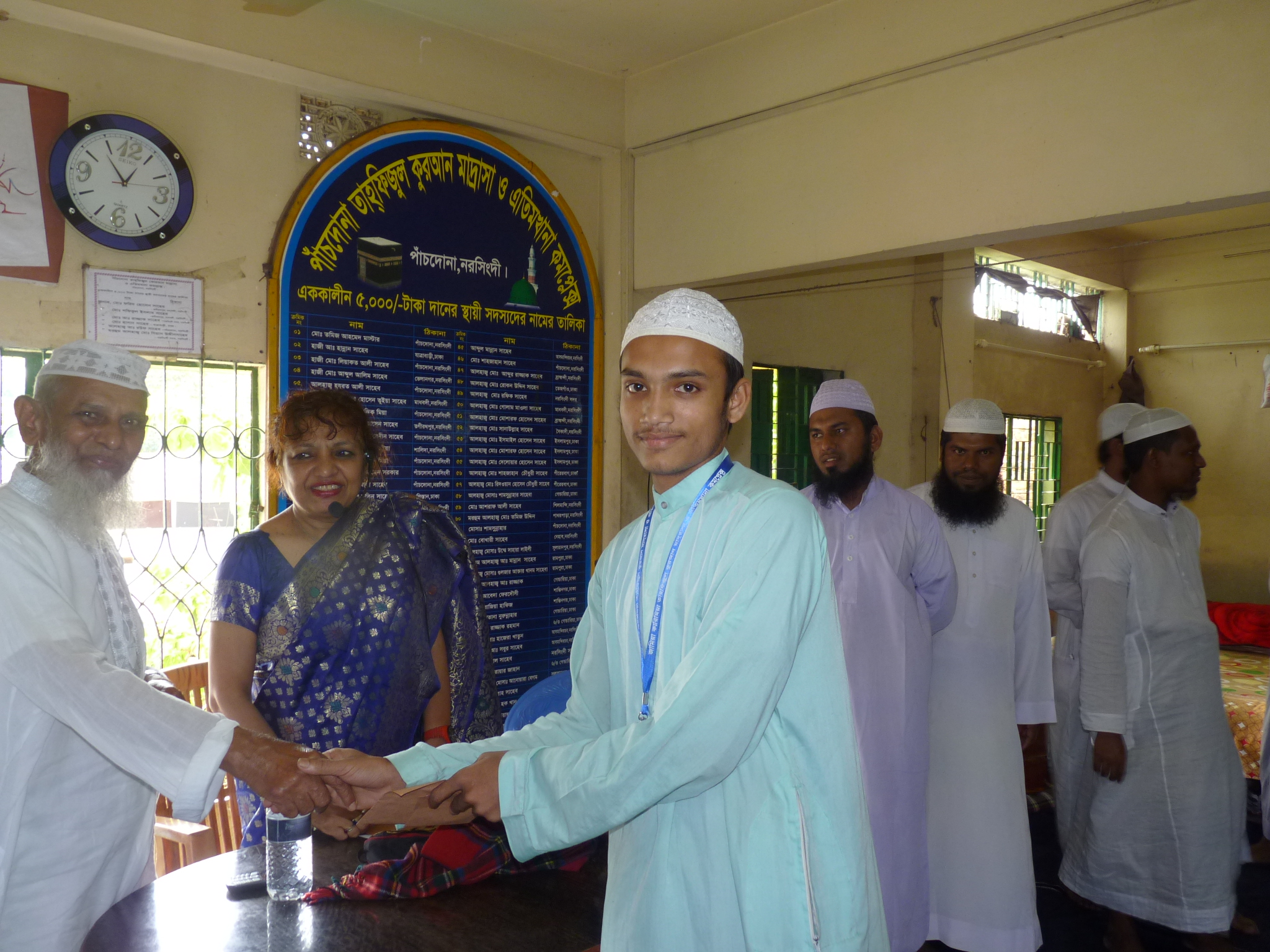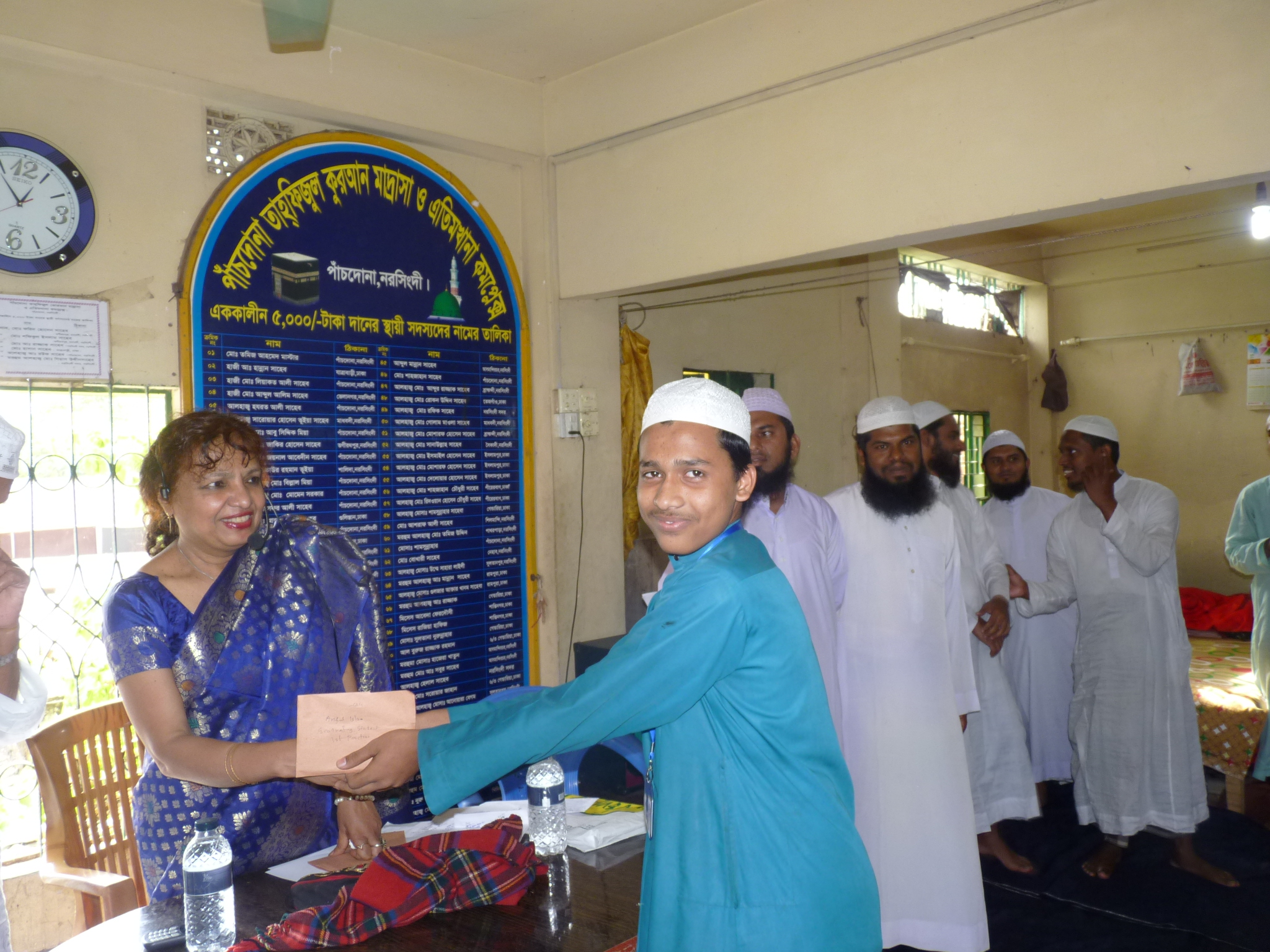 Best students: i) !st, ii) 2nd, iii) 3rd positions
Best Teachers:
Math and Science: Hafez Maulana Nasir Uddin
Arts & Humanities: Two winners:
i) Alhaj Hazrat Maulana Farid Uddin,
ii) Master Salah Uddin
Best Graduating Students:
1st position: Abdul Qadir

2nd position: Mohammad Ariful Islam

3rd position: Mohammad Shahdat Hossain
---
Recipients of Awards - 2014-2015
Best Teachers:
Math and Science: Alhaj Hazrat Maulana Farid Uddin,

Arts & Humanities: Maulana Hafez Mohammad Nasiruddin
Best Graduating Students:
1st position: Mohammad Ariful Islam

2nd position: Mohammad Kabir

3rd position: Mohammad Mahabubur Rahman
---
Recipients of Awards - 2013-2014
Best Teachers:
Math and Science: Alhaj Maulana Farid Uddin,

Arts & Humanities: Maulana Mohammad Delowar Hossain
Best Graduating Students:
1st position: Mohammad Ariful Islam

2nd position: Mohammad Raqibul Islam

3rd position: Mohammad Wasim
---
Recipients of Awards - 2012-2013

Best Teachers:

Math and Science: Alhaj Maulana Farid Uddin,

Non-Science: Hafez Maulana Mohammad Naser Uddin

Best Graduating Students:

1st position: Mohammad Arif Mia

2nd position: Hafez Mohammad Abu Hanif

3rd position: Hafez Mohammad Raqibul Islam
---
Recipients of Awards - 2011-2012

Best Teachers:

Math and Science: Alhaj Maulana Farid Uddin,

Non-Science: Hafez Maulana Mohammad Delowar Hossain

Best Graduating Students:

1st position: Mohammad Ahsanullah

2nd position: Mohammad Mubarak Ali

3rd position: Mohammad Abdul Mannan
---
Recipients of Awards - 2010-2011

(ceremony: Jan , 2011,)

Best Teachers :

Math and Science: Alhaj Maulana Farid Uddin,

All other subjects: Maulana Anisur Rahman

Best Graduating Students :

1st position: Mohammad Al-Amin

2nd position: Mohammad Nazimuddin
---
Recipients of Awards - 2009-2010

(ceremony: Jan 20, 2010)
Best Teacher:

All subjects: Alhaj Maulana Farid Uddin

Graduating Students:

1st position: Mohammad Nurul Islam

2nd position): Mohammad Nasir Uddin Khan
---
Recipients of Awards - 2008-2009:
Best Teacher :

All subjects: Alhaj Maulana Farid Uddin

Best Graduating Student

1st position: Mohammad Abu Bakr

2nd position: Mohammad Jahangir Alam
---