Astronomy 141:
Life in the Universe
Prof. Richard Pogge, MTWThF 12:30
Unit 1: Imagining Other Worlds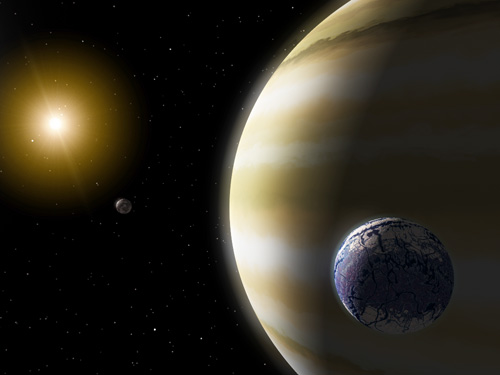 Artist's conception of an extrasolar planetary system
[Spitzer Science Center]
---
The question of life elsewhere in the Universe is an old one. This brief unit introduces this course, reviews the units that we will use in our exploration, and then reviews our notions about other worlds and the possibility of life on those worlds. This latter topic establishes the cultural context of the question of life in the universe, but it does not really set the stage for the scientific inquiry into this question. We will begin the scientific exploration in the next unit.
---
Lectures
The lecture notes below are in Adobe PDF format, and the accompanying audio files are in MP3 format.
Introduction and Course Overview (Jan 3) - [Audio]

Astronomical & Biological Numbers (Jan 4)- [Audio]

Imagining Other Worlds (Jan 5) - [Audio]
Also, see A Note about Graphics to learn why some of the graphics shown in the lectures are not reproduced with these notes.
---
[ Return to the Astronomy 141 Main Page | Go forward to Unit 2 ]
---
Updated: 2011 January 5
Copyright © Richard W. Pogge, All Rights Reserved.