US-India Education Foundation (USIEF): "Obama-Singh 21st Century Knowledge Initiative (OSI)" Award
Project title:
"THE STEM-FACULTY PROJECT:
Training the Next Generation of STEM Faculty at Higher Education Institutions in India"
Director: Dr. Anil K. Pradhan (OSU)

Associate Directors: Dr. Sultana N. Nahar (OSU), Dr. Karen Irving (OSU), Dr. Nesar Ahmad (AMU)
---
---
USIEF AWARD:
Obama-Singh 21st Century Knowledge Initiative Awards were announced by US Secretary of State, John Kerry, in Delhi, India on June 24, 2013 (Christian Science Monitor news)
Details of OSU-AMU STEM Project
"Executive Summary" of the project published at USIEF website: "The STEM Faculty Project: Training the Next Generation of STEM Faculty at Higher Education Institutions in India"
Project flyer: Highlights of the project

PRESS RELEASE of the awards at
U.S. Department of State: "The United States and India Announce Obama-Singh Awards Connecting Universities to Solve Global Challenges", June 25, 2013
USIEF: "2013 Grant Recipients: Obama-Singh 21st Century Knowledge Initiative Announces Second Round of Awards"
OSU and AMU teams worked on student selections, 2013-2014: Anil Preadhan with AMU Advisors
FELLOWS Selected under the project:
2014: Four AMU students, two males and two females, were selected as the Obama-Singh STEM ER Fellows

- Mr. Asim Rizvi (Biochemistry)
- Ms. Hala (Physics)
- Mr. Malik Azeem Anwar (Zoology)
- Ms. Nida Rehmani (Biochemistry)
Picture of the fellows, Flyer (1st page, center of the bottom row, also presentation title, number 13 under STEM) for the Forum of OSU Outreach and Engagement program, May 2016
2016: Four AMU students, two males and two females, were selected as the Obama-Singh STEM Research Fellows

- Parvez Alam (Biotechnology)
- Sabiha Parveen (Chemistry)
- Swaleha Naseem (Nanotechnology under Applied Physics of Engineeringy)
- Taqseer Khan (Mathematics)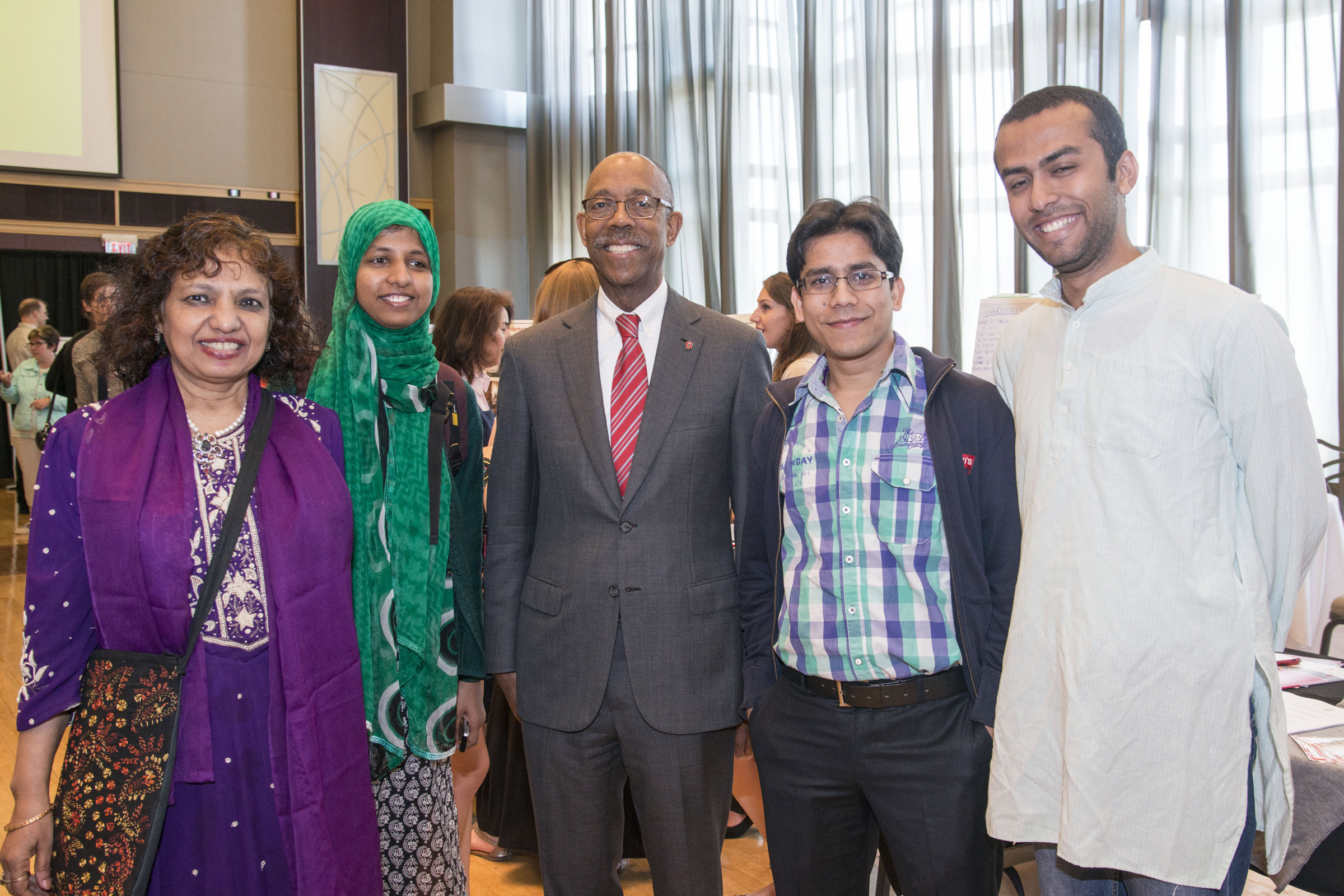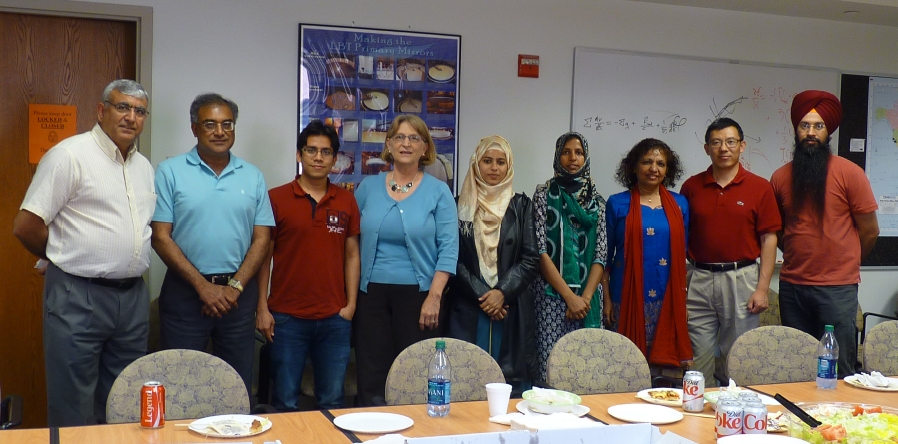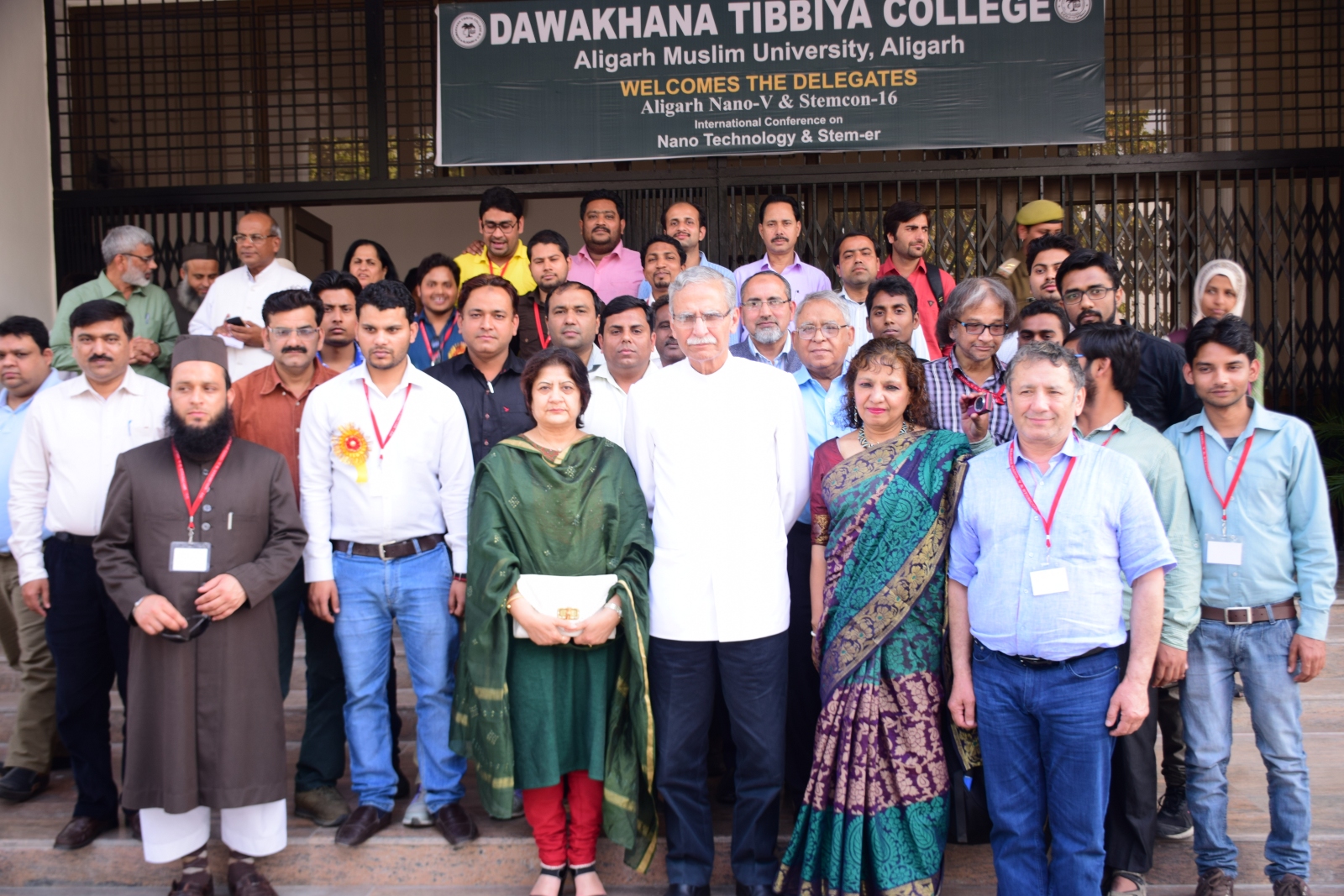 L OSU: Sultana, Hala, OSU Presdient Drake, Malik, Asim, May 2015, M: Fellows and OSU Advisors, August 2014, R: International conference of NANO & and STEM ER, March 2016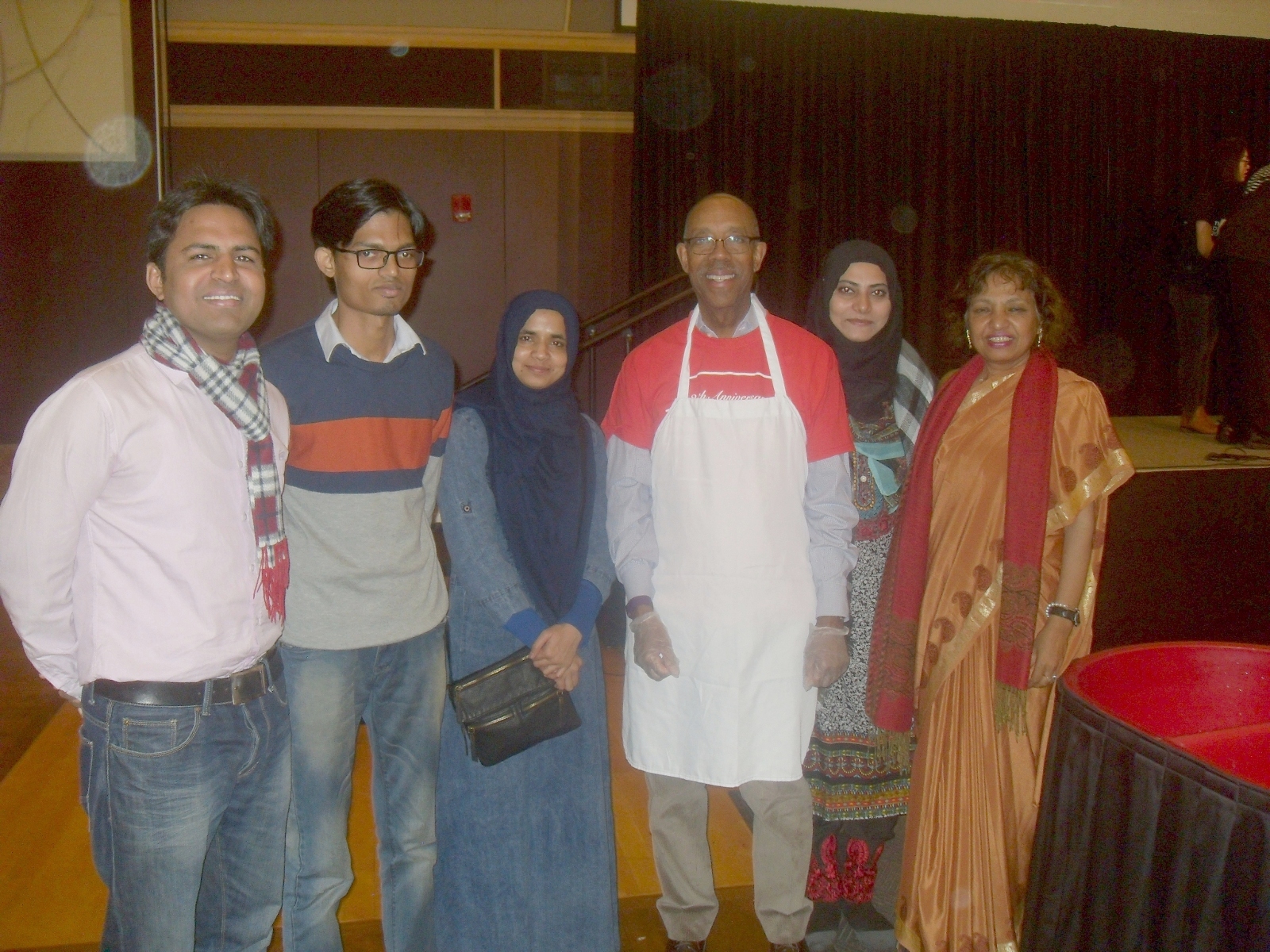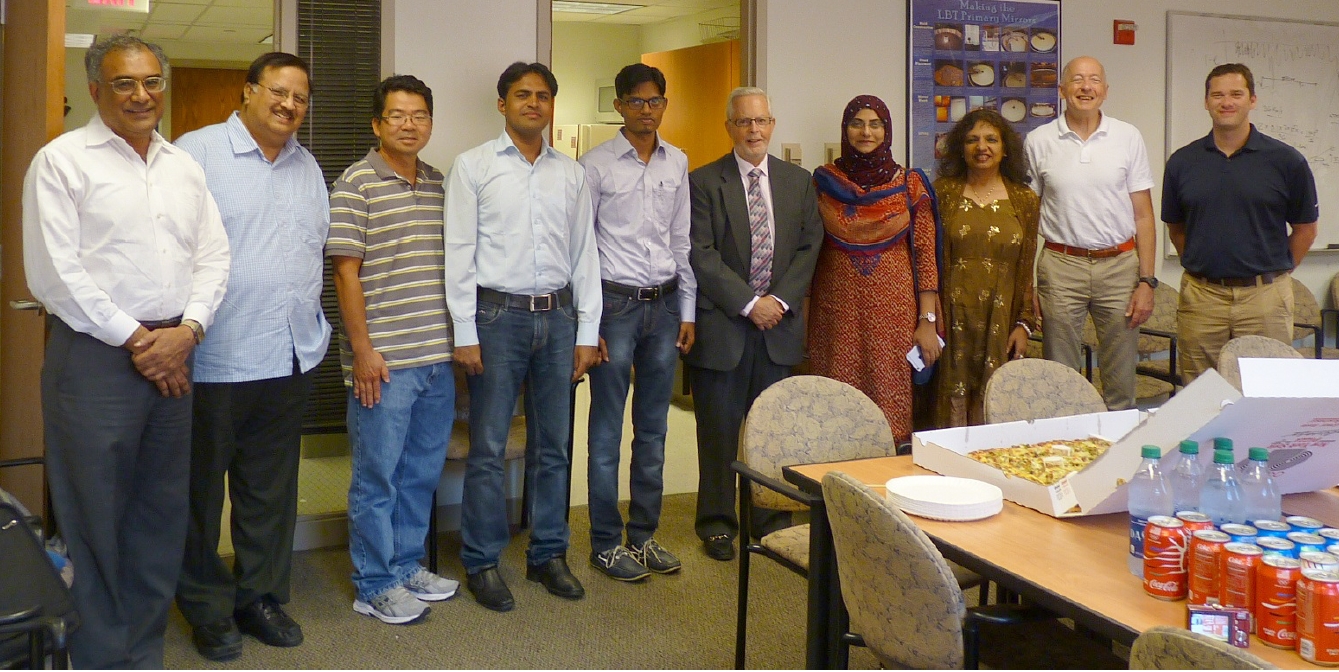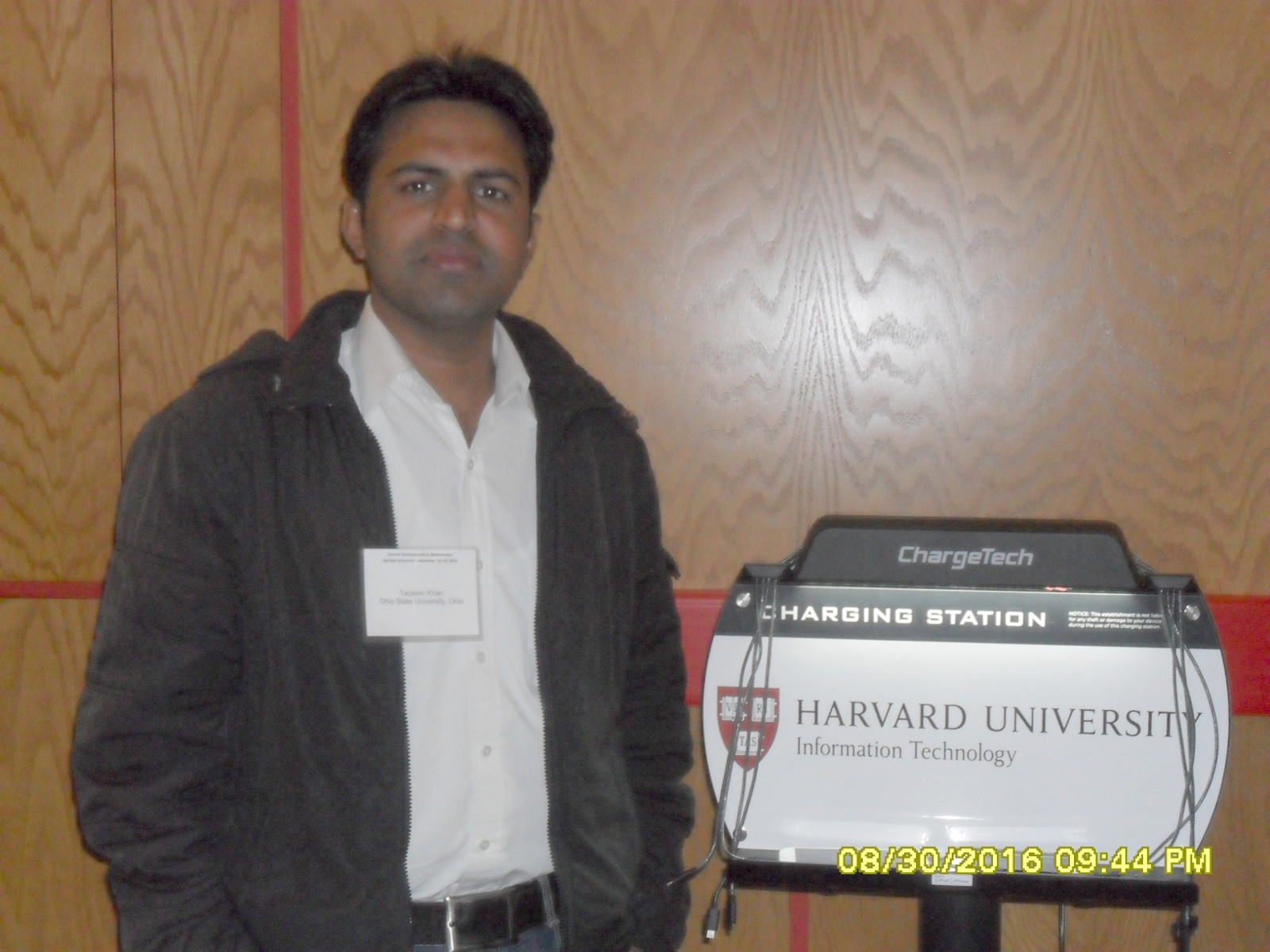 L: OSU: Taqseer, Parvez, Sabiha, OSU President Drake, Swaleha, Sultana, M: OSU Reception, August 25, 2016, R: Taqseer at Math conference at Harvard University, Nov 2016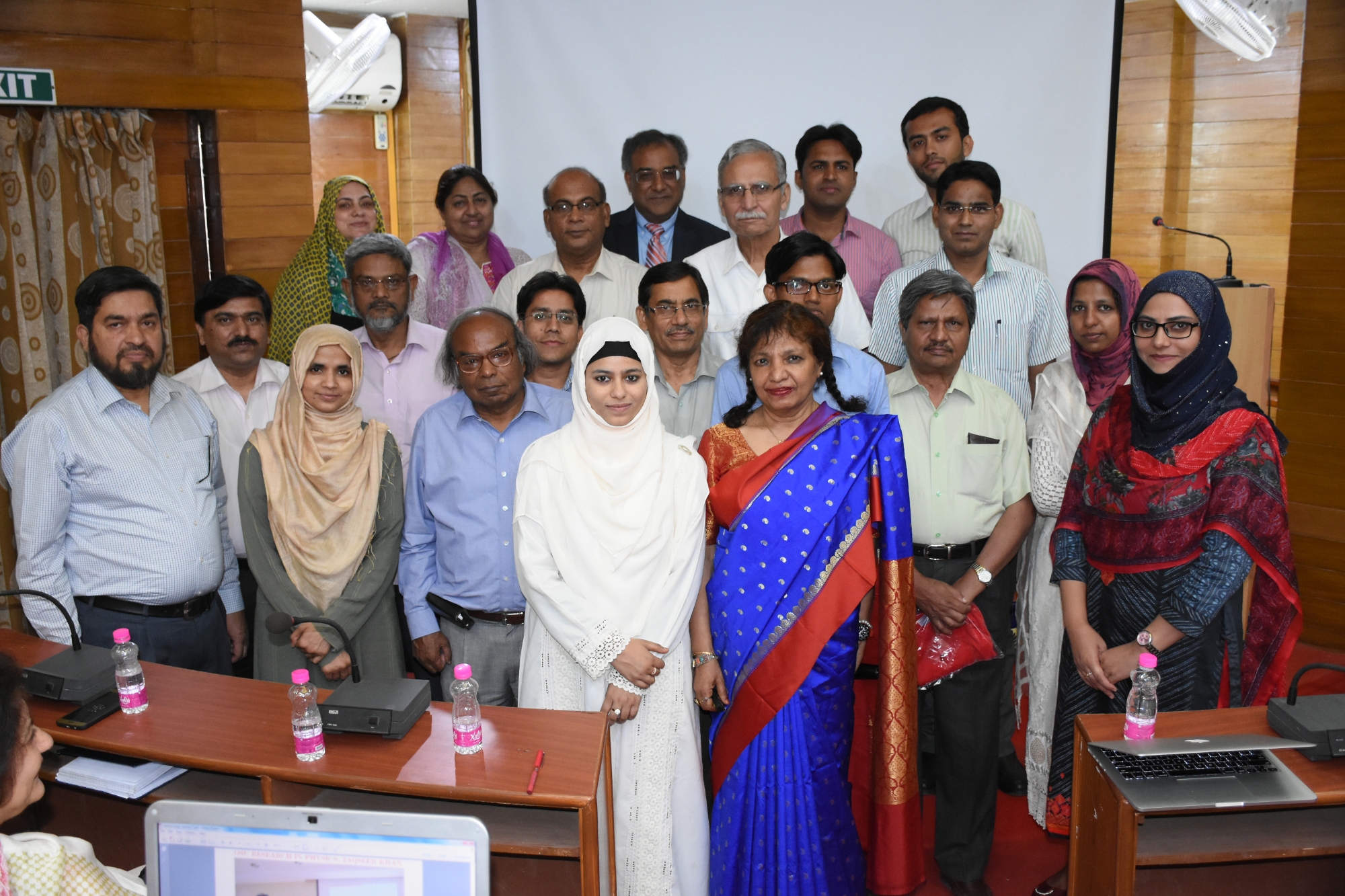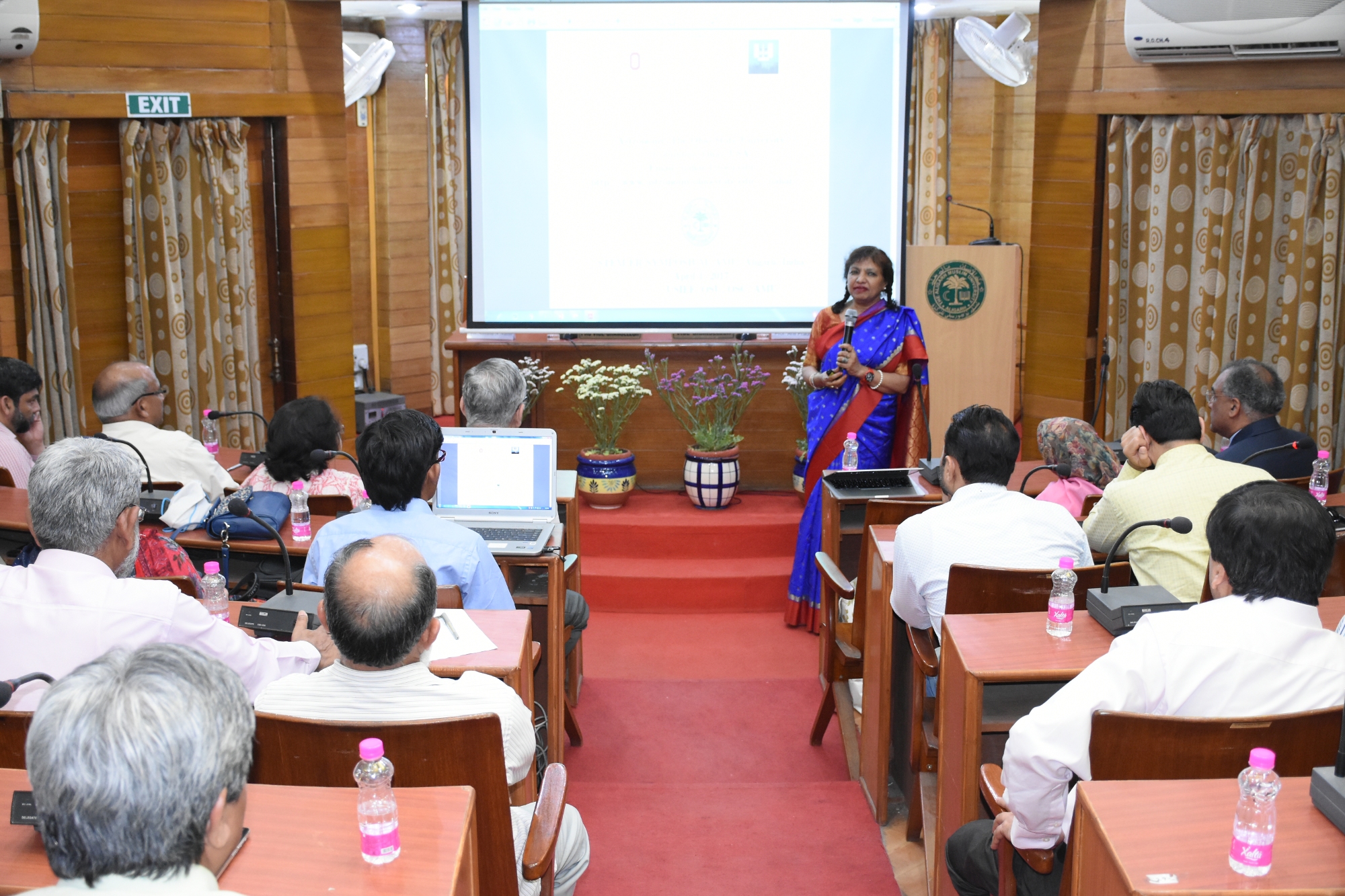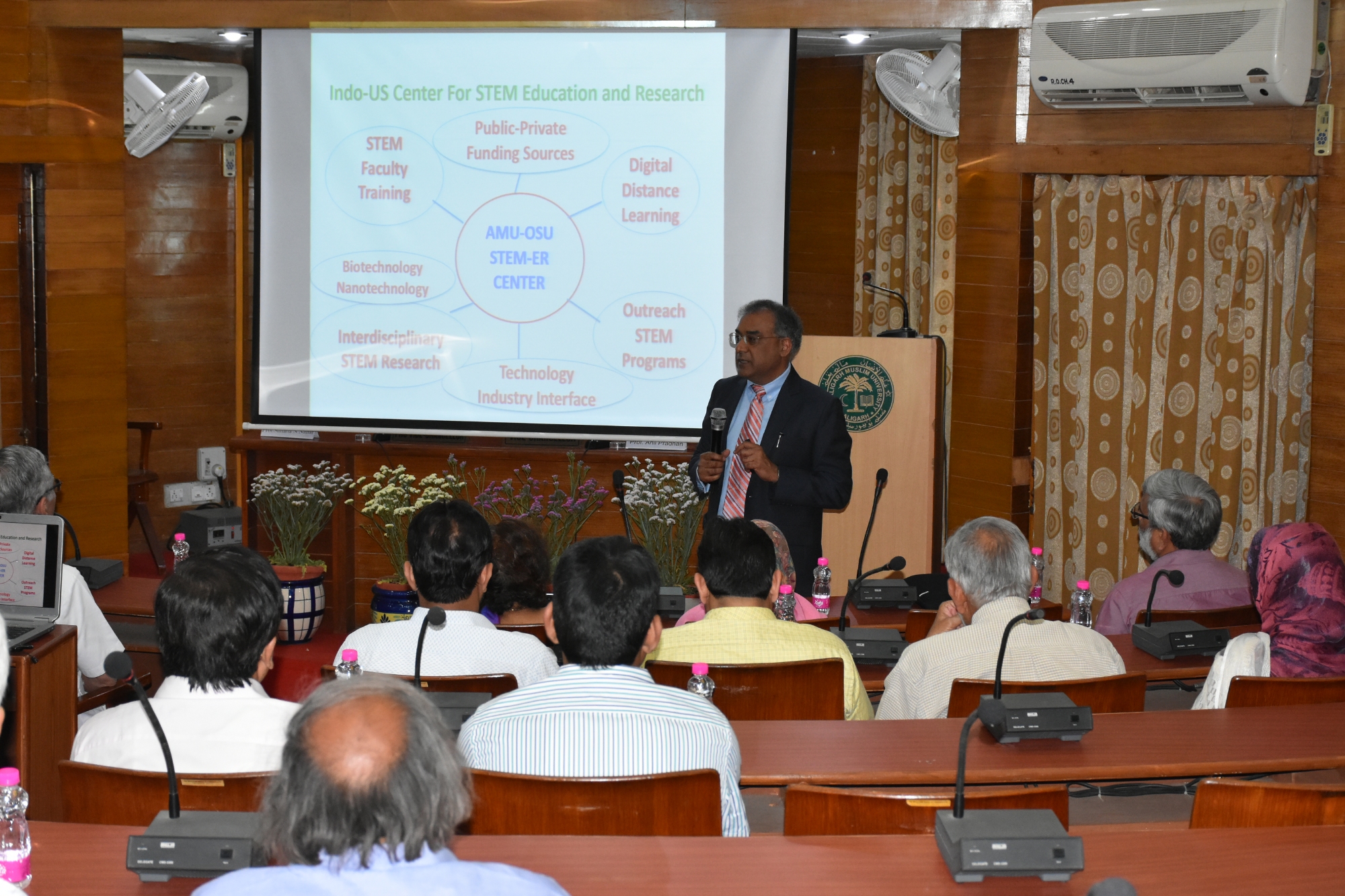 Symposium, April 1, 2017: L: Group picture with 8 Fellows from AMU with their AMU advisors, M: Sultana presents outcome of the project, R: Anil Pradhan presents formalization of the Indo-US Center for STEM ER
---
PROJECT OBJECTIVES:
Obama-Singh 21st Century Knowledge Initiative Aims:

The initiative aims to strengthen collaboration and build partnerships between American and Indian institutions of higher education. Each project will receive an award of approximately $250,000 that can be utilized over a three year period, with the aim of encouraging mutual understanding, educational reform, and economic growth, as well as the development of junior faculty at Indian and American institutions of higher learning.
OSU STEM Project objectives:

Rapidly emerging countries have an unparallel need for higher education. However, they lack educational infrastructure. The main objective of the current program is: "To train those who would teach". In India. the current need is to train at least 300,000 faculty members for existing and upcoming institutions of higher education for about 150 million students. (No Indian university is among the 200 universities of international ranking. The need is explained, e.g. Samachar news Great news! The 12th Five-Year plan will focus on education", October 4, 2013)
Sify News: "$94 billion on basic education doesn't address teaching crisis", May 4, 2015
india has a population of abiut 1.3 billion where more than 50% are of age 22-25 and 179 million Muslims.
The world-class US universities specialize in teaching large number of students in the widest possible array of disciplines. The examples are the members of the Committee of Institutional Cooperation (CIC) which are the Big-Ten universities, such, the Ohio State University, and University of Chicago.
Under the program OSU will establish, in collaboration with AMU, a STEM Center for education and research (ER) at Aligarh Muslim University: "OSU-AMU Center of Excellence for STEM ER
Through the OSU-AMU center Aligarth Muslim University will lead the effort involving universities administered by the Central Government of India
Objectives and Achievements of the Fellows presented to Minister of Cultural Affairs (public affairs officer PAO) Craig Dicker, US Embassy in Delhi, India, March 29, 2016

Event picture, - Presentation by Prof. Wasi Haider, - Prof. Alim Naqvi, - Fellow Nida Rehmani
Project Direction
---
ADVISORY BOARD:
OSU:
- Prof Cheryl Achterberg (OSU Dean,Education, Email: cachterberg@ehe.osu.edu)
- Prof David Manderscheid, (substituting Jo Steinmetz) (OSU Executive Dean, Arts and Sciences, Email: manderscheid.1@osu.edu)
- Prof David Williams (OSU Dean,Engineering, Email: williams.4219@osu.edu)
- Prof Patrick Osmer, 2013-2016, (OSU Provost,Grad Studies, Astronomy Professor, Email: posmer@astronomy.ohio-state.edu)
- Prof. William Brustein, 2013-2016, OSU Chair (OSU Vice Provost, Office of Global Strategies and International Affairs, Email: brustein.1@osu.edu)

AMU:
- AMU Chair of the Project, ProVC, Brig. Ahmed Ali, (Email: pvcamu@amu.ac.in)
- AMU Dean of Faculty of Science, Prof. Mahshar Raza (Email: azamahshar@gmail.com)
- AMU Dean, Faculty of Engineering and Technology, Prof Hamid Ali (Email: dean@zhcet.ac.in)
- Prof. S. Alim Husain Naqvi, 2016-2017, (AMU NanoTech, Email: alimhnaqvi@yahoo.com)
- Prof. Wasi Haider, STEM ER Convener 2013 - 2016 (AMU Physics, Email: wasi42001@gmail.com, wasi42001@carib.com)

STEERING COMMITTEE:
OSU:
- Prof. Anil K. Pradhan, Director (OSU Astronomy, Email: pradhan.1@osu.edu)
- Prof. Adrian Rodgers (OSU Education, Email: rodgers.50@osu.edu)
- Professor Altaf Wani (Department of Radiology, Email: wani.2@osu.edu)
- Prof. Anish Arora (OSU CSE, Email: anish@cse.ohio-state.edu)
- Mr. Christopher Carey, (Director, OSU Global Director, Email: Carey.3@osu.edu)
- Prof. Karen E. Irving, Assoc Director & STEM coordinator (OSU Education, Email: irving.8@osu.edu, kirving@ehe.osu.edu)
- Prof. Nimish Shah (OSU Engineering, Email: shah@math.ohio-state.edu)
- Prof. Prabir K. Dutta (OSU Chemistry, Email: dutta@chemistry.ohio-state.edu)
- Prof. Rajiv Ramnath (2013-2014)
- Prof. Siddharth Rajan (OSU CSE, Email: rajan@ece.osu.edu)
- Prof. Sultana N. Nahar, Assoc Dirctor, Research Advisor, & Chief Liaison of OSU Office (OSU Astronomy, Email: nahar.1@osu.edu)
AMU:
- Prof. Bilquees Bano (AMU Biochemistry, Email: basiddiqui@hotmail.com)
- Prof. Nesar Ahmad, Project Convener 2016-2017 (AMU Engineering, Email: nesar.ahmad@gmail.com)
- Prof. Qudsia Tahseen (AMU Zoology, Email: qtahseen@gmail.com)
- Prof. Rahimullah Khan (AMU Physics, Email: rahimullah@rediffmail.com)
- Prof. S. Alim Husain Naqvi, 2013-2016, (AMU NanoTech, Email: alimhnaqvi@yahoo.com)
- Prof. S. Mahdi A. Rizvi (AMU Mechnical Engineering, Email: mahdirizvi@yahoo.com)

ASSOCIATES AND COORDINATORS:
OSU:
- Mr. Ratnish Bhattacharya, Director, OSU-India Gateway in Mumbai, India (Email: bhattacharya.11@buckeyemail.osu.edu)
- Ashley Behrendt, Business Coordinator at OIA (Email: behrendt.16@osu.edu)
AMU:
- Lt General Zameer Uddin Shah, Vice Chancellor, AMU (Email: vcamu@amu.ac.in),
OTHER ASSOCIATES:

- Mr. Hasan Kamal (Alig, Email: hkamal@gbcwebsite.com)
- Mr. Nick Booker (UK-IN-EDU, Email: nick@indogenius.com)

---
MEd-STEM CURRICULUM:
A new curriculum was formulated by OSU team: Anil Pradhan, Sultana Nahar, Karen Irving, Adrian Rodgers which got final approval from Council of Academic Affairs (CAA, curriculum on the screen)), December 3, 2013
New MEd-STEM ER Degree curriculam at OSU-AMU for students in India

Some High-lights of the Porgram:
Dual Degree Program for Ph.D. students: MEd-STEM at OSU and Ph.D. at sponsoring institution

OSU Colleges: Education, Arts and Sciences, Engineering

MA-STEM for undergraduate teaching is new - Extended from high school preparatory courses + Research Inclusion

A minimum of 33 Semester Credits are needed for Masters degree, we need $\sim$ 41

New Team-taught course: Auditing undergraduate course, helping, monitored by course teacher

Fellows are enrolled at OSU for two years:

1st Year (Starting in Summer 2014)
- Summer: Digital distant learning course - T\&L (Teaching \& Learning) Assessment at AMU by an OSU professor
- Fall and Spring Semesters: Students come and registered at OSU
- Enroll to i) STEM education courses and ii) advanced research with the OSU advisor, each with $\sim$ equal number of credits

AMU advisor also collaborates in the OSU research project

3-weeks visit by AMU advisor at OSU, and OSU advisor at AMU (suitable time)

2nd Year at AMU}
- Summer: Student continues research
- Fall and Spring: Teaches at AMU for Field Experience, supervised by an OSU faculty with input from AMU teacher
- Works on a small thesis project on innovative teaching at the same time
- An OSU professor comes to AMU in May 2016 to give final exam and the degree

AMU ordinance: OSU research in the respective STEM discipline forms a chapter in the Ph.D. thesis and OSU research advisor is an official Ph.D. co-advisor

Fellows are expected to serve at home institution for some years after graduation
---
OSU ADMISSION INFO:
Important information for both the prospective USIEF Fellows and their advisors:
Link to Application for OSU Admission
Note: 3 letters of recommendation are needed. They should be from teachers and some one who knows you academically
Directions for M.ED.-STEM Applications (Prepared by Dr. Adrian Rogers)
- NOTE: Although the MEd-STEM program have gone through all approvals, the on-line application set-up is not ready yet. So do not expect to complete the application immediately and do not send inquiries to Dr. Adrian Rodgers.
Provide both transcripts, B.Sc. and M.Sc, with the application. It is a requirement to compensate the 4 years of undergraduate studies in the US compared to 3 years of study in India and to waive GRE.
Minimum English test score requirement: TOEFL =79 or IELTS = 7
NOTE: ETS, which administers TOEFL or IELTS, keeps the record of the score only for two years. Hence anyone who took the test beyond 2 years in the past from the submission deadline will need to take the test again.
TOEFL or IELTS is not required when a degree was earned in an English speaking country