786

Dr. Sultana Nurun Nahar
PROMOTER OF SCIENCE EDUCATION AND RESEARCH: PROJECTS, TEACHING, PROGRAM, & RESEARCH:
Involvement: 1995 - Present
---
---
OBJECTIVES:
Promote and Support research and STEM education in developing countries, mainly Arab and Asian Countries

Some objectives are described in FIP EC meeting presentation, 2012

Examples of work are described in 2013 prize winning presentation: "John Wheatley Award Talk: Promoting Under-Represented Physicists in Asian and Arab Countries and Muslim Women in Science", Sultana N. Nahar, APS April Meeting, Denver, Colorado, April-13-16, 2013
2013 John Wheatley Award, - Certificate, American Physical Society. Citation: "For efforts to promote physics research and teaching through collaboration, mentoring, and philanthrophy in several third-world countries, and in particular for her promotion, as both an advocate and role model, of Muslim women scientists."
- APS News front page for the month of June 2013
---
---
1.

Founder of a network of Global Scientists (23 Countries) for bringing them to American Physical Society:
Bringing scientists from developing countries to APS at no-cost membership. Some detailed information are at page for Forum of International Physics
Maintain the Network of Scientists (from largely developing countries) for global promotion and collaboration in science using the network of American Physical Society (APS)

Scientistis from 30 countries that are connected in the network are:
- Algeria (1), Bahrain (2), Bangladesh (3), Egypt (4), Ethiopia (5), Ghana (6), India (7), Iran (8), Iraq (9), Jordan (10), Madagascar (11), Malaysia (12), Morocco (13), Nepal (14), Nigeria (16), Oman (17), Pakistan (18), Palestine (19), Rwanda (20), Russia (21), Saudi Arabia (22), Senegal (23), Sudan (24), Syria (25), Tunisia (26), Turkey (27), Ukraine (28), United Arab Emirates (29), Yemen (30)
---
2.

Society of Muslim Women Scientists (32 Countries):
Founder of International Society of Muslim Women in Science (ISMWS)
- ISMWS has about 400 members from 32 countries
1. USA, 2. Afghanistan, 3. Australia, 4. Algeria, 5. Bangladesh, 6. Canada, 7. Egypt, 8. England, 9. Ghana, 10. India, 11. Indonesia, 12. Iran, 13. Iraq, 14. Jordan, 15. Kenya, 16. Kuwait, 17. Lebanon, 18. Malaysia, 19. Morocco, 20. Nigeria, 21. Oman, 22. Pakistan, 23. Palestine, 24. Russia, 25. Saudi Arabia, 26. Somalia, 27. Sri Lanka, 28. Sudan, 29. Syria, 30. Turkey, 31. United Arab Emirates, 32. Yemen
---

3. Society of Arab Women Scientists (7 Countries):
Co-founder with Professor Lotfia El Nadi, of Cairo University and founder of NILES, International Society of Arab Woemn in Science (ISAWS)
- ISAWS has about 259 members from 7 countries:
- USA, Algeria, Egypt, Jordan, Lebanon, Qatar, United Arab Emirates
---
Activities described in 2013 John Wheatley award of APS presentation talk:
"John Wheatley Award Talk: Promoting Under-Represented Physicists in Asian and Arab Countries and Muslim Women in Science", Sultana N. Nahar, APS April Meeting, Denver, Colorado, April-13-16, 2013
Nahar's page at Indonesian website at OSU
---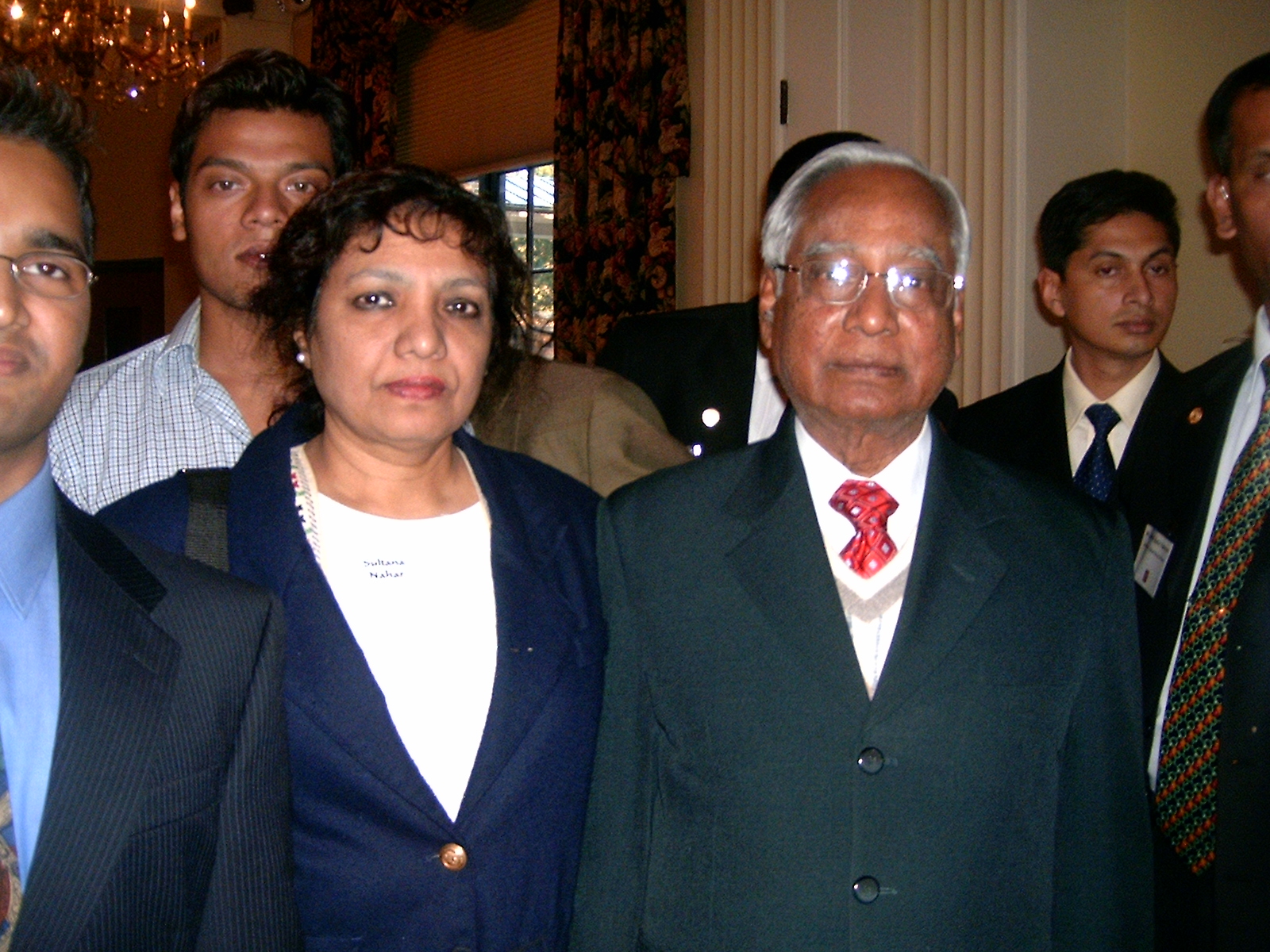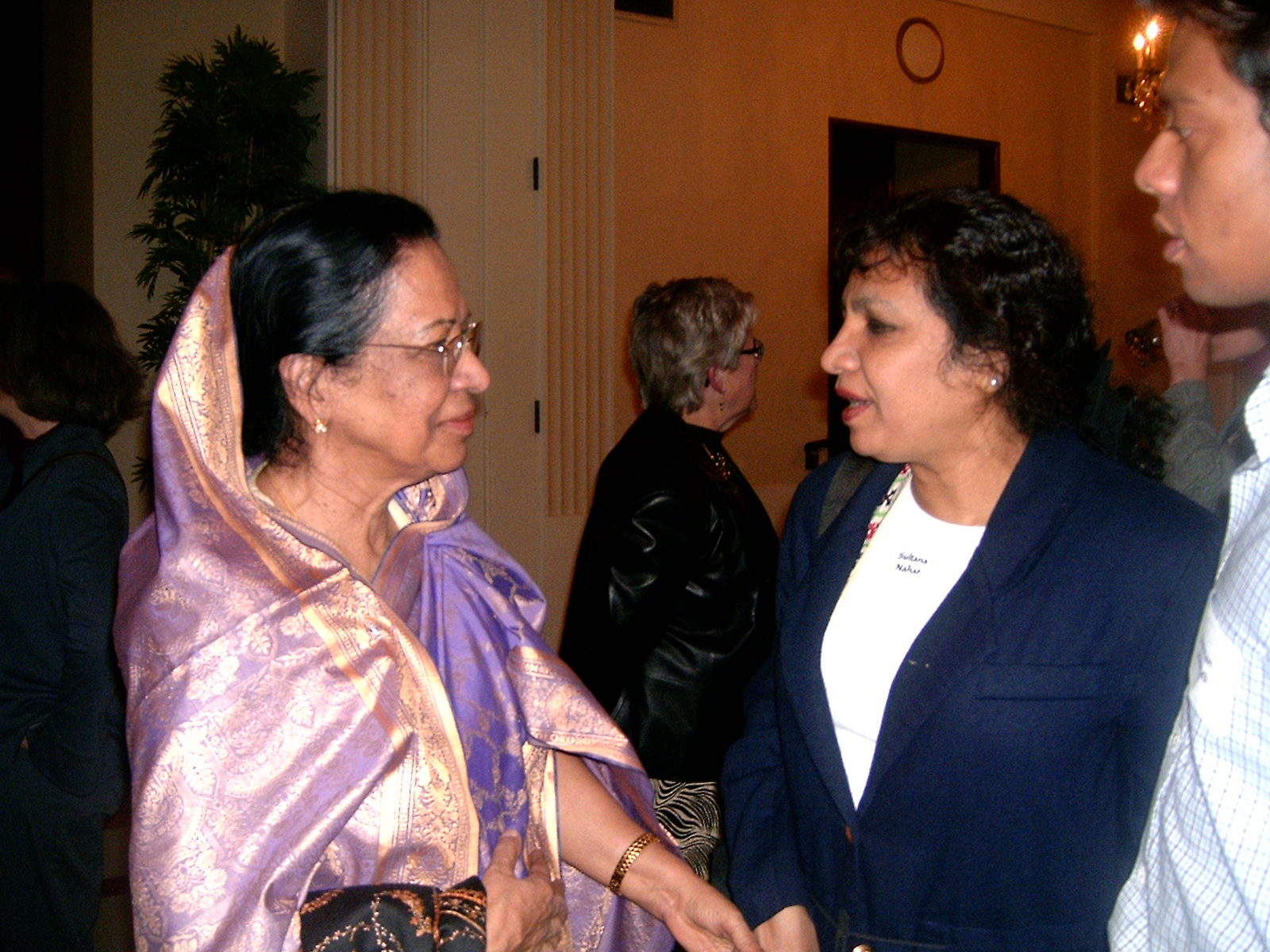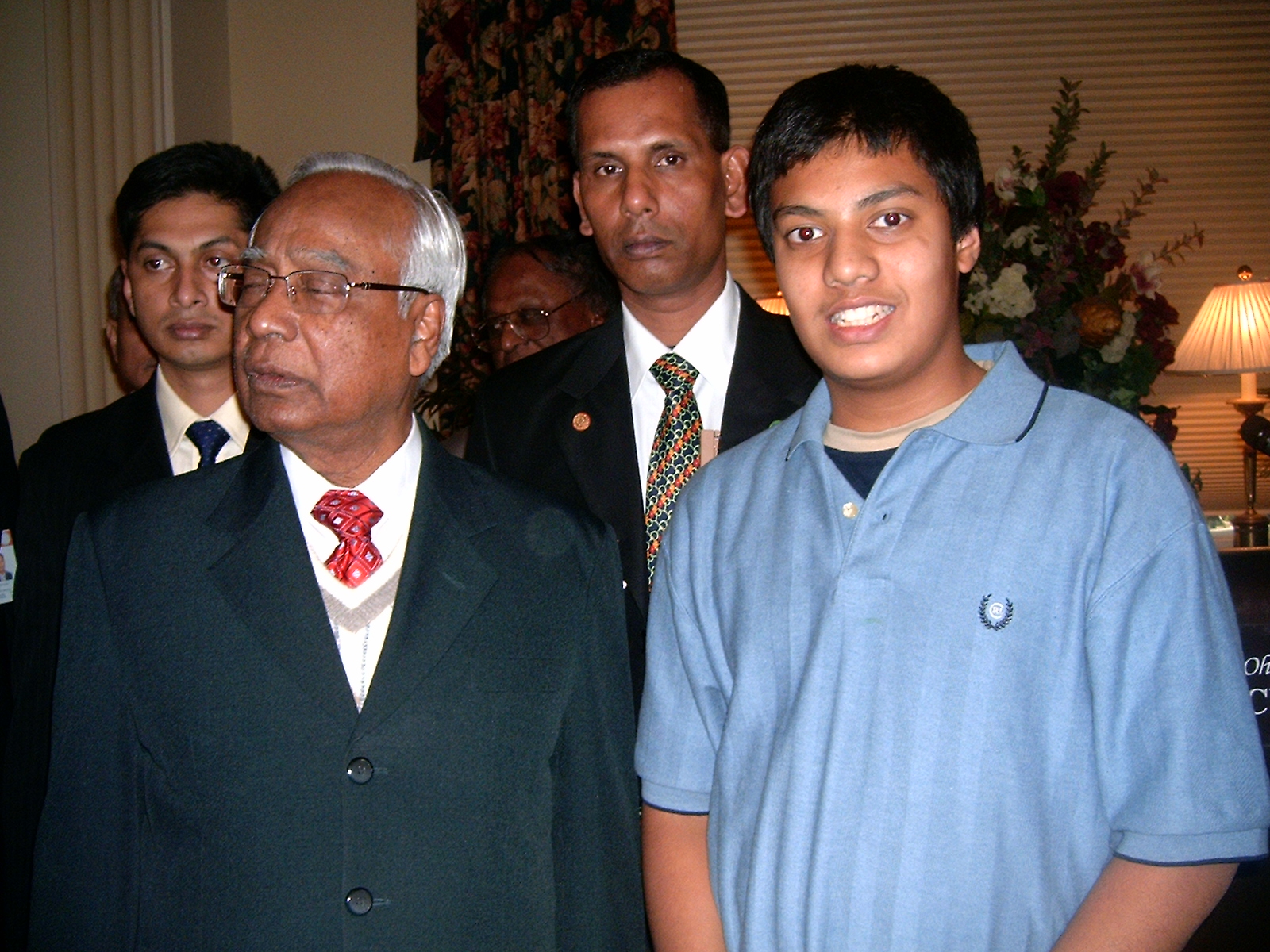 L: Met Bangladesh President Prof. Iazuddin regarding education, M: the First Lady, R: OSU group, Ohio State University, 2005
Global Research and Teaching Programs:

4. Founder and sponsor of the annual best publication prizes in Bangladesh Journal of Physics

3. Founder, sponsored, and member of the Board of Trustees of annual "Razzaq-Shamsun Physics Research Prize" for researchers in Bangladesh, Administered by University of Dhaka, Bangladesh (since 1995)

2. Founder, Sponsor, and member of the Board of Trustees of "Razzaq-Shamsun Lifetime Achievement Award for Contributions in Physics", for researchers in Bangladesh, University of Dhaka, Bangladesh (since 2008)

1. Founder, Sponsor and President of the "Abdur Razzaq and Shamsun Nahar Trust for Education", for improvement of education in schools, Bangladesh (since 2003)
Individual University Research, Teaching, Scholarship: